NHS waiting list at record high as 5.8 million still waiting for treatment
Ambulance services received a record number of calls in October while waiting times skyrocketed, the latest NHS data reveals
Rebecca Thomas
Health Correspondent
Thursday 11 November 2021 15:42 Comments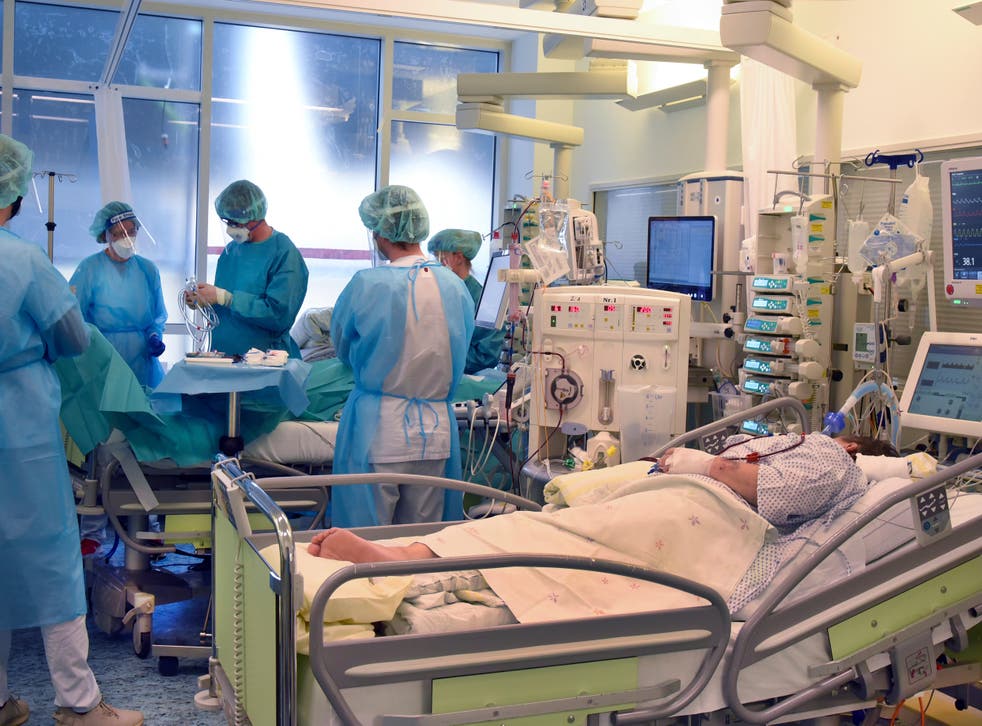 More than 5.8 million patients were waiting for routine surgery by the NHS in England by the end of September, new data has revealed.
This is the highest figure since August 2007 and comes as hospital leaders have warned the health service is at "breaking point".
Ambulance services answered 82,000 emergency 999 calls in October, which was more then any other month on record, while response times have skyrocketed.
The average response time for category two patients who needed emergency, but not life threatening, care such as strokes, was nearly 54 minutes - the longest average waiting time since records began in 2017.
Response times for urgent calls - such as late stages of labour, non-severe burns and diabetes - averaged three hours, nine minutes and 58 seconds. This is up from two hours, 35 minutes and 45 seconds in September, and again is the longest average since current records began.
The Independent has previously revealed ambulance response times doubled during the pandemic, as all 10 ambulance services raised their alert levels to the highest point.
The investigation found a 26 per cent spike in the most serious incidents reported by paramedics so far in 2021 compared to the whole 12 months of 2019, before the Covid-19 pandemic began.
Patients waiting for more than 12 hours in A&E also reached the highest levels ever in October, with 7,059 waits recorded. This is more than five times higher than the number of 12 hour waits recorded in October 2020, which saw 1,268 patients waiting.
Meanwhile there were 121,000 patients waiting over four hours in A&E, following a decision to admit, during the same month. Which is the highest number on record.
The number of patients waiting more than year for treatment has also risen for the first time in five months, from 292,138 in August to more than 300,566 in September.
A total of 12,491 people in England were also waiting more than two years to start routine hospital treatment at the end of September 2021.
This is up from 9,754 at the end of August and is more than four times the 2,722 people who were waiting longer than two years in April.
NHS England has told hospitals to eliminate all waits of more than two years by March 2022 and is due to publish a plan on how the NHS will recover its growing backlog of routine operations later this month.
Deborah Ward, senior analyst at think tank The King's Fund said todays stats: "reveal the worst performance since current records began for ambulance calls, A&Es and waits for planned hospital care.
"In a normal year any one of these would ring alarm bells; taken together before winter has even begun they suggest a health and care system running hot for such a sustained period whilst still dealing with Covid-19, it is now on its knees."
In its Autumn budget the government promised to increase the NHS' funding by 3.8 per cent a year by 2024-25. Much of the funding will be used to clear the growing backlog of routine operations.
However, chancellor Rishi Sunak was criticised by NHS leaders for not outlining spending plans for Health Education England, which is responsible for growing the NHS workforce.
Ms Ward said: "Chronic workforce shortages heap further pressure on overstretched staff who are exhausted from the pandemic and will be the rate-limiting factor in the government's ambitions to tackle the backlog and boost NHS activity and performance.
"Yet workforce has become a blindspot for the government; without a multi-year, fully funded workforce strategy the health and care system continues to face declining performance."
For key diagnostic tests like X-rays and MRI scans, NHS England data shows almost 370,000 people have waited longer than six weeks. This is an improvement on September 2020, when there were 419,841.
But in September 2019, before the pandemic, there were just 38,802 people waiting longer than six weeks for a diagnostic test.
The NHS has been given £5 billion to reduce NHS backlogs including opening 100 community diagnostic hubs to try and carry out more tests away from hospitals.
The number of urgent cancer patients who waited more than two weeks to see a doctor was the highest-ever on record in September, as was the number of people who were left waiting more than a month for treatment. However, the numbers of people starting treatment for cancer in September had risen compared to pre pandemic levels.
Responding to figures, head of policy at Macmillan Cancer Support Minesh Patel, said it was "deeply concerning" to see record numbers of people waiting too long for specialist cancer treatment, in addition to this he said "progress to clear the backlog stalled."
Professor Stephen Powis, medical director for the NHS said, "there is no doubt pressure on the health service remains incredibly high"
He added: "But despite high demand, NHS staff are going above and beyond to see more patients and deliver millions more tests, checks, treatments and operations.
"Increasing numbers are coming forward for treatment and this is expected to go up, but it remains really important people do not delay seeking help from the NHS if they feel unwell."
Tim Gardener, senior fellow for think tank the Health Foundation said: "Today's figures provide further evidence of the increasingly serious pressures facing hospitals across the country.
"The government has said that the NHS is under 'sustainable pressure', but it would be extraordinary to look at what's happening in the NHS right now and claim that it is sustainable.
"That we are facing pressures this significant before we have reached the peak of winter is concerning, particularly as cases of seasonal viruses and rising staff absences are likely to add further pressure."
Register for free to continue reading
Registration is a free and easy way to support our truly independent journalism
By registering, you will also enjoy limited access to Premium articles, exclusive newsletters, commenting, and virtual events with our leading journalists
Already have an account? sign in
Join our new commenting forum
Join thought-provoking conversations, follow other Independent readers and see their replies