'This will almost certainly get worse': Hospital A&E waiting times hit worst level on record
'A source of shame for politicians of all stripes. Our staff are stretched beyond their limit,' leading doctor says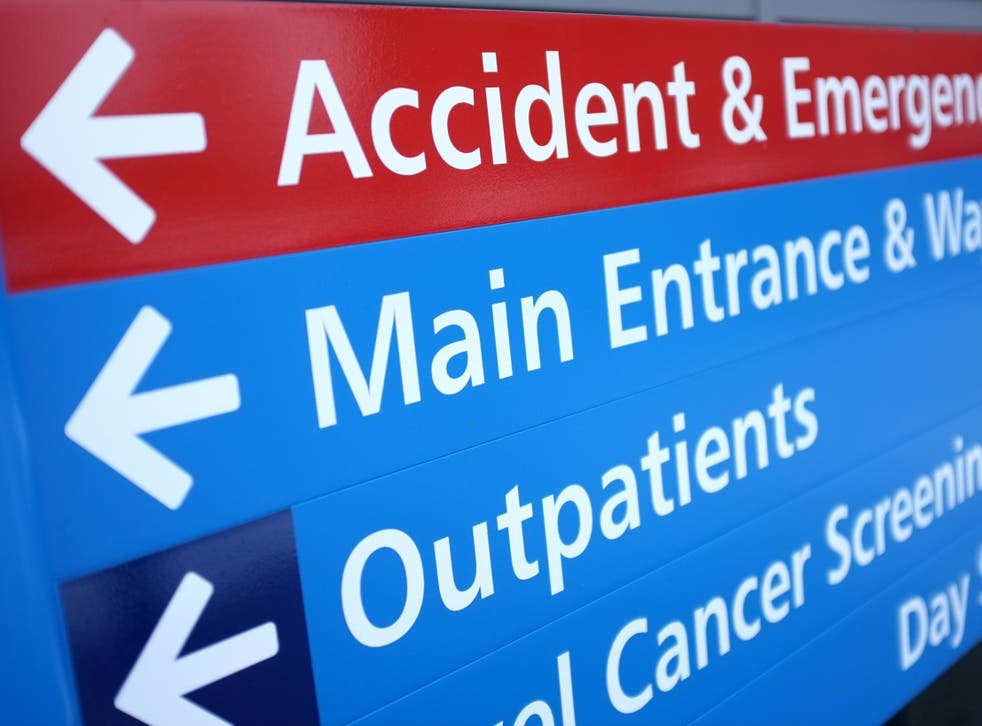 Overall performance by NHS emergency departments has hit its worst ever level with one in four patients at major A&Es waiting longer than four hours to be seen or treated in October, figures show.
The data from NHS England showed 83.6 per cent of patients were treated or admitted in four hours across all accident and emergency departments. The national target to see 95 per cent of patients within four hours has not been achieved since July 2015.
More than 720 patients waited over 12 hours for a bed in October, one of the worst performances for the health service as emergency departments saw record levels of attendances.
Katherine Henderson, president of the Royal College of Emergency Medicine, said: "The worst part of this is that winter is only just beginning. This will almost certainly get worse."
She said the performance figures were a new low for the NHS and should be "a source of shame for politicians of all stripes. Patients have been let down repeatedly by a parliament that has consistently failed to grasp the scale of the problem.
"Our staff are stretched beyond their limits."
In total there were 2.17m patients attending A&E last month, 4.4 per cent up on October 2018.
UK news in pictures

Show all 50
There were 563,079 patients admitted to hospital in October, 3.1 per cent more than a year earlier with more than 80,000 patients waiting over four hours after it was decided they needed a bed.
In terms of waiting times for operations there were 84.8 per cent of patients waiting less than 18 weeks in September 2019, meaning the NHS has again missed its target of 92 per cent.
The total number of patients waiting has now hit 4.4m, a 5.7 per cent rise on September 2018.
The new data also reveals the impact on patients waiting to leave hospital with a daily average of 4,979 beds occupied by waiting patients in September 2019.
The main reason for delays in September was for patients waiting to have a care package set up in their own home which accounted for more than one in five delays. Almost 50 per cent of these delays were due to social care, 30 per cent were the fault of the NHS with 20 per cent blamed on both sectors.
Professor John Appleby, chief economist at the Nuffield Trust think tank said: "These figures show the next government will immediately be faced with one of the bleakest winters in the NHS's history.
"We have many months to go until seasonal pressures really hit the NHS, but October has already seen an unprecedented slump with performance against the main A&E target worse than ever. The health service is seeing far more patients, yet one in six is now waiting more than four hours in A&E. If the usual trends continue after Christmas, that would head towards one in five."
He said the number of patients waiting on trolleys because of a lack of beds was a major concern adding: "If this trend keeps going, I fear we could see 100,000 people stuck on trolleys this coming January.
"These are not acceptable waits, both for people who need urgent help and for the staff who desperately want to treat them. As the election promises roll in, we should be under no illusion about the money, staff and time it will take to turn this situation around."
Labour's shadow health secretary Jonathan Ashworth was quick to blame the government saying: "The Conservatives have ushered in the worst NHS crisis on record. Under Boris Johnson the NHS is in crisis and we're heading for a winter of abject misery for patients.
"The Tories spent a decade cutting over 15,000 beds. Now they should apologise to every patient languishing on a trolley and waiting longer for treatment."
Health Secretary Matt Hancock used the statistics to warn why it was important to stop Labour winning the election saying: "We are giving the biggest cash boost ever to our NHS, but Corbyn's chaotic policies will put that at risk.
"With rising demand, and with dedicated staff already working exceptionally hard, the last thing our NHS can afford is Labour's plans for a four-day week and uncontrolled and unlimited immigration, which would cripple our health service – leaving it understaffed and underfunded.
"Our country cannot afford the cost and chaos of Jeremy Corbyn. Only Boris Johnson and a majority Conservative government will get Brexit done and focus on improving our NHS."
A spokesman for NHS England said: "These figures show that while NHS staff are looking after a markedly higher number of older and sicker patients, a higher number of patients are being seen quickly than a year ago.
"While hospitals will be opening more beds over the coming weeks, the public also have a role to play going into winter, and can help doctors, nurses and other staff by getting their flu jab, and by using the NHS 111 phone or online service as a first port of call for non-emergencies."
Register for free to continue reading
Registration is a free and easy way to support our truly independent journalism
By registering, you will also enjoy limited access to Premium articles, exclusive newsletters, commenting, and virtual events with our leading journalists
Already have an account? sign in
Register for free to continue reading
Registration is a free and easy way to support our truly independent journalism
By registering, you will also enjoy limited access to Premium articles, exclusive newsletters, commenting, and virtual events with our leading journalists
Already have an account? sign in
Join our new commenting forum
Join thought-provoking conversations, follow other Independent readers and see their replies