NHS winter crisis: Nearly 17,000 patients forced to wait more than half an hour in ambulances, show figures
Theresa May has insisted that the NHS is 'better prepared for winter than ever before'
Lizzy Buchan
Political Correspondent
Thursday 04 January 2018 11:02 Comments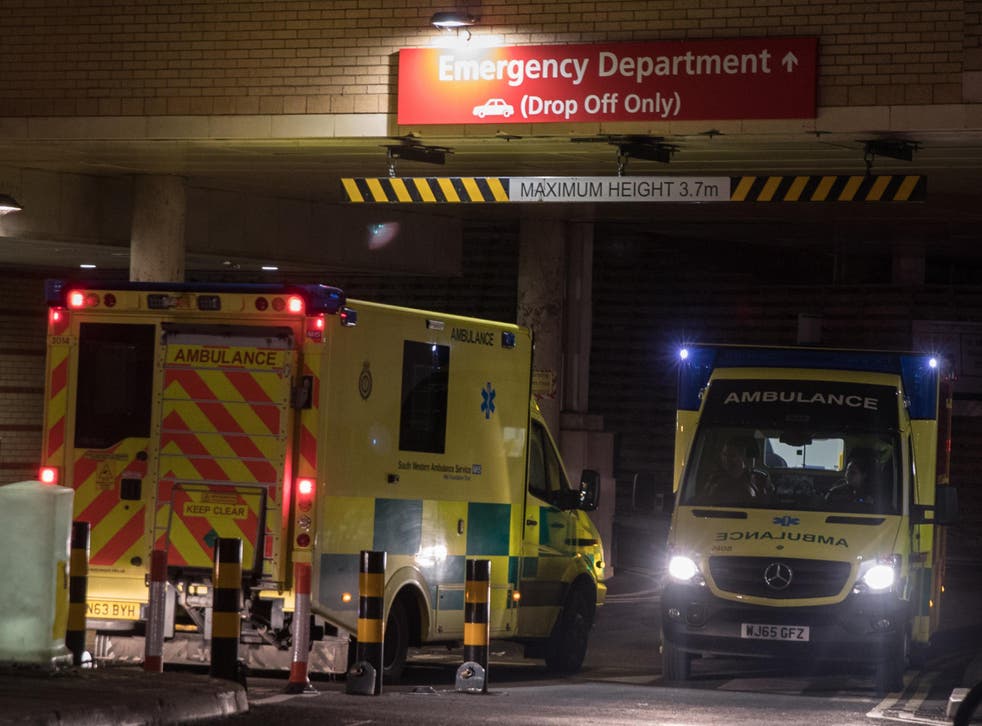 Nearly 17,000 patients were left waiting for more than 30 minutes in the back of ambulances outside A&E in the week up to New Year's Eve amid reports of a winter crisis in the NHS.
Delays in handing patients over to A&E staff hit their highest level this winter, as an additional 5,000 people waited more than half an hour to be seen because A&E departments were too busy to take them than in the week before.
In a sign of the soaring pressures on the NHS, official weekly figures also revealed that hospitals were pushed to capacity with 91.7 per cent of beds occupied by patients.
An NHS England spokesperson said the frontline services had been "extremely busy" over the festive period, with increasing numbers of patients struck down by flu and respiratory illnesses.
It comes after Theresa May insisted that the NHS was "better prepared for winter than ever" - despite Health Secretary Jeremy Hunt being forced to apologise when thousands of routine operations were cancelled to ease pressure on frontline services.
Ambulance crews should be able to hand patients over to A&E staff within 15 minutes of arrival at hospital, as lengthy waits put patients at risk of due to delays in diagnosis and treatment.
Yet weekly operations figures show 4,700 patients waited more than an hour in ambulance, which is the highest number of the winter so far.
Non-emergency calls to the NHS 111 hotline hit record highs in the week up to December 31, with a 21 per cent increase on the ​previous week to 480,400 - the most received in a single week since the hotline was created.
Bed occupancy rates soared above recommended safe limits to 93.5 per cent on New Year's Eve, up from 86.7 per cent on Christmas Day, with an average of 91.7 per cent across the week.
And ambulances were forced to divert to different A&E departments on 39 occasions during Christmas week, down on 57 between Boxing Day and New Year's Day last year, figures show.
The Prime Minister is likely to face questions about the challenges facing the health service on a hospital visit today, where she will thank NHS staff for their hard work over the festive period.
Liberal Democrat leader Vince Cable said: "These figures show the NHS crisis is worsening, with thousands of patients being stuck in ambulances outside A&Es and many hospitals suffering from a severe lack of beds.
"Every day seems to bring yet more bad news about the state of the health service. The blame lies firmly at the government's door.
"Ministers refused to provide the funding top NHS officials said was necessary and now patients are paying the price."
Shadow Health Secretary Jonathan Ashworth said: "Labour and clinicians have warned Ministers for months to prepare for this winter, but concerns were casually dismissed out of hand. Theresa May's boast that the NHS is the best prepared it's ever been has now been entirely discredited.
"The truth is we are now approaching the eighth year of desperate underfunding and cuts to our health and social care services by the Tories."
UK news in pictures

Show all 50
An NHS England spokesperson said: "Hospitals, GPs, ambulances and other frontline NHS services have been extremely busy between Christmas and New Year, reporting higher levels of respiratory illness and some indications of increasing patient illness severity and flu. These increased pressures were mirrored in the NHS 111 service.
"In the week ending Sunday 31st December, NHS 111 responded to 480,000 calls, up 21 per cent on the previous week.
"This is the highest number of weekly calls since the 111 service was created. In the light of these pressures the medical and nursing-led National Emergency Pressures Panel has now enacted, for a time-limited period, the NHS' Winter Pressures Protocol to free-up further staff and beds for patients needing urgent and emergency care."
Register for free to continue reading
Registration is a free and easy way to support our truly independent journalism
By registering, you will also enjoy limited access to Premium articles, exclusive newsletters, commenting, and virtual events with our leading journalists
Already have an account? sign in
Join our new commenting forum
Join thought-provoking conversations, follow other Independent readers and see their replies