Opioids, injections and scans of 'dubious benefit' harming 540 million back pain sufferers worldwide
Most cases respond to exercise and psychological support but 'aggressive' treatment too often promoted
Alex Matthews-King
Health Correspondent
Wednesday 21 March 2018 20:38 Comments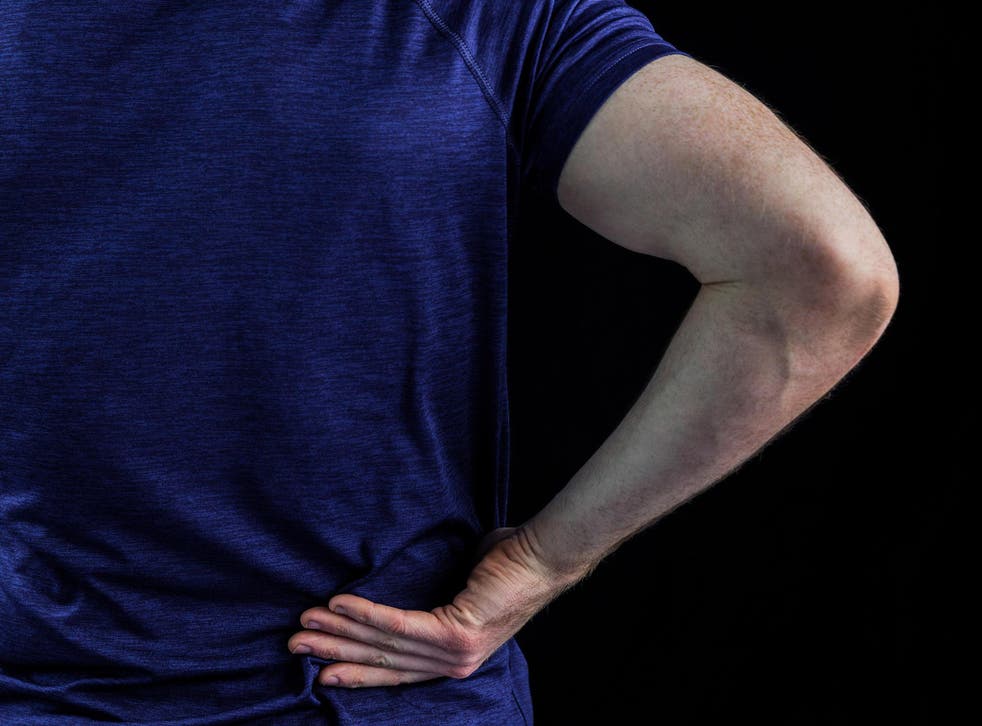 Hundreds of millions of back pain patients worldwide are being aggressively treated with strong opioid painkillers, surgery and scans of "dubious benefit", doctors have warned.
Lower back pain (LBP) has been identified as the leading cause of disability globally. It affects 540 million people and is made worse by mistreatment habits.
This includes injections, emergency room visits and medical advice that patients should take time off work and rest, when all the evidence points to staying active as the best remedy.
"The majority of cases of low back pain respond to simple physical and psychological therapies that keep people active and enable them to stay at work," said Professor Rachelle Buchbinder, a rheumatologist at Monash University, Australia.
"Often, however, it is more aggressive treatments of dubious benefit that are promoted and reimbursed."
The back pain workout

Show all 4
Professor Buchbinder is one of the authors of a series on the international burden of back pain published in the The Lancet medical journal this week.
"Across the globe there is inappropriately high use of imaging, rest, opioids, spinal injections and surgery," she wrote.
"Doing more of the same will not reduce low back pain disability or its long-term consequences."
Worryingly, the authors found the treatment mistakes first pioneered in developed nations like the UK, US and Australia are being repeated in developing nations like India.
The authors are now calling for international guidelines to emphasise "positive health", which prioritises exercise and self-management rather than reliance on pills and doctors.
Despite its global impact, most back pain cases don't have an easily identifiable cause, they may be triggered by an injury but can recur any time after and most are classed as "non-specific".
"Only a small proportion of people have a well understood pathological cause – for example a vertebral fracture or infection," the authors wrote.
However, there are characteristics more common in back pain sufferers, including being from a lower socioeconomic group, physically demanding jobs, physical and mental health problems, smokers, and people who are obese.
In the UK, which has national guidelines supporting the use of exercise, massage and other non-medical treatments as a first step, low back pain accounted for 11 per cent of the total disability burden from all diseases, the research showed.
Each year, one million years of productive life is lost in the UK as a result of the condition, and the authors estimate the cost of lost work and care is in the region of £10.7bn.
In the US, back pain was found to be causing disability in at least three million people, and is treated very differently.
There were 2.6 million emergency visits a year as a result of LBP, the researchers found, and studies have found that 60 per cent of these received opioid painkillers.
President Donald Trump this week announced a plan to cut opioid prescriptions by a third, alongside calling for the death penalty for illegal opioid dealers, in a bid to crack down on a crisis which led to 42,000 opioid overdoses in 2016.
Trump: Justice Department looking at bringing 'major litigation' against drug companies
Nadine Foster, professor of musculoskeletal health in primary care at Keele University and the lead author of the UK analysis, said all health systems should stop funding unproven treatments like painkillers.
"We need to redirect funding away from ineffective or harmful tests and treatments and towards approaches that promote physical activity and function," she added.
Dr Natalie Carter, head of research liaison and evaluation at Arthritis Research UK, said: "This review highlights the global toll that lower back pain takes on healthcare systems and the economy.
The charity supports the emphasis on exercise but says every patient is different, Dr Carter said, adding: "Behind these statistics are real people living with pain that can make everyday life incredibly difficult."
Register for free to continue reading
Registration is a free and easy way to support our truly independent journalism
By registering, you will also enjoy limited access to Premium articles, exclusive newsletters, commenting, and virtual events with our leading journalists
Already have an account? sign in
Register for free to continue reading
Registration is a free and easy way to support our truly independent journalism
By registering, you will also enjoy limited access to Premium articles, exclusive newsletters, commenting, and virtual events with our leading journalists
Already have an account? sign in
Join our new commenting forum
Join thought-provoking conversations, follow other Independent readers and see their replies