Ovarian cysts can be 'watched' rather than removed to avert surgical complications, study suggests
'Our results may lead to a paradigm shift resulting in less surgery for non-cancerous ovarian cyst' expert says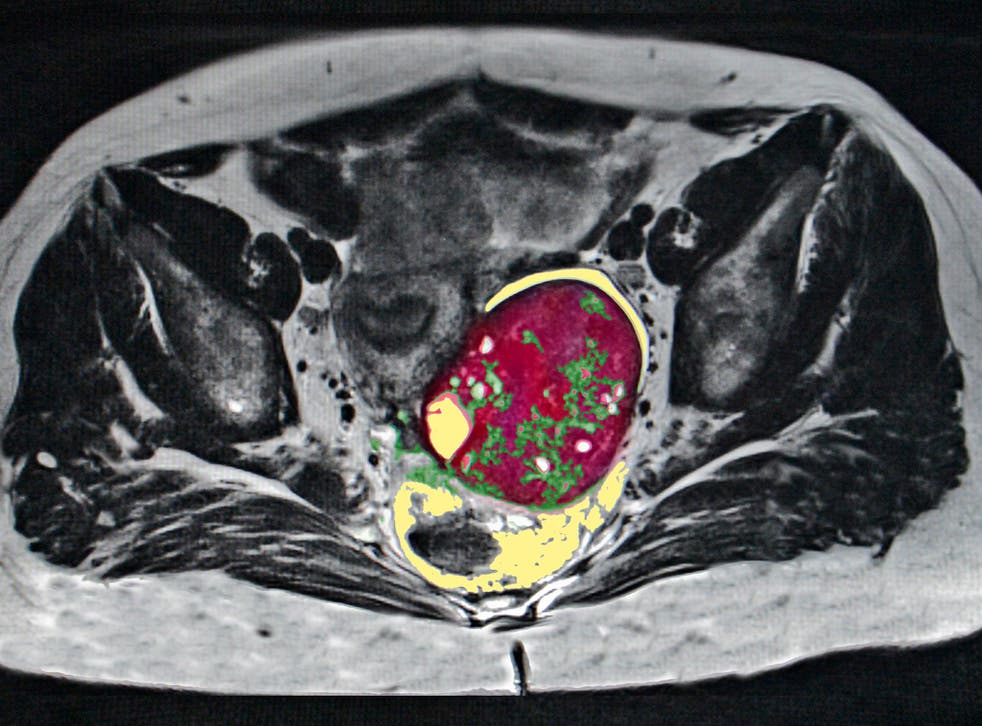 Women with ovarian cysts may be having unnecessary risky surgery, according to "paradigm shifting" UK research.
Researchers found that most cases could instead be safely left if kept under closer observation.
They also said cysts that are not thought to be cancerous had much lower chances of serious side-effects, such as the cyst rupturing or twisting the ovary, than first believed.
Most women still opt for surgery, where there is a fertility concern or fear of cancer, but complications – such as bowel perforation – occur in between 3.5 and 15 per cent of cases.
But these risks could be safely avoided in many cases, according to the research in the journal Lancet Oncology. The Imperial College London team followed nearly 2,000 women and adopted a "watchful waiting" approach, with more regular checkups and inexpensive ultrasounds.
Health news in pictures

Show all 40
"Our results may lead to a paradigm shift resulting in less surgery for non-cancerous ovarian cysts – on condition that trained ultrasound examiners reliably exclude cancer," said lead researcher Professor Tom Bourne, who is also a fellow of the Royal College of Obstetricians and Gynaecologists.
Ovarian cysts are common and often symptomless fluid-filled sacs that form on the reproductive organs, but which can spark a referral where they cause pelvic pain or bloating.
Cysts can be cancerous and need immediate removal. Although a specialist ultrasound technician can usually identify when they are benign, many women are still offered precautionary surgery.
More than 200,000 women a year have surgery to remove a pelvic mass, while around one tenth of that number were expected to be diagnosed with ovarian cancer in 2018, the authors said.
The Lancet trial found around four out of five cases needed no further intervention.
In 20 per cent of cases, the cyst eventually disappeared naturally, and while 16 per cent of the women eventually had surgery only 12 women were diagnosed with ovarian cancer – a risk of 0.4 per cent.
This may have been due to an initial misdiagnosis, the authors said. The likelihood of experiencing ovarian twisting was 0.4 per cent and of cyst rupture 0.2 per cent, they found – much lower than risks of surgery.
However for this to reassure women, charities said they must be guaranteed regular testing at a time when NHS services are under significant strain.
Marie-Claire Platt, head of campaigns at the charity Ovarian Cancer Action, said: "These research findings could save women with benign ovarian cysts from unnecessary major surgery, avoiding the risk of short and long-term surgical complications.
"However, we need to ensure these women receive appropriate and regular surveillance, in case a cyst is misdiagnosed and is in fact ovarian cancer.
"Both benign cysts and ovarian cancer can present in the same way, with symptoms such as bloating and pelvic pain. If you are persistently experiencing these symptoms, visit your GP immediately."
Register for free to continue reading
Registration is a free and easy way to support our truly independent journalism
By registering, you will also enjoy limited access to Premium articles, exclusive newsletters, commenting, and virtual events with our leading journalists
Already have an account? sign in
Register for free to continue reading
Registration is a free and easy way to support our truly independent journalism
By registering, you will also enjoy limited access to Premium articles, exclusive newsletters, commenting, and virtual events with our leading journalists
Already have an account? sign in
Join our new commenting forum
Join thought-provoking conversations, follow other Independent readers and see their replies