Pfizer booster jab protects against omicron variant, early tests indicate
Emerging data raises hope that vaccines will continue to provide protection against new variant
Samuel Lovett
Science Correspondent
Wednesday 08 December 2021 18:33 Comments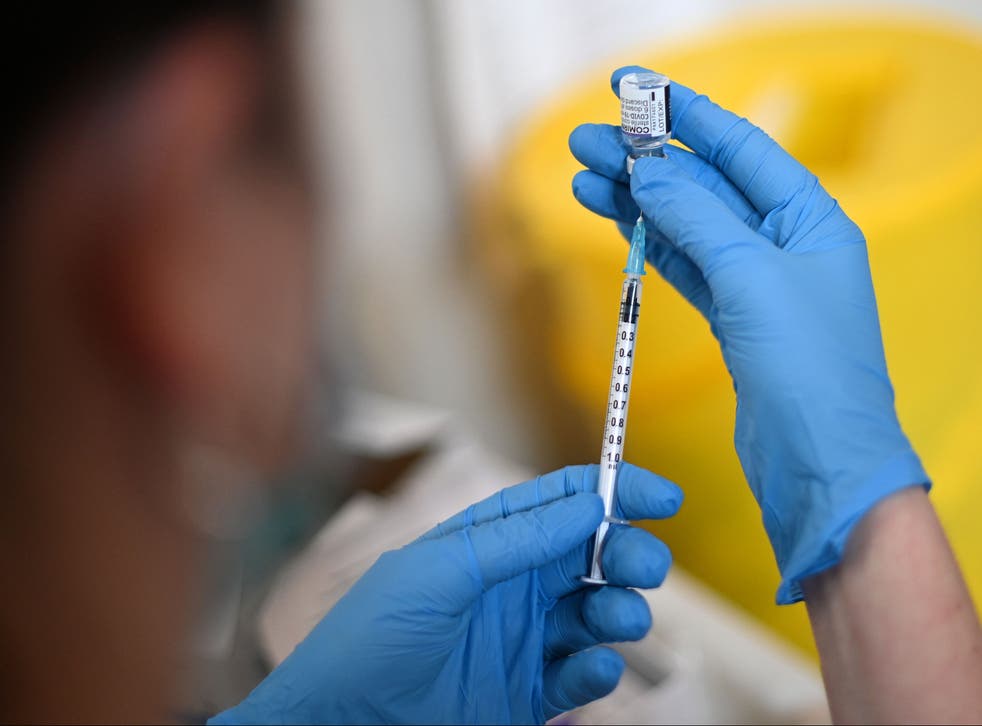 Leer en Español
A Pfizer booster jab generates an immune response capable of neutralising the omicron variant, though two doses are unlikely to protect against infection, lab testing suggests.
Early data from the company indicate that three doses of the vaccine provide as much protection against the variant as two shots did against the original Covid virus.
Scientists assessed blood from individuals who had received only two doses and found there was a 25-fold reduction in antibody levels against the variant.
However, the blood samples obtained from people one month after they had been boosted showed far higher levels of neutralising antibodies, raising hope that those who have received three doses will remain protected against omicron infection.
There was also nothing to suggest that T cells generated by vaccination – another key part of the immune system's response – are unable to neutralise the variant, despite its many mutations. That indicates "vaccinated individuals may still be protected against severe forms of the disease" after only two doses, Pfizer said.
Pfizer announced the early lab data in a press release and it has not yet undergone scientific review.
"Ensuring as many people as possible are fully vaccinated with the first two-dose series and a booster remains the best course of action to prevent the spread of Covid-19," Pfizer boss Albert Bourla said in a statement.
Though the necessity remains unclear, Pfizer and its partner BioNTech said they would continue their efforts to develop an omicron-specific vaccine.
The findings from Pfizer are broadly in line with a preliminary study published by researchers at the Africa Health Research Institute in South Africa on Tuesday.
That study showed that the variant may be able to better evade the protection offered by the Pfizer vaccine than the original Covid virus – but only partially.
There appears to be a "very large drop" in immunity against the new variant among those given the vaccine, said Alex Sigal, a professor at the Africa Health Research Institute, after his laboratory studied blood samples of 12 people vaccinated with the jab.
But – in results with promising implications for booster jabs – antibodies in samples from those who had been both double-vaccinated and naturally infected with coronavirus appeared significantly more effective against the new variant, according to the study, which has not yet been peer-reviewed.
Scientists have speculated that the high jump in antibodies that comes with a third dose of Covid-19 vaccines might be enough to counter any decrease in effectiveness brought about by omicron.
World news in pictures

Show all 50
Antibody levels predict how well a vaccine may prevent infection but they are just one layer of the immune system's defences.
T-cells are another critical component in the body's immune response and are believed to prevent severe disease by attacking infected human cells.
Even if current vaccines prove less effective at preventing breakthrough infections in people who are double-vaccinated, scientists widely expect them to continue to offer significant protection against severe illness and death.
Register for free to continue reading
Registration is a free and easy way to support our truly independent journalism
By registering, you will also enjoy limited access to Premium articles, exclusive newsletters, commenting, and virtual events with our leading journalists
Already have an account? sign in
Join our new commenting forum
Join thought-provoking conversations, follow other Independent readers and see their replies