Double dose of Pfizer vaccine is 64% effective against Delta variant, Israel data says
A health official said the new data that showed the Pfizer/BioNTech coronavirus vaccine to be less effective was a 'cause for concern'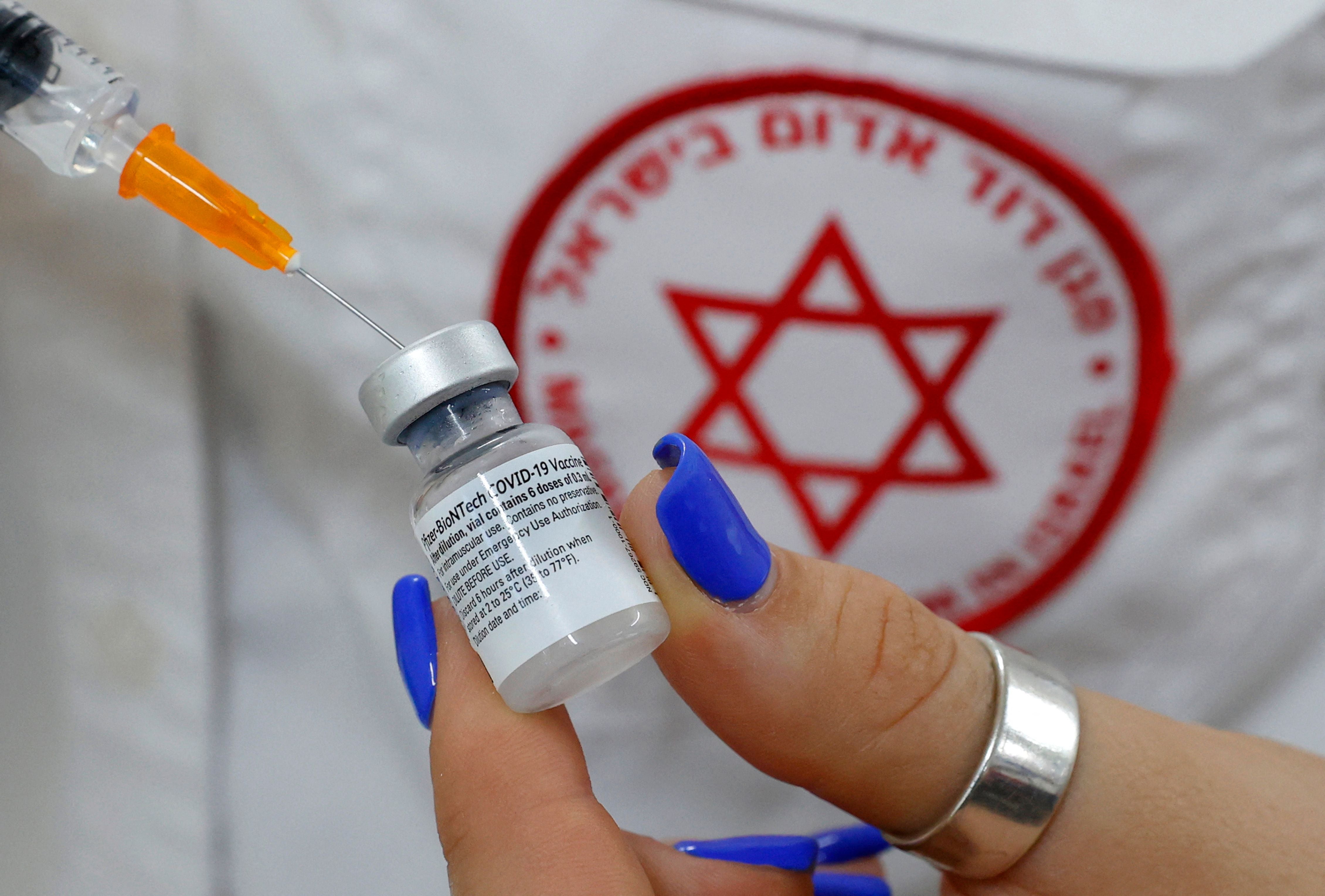 Two doses of Pfizer's coronavirus vaccine is only 64 per cent effective in preventing Covid infections, new data from the Israel's health ministry show.
Earlier this year – prior to the surge of the Delta variant – data from Israel showed that the Pfizer/BioNTech jab was 94 per cent effective in preventing infections.
In terms of serious illness, a drop in effectiveness was also noted. In May it was found that two doses of the Pfizer vaccine prevented 98 per cent of serious coronavirus infections, whereas in June, once the Delta variant began circulating widely, this figure fell to 93 per cent.
Despite this, a report from the health ministry said that the vaccine remained considerably effective in preventing serious illness and hospitalisation.
A senior health official told ynet news that the data was a real cause for concern. The official said that the vaccines appeared to be "less effective" and added that the health ministry should "consider a booster shot for the immunosuppressed and elderly population".
A study from the Hebrew University also found the Pfizer vaccine to be less effective – registering an efficacy of 70 per cent – against infections with the Delta variant.
A spokesperson for Pfizer declined to comment on the data from Israel, but provided a statement that read: "We have not seen any evidence that the circulating variants result in a loss of protection provided by our vaccine in our laboratory studies.
"Additionally, real-world studies provide strong support that Pfizer/BioNTech COVID-19 vaccine BNT162b2 will provide a strong level of protection against these circulating variants.
"One of the reasons Pfizer and BioNTech chose to utilise a mRNA platform is because of the flexibility of the technology in comparison to traditional vaccine technologies, and boosting is one of these advantages. mRNA vaccines provide ability to alter the RNA sequence in the vaccine to cover new strains of the virus. If a strain that escapes protection from the vaccine were to emerge, the updated vaccine could be administered as a booster."
Over the past two weeks, the Delta variant has been responsible for 90 per cent of new Covid cases in Israel.
More than 60 per cent of the Israeli population is fully vaccinated, with most people receiving the Pfizer jab. The country began vaccinating children aged 12-15 in mid-June, and is currently considering adding a third jab to its vaccine regime to provide added immunity to those with compromised immune systems.
This move is similar to one expected in the UK, where trials are underway to determine the value of booster jabs for the over 50 population in the fall.
Join our commenting forum
Join thought-provoking conversations, follow other Independent readers and see their replies