The Independent's journalism is supported by our readers. When you purchase through links on our site, we may earn commission.
Pig-to-human heart transplants 'one step closer' after success with baboons
New techniques triple survival rates among baboons requiring the surgery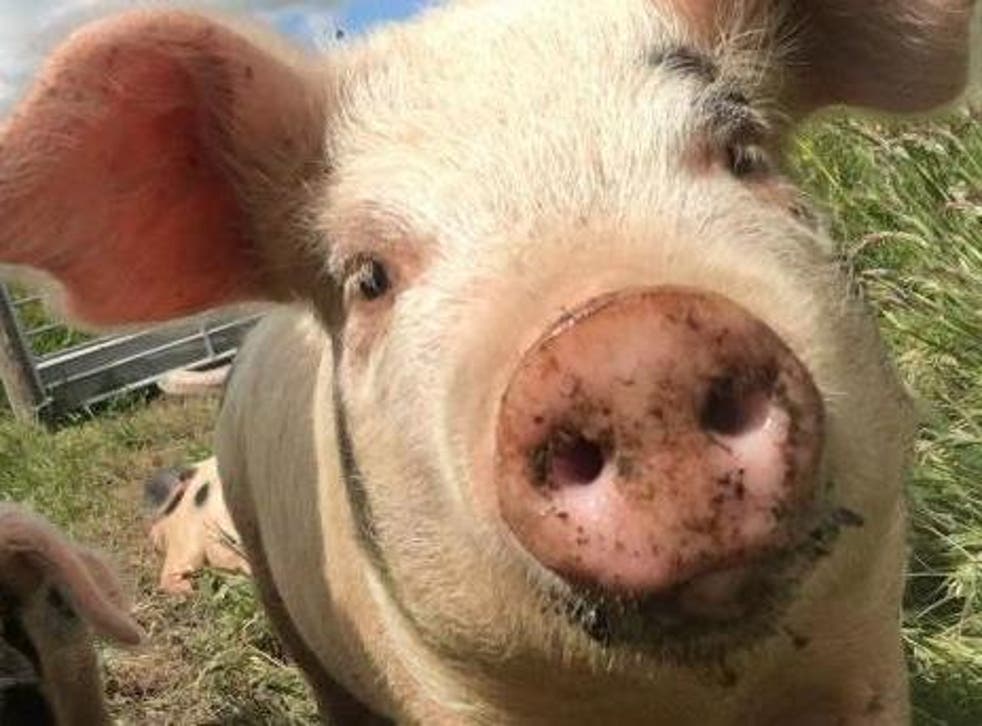 Scientists believe that transplanting pigs' hearts into humans may have come one step closer to reality thanks to recent tests on baboons.
Researchers described the advances as "major" in a new study.
Heart disease was the leading cause of death for men in 2016, and is second overall after dementia and Alzheimer disease.
The most common form, coronary heart disease, results in the constriction of essential blood vessels to the heart. A heart attack occurs when blood flow to the organ is interrupted or cut off. Transplantation is the only long-term medical solution for patients with terminal heart failure.
But the shortage of organs for heart transplants is a huge challenge for modern medicine. Thousands of people are on waiting lists, and the current supply only meets a tiny percentage of total demand.
The prospect of rearing pigs, whose organs are remarkably similar to ours, to meet this demand, is regarded as an attractive and increasingly likely means of addressing that problem.
And a team of scientists from Germany believe we may be one step closer to achieving this, after they successfully transplanted genetically modified pig hearts into baboons.
A paper published this week in the journal Nature says although further testing is required, the operations represent "a major step towards the clinical use of pig donor hearts in human patients".
In previous tests using baboons requiring life-supporting transplant surgery, the longest an individual had subsequently survived had been 57 days. Pig heart transplants into baboons who still had healthy functioning hearts have seen better results, with one living 945 days (two and a half years).
But a team from the Ludwig Maximillian University of Munich, lead by Bruno Reichart have significantly improved the outlook for life-supporting pig-to-baboon heart transplants.
They refined the transplant procedure with three successive groups of baboons, using 16 in total.
Four of the five baboons in the final group remained healthy for at least 90 days (when the experiment was terminated), including one that was in good health after 195 days.
The success involved using immunosuppressants to prevent the baboons' immune systems from rejecting the foreign hearts, and instead of storing hearts for transplant in ice-cold storage facilities, the team found the tissue can be damaged by this process and improved results by intermittently pumping an oxygenated solution containing hormones through the hearts.
Though this technique was successful, the recipient animals died within 40 days, due to rapid over-growth of the organ.
So in the third group, the baboons were given drugs that control cell proliferation – keeping the hearts from growing too quickly after transplantation.
In addition, steroid cortisones to aid an immunosuppression response have typically been given to transplant recipients, but steroids are also a cause of rapid muscle growth, so the team also curtailed their use more rapidly than in previous tests.
Of the five baboons in the final group, one was euthanised 51 days after the transplant, two lived for three months – running the intended length of the experiment – and two lived for over six months before they were euthanised, showing survival rates can be tripled, and indicating hugely improved success rates.
The research has been welcomed as "impressive" and a "significant landmark".
Christopher McGregor, professor of cardiac surgery, at the Institute of Cardiovascular Science, UCL, said the study "is a significant landmark in progress towards transplantation into humans of pig hearts, for the treatment of end stage heart disease.
"In the USA and Europe, the need for heart donors is great and exceeds the supply from human sources by at least ten fold. The Munich group's paper brings this transformational treatment closer to active consideration from what was previously only a reasonable possibility.
"Their achievements are longer (up to 195 days) and more consistent (4 out of 5) survival of non-human primates than the less predictable and previous best of 57 days by our group."
UK news in pictures

Show all 50
He added: "Government, Research Bodies, Health Services and learned Societies would well be advised to now refresh the regulatory environment (particularly the criteria for translation into patients) and review funding needs for the likely possibility of successful clinical xenotransplantation."
Prof Barry Fuller, Professor in Surgical Science & Low Temperature Medicine, UCL & Royal Free London NHS Foundation Trust Transplantation Services, said: "This is an impressive study on transplantation of organs between species.
"The possibility to use animal organs for transplantation to overcome organ shortages has been discussed for decades, but has never become a reality because the human body aggressively rejects animal organ transplants because of multiple and strong immune reactions. Scientists have developed genetically modified pigs which could in theory reduce this strong immune response, but even then, significant problems have remained."
"The work is also important because it highlights the role that organ preservation may play in stimulating the immune system of the transplant recipient – if the organ preservation is optimised, it can help to damp down the strong immune response to the new organ.
Support free-thinking journalism and attend Independent events
He added: "This new research can thus help both to bring organ xenotransplantation a step closer to human application, and to improve organ preservation techniques for human heart transplantation."
Register for free to continue reading
Registration is a free and easy way to support our truly independent journalism
By registering, you will also enjoy limited access to Premium articles, exclusive newsletters, commenting, and virtual events with our leading journalists
Already have an account? sign in
Register for free to continue reading
Registration is a free and easy way to support our truly independent journalism
By registering, you will also enjoy limited access to Premium articles, exclusive newsletters, commenting, and virtual events with our leading journalists
Already have an account? sign in
Join our new commenting forum
Join thought-provoking conversations, follow other Independent readers and see their replies