Poorest areas hardest hit by 'forgotten epidemic' of pneumonia putting a child in hospital every 10 minutes
There were 56,210 children admitted as an emergency for pneumonia in the last year, 50 per cent up on a decade earlier
Mother Catherine Sage tells story of rushing eight-year-old son Edward to A&E with pneumonia
One child every 10 minutes is being admitted to hospital in England after being struck down with pneumonia, a "forgotten epidemic" hitting the poorest in society.
A new report by Save the Children has revealed a 50 per cent increase in child admissions to hospitals in England as a result of pneumonia, tragically costing the lives of at least two children every month.
Despite the UK vaccinating children against bacterial pneumonia, other forms of the disease can still strike and appear to be on the rise.
According to the latest NHS data, between April 2018 and March 2019 there were 56,210 children admitted as an emergency for pneumonia, 50 per cent up on 36,862 admissions in 2008-9.
According to the Office for National Statistics 27 children diagnosed with pneumonia died in the year to March.
UK news in pictures

Show all 50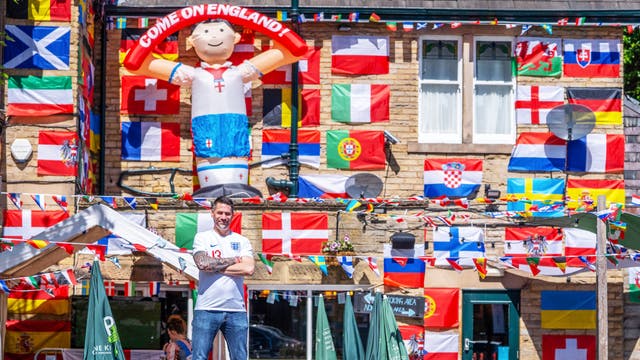 Save the Children is campaigning for a global effort against the condition which is the world's leading infectious killer of children, claiming the lives of more than 800,000 children every year, more than 2,000 every day across the world.
Deprivation plays a key role in the spread of the infection with 2017-18 data showing the 10 per cent most deprived areas of England had the most admissions, at 525 per 100,000 population. This compared with 381 admissions in the 10 per cent least deprived areas.
The Blackpool area recorded 640 admissions and the South Tees area had 570 admissions, some of the highest in the country.
Teacher Catherine Sage described how her son Edward was taken to hospital gasping for breath after waking in the night.
She said: "He was making a sound I'd never heard him make before. It was really scary."
Once he was at hospital doctors diagnosed Edward with severe pneumonia and a collapsed lung.
His mum added: "I knew people were hospitalised for pneumonia but I thought it was only really old people. I had no idea it could be so dangerous for young children. I was surprised how severely ill it made him."
Edward spent two weeks in hospital where he was given antibiotics, oxygen, and physiotherapy to help clear his lungs. He has now made a full recovery.
Pneumonia is caused by bacteria, viruses or fungi, and leaves children fighting for breath as their lungs fill with pus and fluid.
Children with immune systems weakened by other infections or malnutrition, and those living in areas with high levels of air pollution, are at far greater risk of developing the disease.
Kevin Watkins, CEO of Save the Children, said: "These findings show pneumonia is a disease that affects the poorest children worst of all, wherever they are in the world. But while British children almost always survive, millions of children in poor countries are dying for want of vaccines, a few pence worth of antibiotics, and routine oxygen treatment.
"With such simple solutions, no child should have to die from pneumonia regardless of where they live.
"This is a forgotten global epidemic that demands an urgent international response. The UK government must continue to invest in global efforts to tackle the pneumonia crisis so that children everywhere can access life-saving healthcare."
Darren Baxter, from anti-poverty charity the Joseph Rowntree Foundation, said the current system, in which some children are trapped in situations that can damage their health, was "unacceptable".
"It is wrong that over 4 million children live in poverty in the UK and often find themselves without the safe and secure housing they need to keep them healthy", he added.
"There is action we can take to fix the problem. As well as making sure work and social security keep families out of poverty the next government must also take action for the long term by investing in the low cost rented homes the country badly needs."
Nick Roseveare, interim executive director of Unicef UK, said: "We're lucky in the UK that we have the NHS and a childhood vaccination programme which includes pneumonia and influenza, so fewer children get these illnesses in the first place.
"Pneumonia can be easily prevented and cured with simple, and cost-effective measures, yet it remains the main infectious cause of death among children under five globally. We can change this, we must change this. We have the knowledge, tools and power to save children from a preventable death."
Save the Children and Unicef are calling the next UK government to increase its international aid spending on healthcare and to do more to boost the vaccination of children.
Join our new commenting forum
Join thought-provoking conversations, follow other Independent readers and see their replies