Ultra-processed foods make people eat more, faster and gain weight, first-of-its-kind trial shows
Even when healthy, 'unprocessed' meals and snacks were prepared and paid for volunteers still ate more calories while on the processed food diet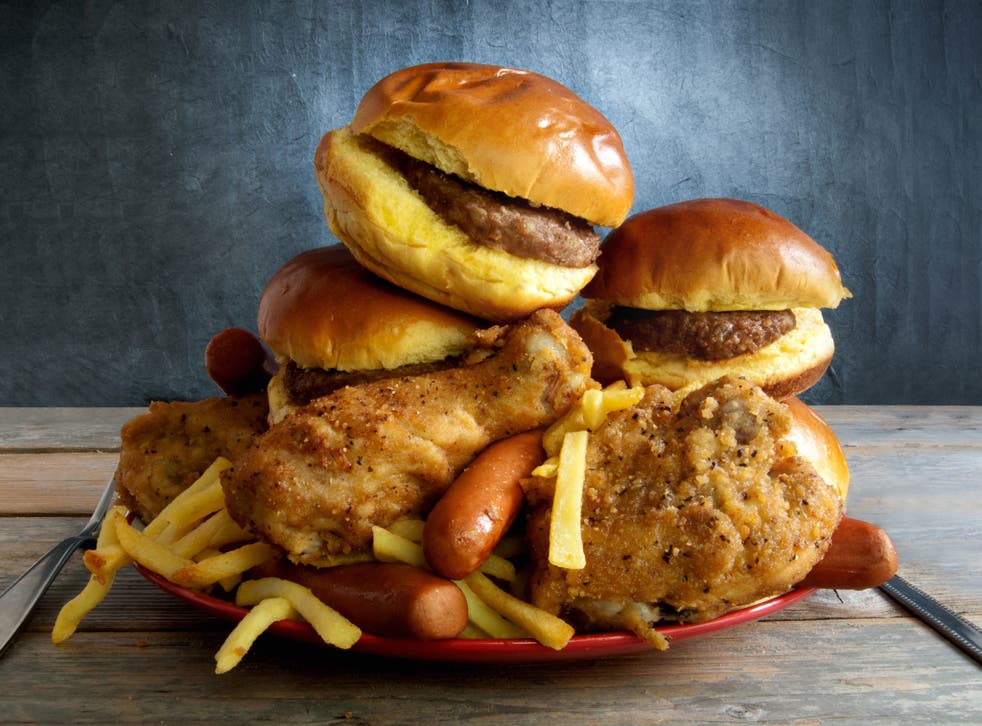 Ultra-processed foods, such as ready meals, pizza and sugary cereals make people eat more, eat faster and gain more weight, a first of its kind study has found.
On average they put on 500 calories more per day and gained 2lbs (1kg) in weight in a two week period, researchers from the US National Institute of Health found.
A group eating unprocessed food like spinach salad with chicken breast, apple slices, bulgur, and sunflower seeds, lost weight.
Participants' food intake and health were closely measured with each group receiving three meals a day, drinks and snacks.
For the study, half the participants ate an "ultra-processed diet" and half an "unprocessed one" rich in fruits, vegetables and whole grains, with both sets of meals nutritionally balanced as much as possible and every calorie counted.
The best diets: according to the experts

Show all 10
The unprocessed food group lost weight even with the inconvenience and cost of eating healthily removed.
"I was surprised by the findings from this study, because I thought that if we matched the two diets for components like sugars, fat, carbohydrates, protein, and sodium, there wouldn't be anything magical about the ultra-processed food that would cause people to eat more," said lead author Kevin Hall.
"But we found that, in fact, people ate many more calories on the ultra-processed diet, and this caused them to gain weight and body fat."
While only a small group of 20 volunteers it means doctors can, for the first time, conclude that it is something about processed foods which is causing obesity, Dr Hall and colleagues said in the journal Cell Metabolism.
Previous studies have shown a link between obesity and processed food.
But they could not rule out whether it was down to the food or other traits of the people who ate them, for example, people with the time and money to exercise regularly tending to eat healthier as well.
The latest study used the NOVA food classification system, which categorises foods based on the inclusion of flavour enhancing additives, life-prolonging preservatives, as well as features of their packaging and marketing.
A typical ultra-processed lunch included quesadillas, refried beans, and diet lemonade.
In comparison, an unprocessed lunch might be a spinach salad with chicken breast, apple slices, bulgur, and sunflower seeds and grapes.
Both of the diets contained the same amount of calories, sugars, fiber, fat and carbohydrates, and participants could eat as much or as little as they wanted.
Particpants swapped after two weeks on the diet and the same patterns of over eating and weight gain were seen.
Both groups said they enjoyed the food, meaning it must be something other than flavour causing the difference and further research will look at understanding these cause.
Bacon, sausages and other processed meat causes cancer - WHO
"It seems that participants found ultraprocessed food more palatable, ate more quickly and consequently more – possibly because it took longer for them to feel full," said Dr Gunter Kuhnle from the University of Reading who was not involved in the study.
This could be a consequence of certain additives interfering with the release of hunger hormones that tell the brain when the stomach is full, or simply the time lag.
Dr Kuhnle said that while the classifications of ultra-processed foods is let down by the fact that all foods require some processing, he said the study was well conducted.
It shows how difficult it can be for people who are less well-off to stick to dietary advice. The processed diet cost a third less than the unprocessed one even before the preparation time is factored in and this is "likely to have implications from a public health point of view", Dr Kuhnle added.
Join our new commenting forum
Join thought-provoking conversations, follow other Independent readers and see their replies