UK sepsis death rate five times higher than Europe's best-performing country
Britain failing to keep up with other wealthy nations on cutting mortality, research shows 
Chris Baynes
Wednesday 24 October 2018 00:33 Comments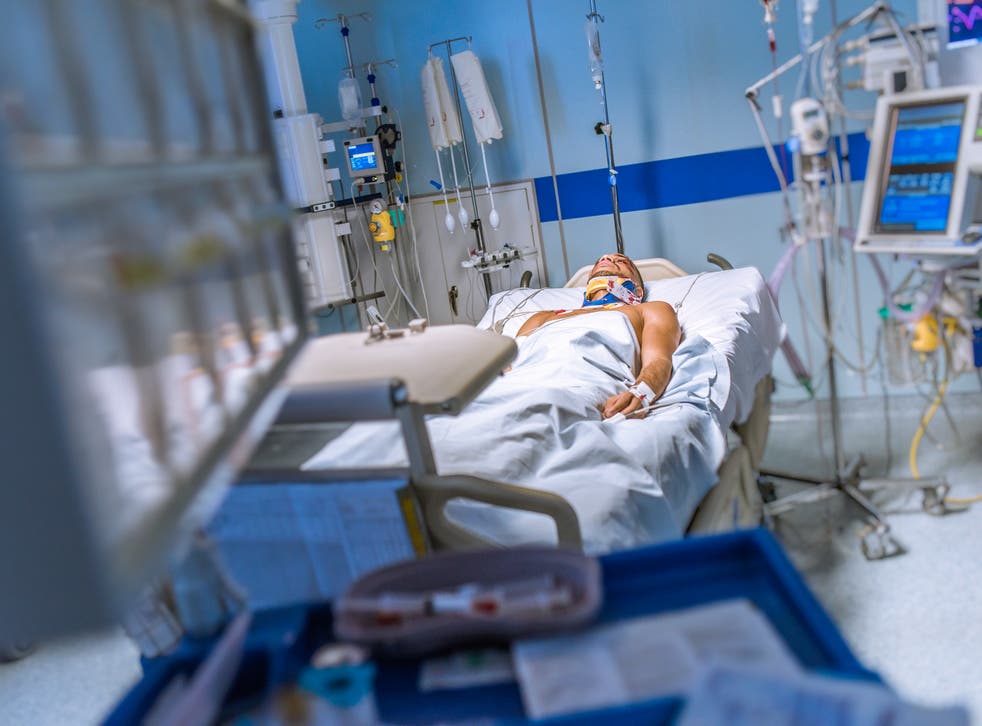 Sepsis death rates in Britain are five times higher than in the best-performing country in Europe, a study has found.
The UK is failing to keep up with other wealthy nations' progress on cutting sepsis mortality, researchers warned.
Sepsis is a serious complication of an infection which, without quick treatment, can lead to multiple organ failure and death. It kills more than 46,000 people in the UK and six million people worldwide each year.
Between 1985 and 2015 the sepsis mortality rate in Britain fell from 40 deaths out of every 100,000 women in the population to 35 deaths per 100,000, according to figures to be presented to the annual meeting of the European Society of Intensive Care Medicine in Paris on Wednesday.
Among men, the rate fell from 49 to 40 death per 100,000 over the same period.
But in Finland, the sepsis death rate for women fell from 32 per 100,000 women in 1987 to 6.5 per 100,000 in 2014. For men, the rate fell from 51 to 10 per 100,000.
Researchers from Harvard Medical School and Imperial College London (ICL) conducted an analysis of 30-year trends in sepsis deaths using the World Health Organisation's mortality database.
Data from more than 30 countries across Europe, Australasia and North America were included in the analysis.
The average death rate internationally fell from 36.2 per 100,000 men in 1985 to 27.1 per 100,000 in 2015.
For women, the average death rate fell from 23.2 in 100,000 to 19.6 in 100,000 during the same period.
UK news in pictures

Show all 50
Countries which managed to reduce death rates most significantly were Finland, Iceland and Ireland.
Increased rates were noted in both Denmark and Lithuania.
The study's authors concluded: "Overall, we observed a decrease in reported sepsis-related mortality across the majority of analysed nations between 1985 and 2015.
"However, there remains significant variability between health systems with respect to trends in sepsis-related mortality and between sexes in some countries."
In the UK, there have been significant efforts to drive down sepsis rates in recent years - particularly after some high-profile cases of the condition.
Support free-thinking journalism and attend Independent events
William Mead died of sepsis at just 12 months old in December 2014 following a string of NHS blunders.
His mother Melissa has since campaigned to improve awareness of the condition and demand action.
Last year, former health secretary Jeremy Hunt announced a series measures to improve sepsis identification, tracking and prevention.
Scientists at ICL have developed artificial intelligence (AI) that could boost sepsis patients' chances of survival, it was announced this week.
The system "learnt" the best treatments by analysing about 100,000 patient records in intensive care units and the decisions of doctors who saw them.
The AI proved more reliable at predicting the best treatment than human doctors, according to a study published in Nature Medicine.
Health minister Lord O'Shaughnessy said: "Sepsis is a devastating condition which claims far too many lives in the UK. We need to be better at spotting the signs early and artificial intelligence has the potential to do this quickly and more effectively than humans – supporting doctors so they can spend more time with patients.
"We're already making steps to improve diagnosis with our new sepsis tool, but we must also embrace any new technology solutions that can improve patient care and save lives."
Register for free to continue reading
Registration is a free and easy way to support our truly independent journalism
By registering, you will also enjoy limited access to Premium articles, exclusive newsletters, commenting, and virtual events with our leading journalists
Already have an account? sign in
Join our new commenting forum
Join thought-provoking conversations, follow other Independent readers and see their replies