Sepsis killing almost twice as many people worldwide than previously thought, new study warns
Researchers find that condition caused 11 million deaths in 2017, but some clinicians say efforts to raise awareness have led to 'sepsis hysteria'
Shaun Lintern
Health Correspondent
Thursday 16 January 2020 21:02 Comments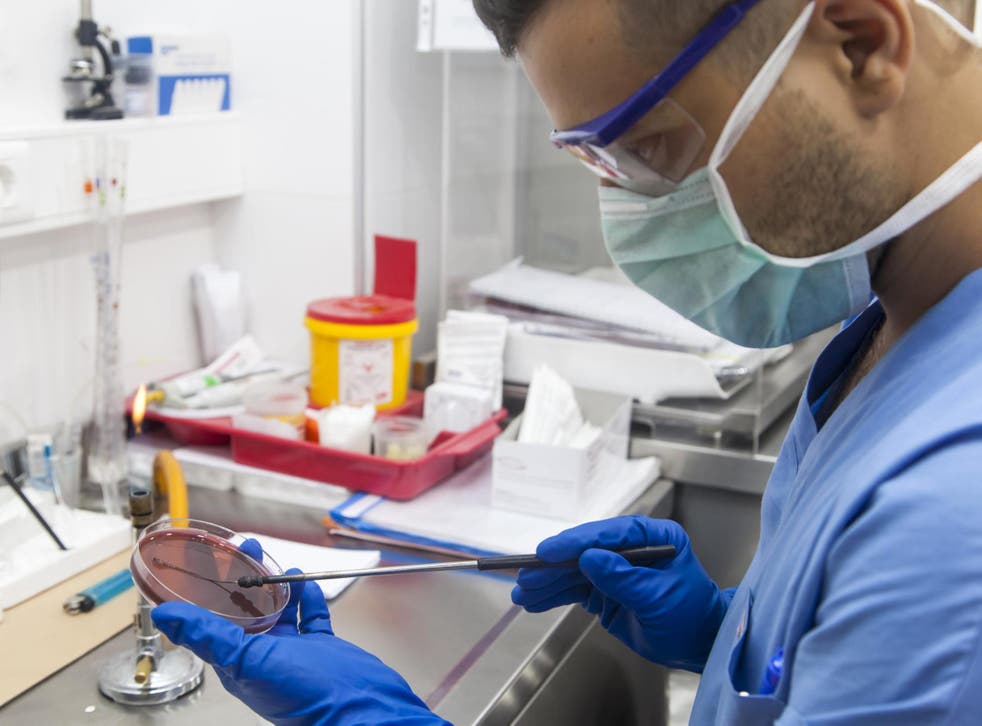 Nearly twice as many people around the world are dying of sepsis than was previously thought, according to a new global study.
Researchers found that the condition, in which the body suffers an out-of-control response to infection, caused 11 million deaths globally in 2017 out of a total of 49 million cases. Previous estimates had said there were about 6 million deaths a year worldwide.
The study, published in The Lancet, reveals that children under five are particularly susceptible, with poorer parts of the world reporting the majority of cases.
Kristina Rudd, assistant professor in the University of Pittsburgh department of critical-care medicine, who led the study, said: "If you look at any top 10 list of deaths globally, sepsis is not listed because it hasn't been counted.
"I've worked in rural Uganda, and sepsis is what we saw every single day. Watching a baby die of a disease that could have been prevented with basic public health measures really sticks with you."
Sepsis kills an estimated 44,000 people in England every year. Rapid access to antibiotics within the first hour after diagnosis is vital to treating the underlying infection.
UK news in pictures

Show all 50
The study analysed annual sepsis incidence and mortality trends between 1990 and 2017, using data from the Global Burden of Disease Study that includes more than 38 billion estimates of more than 350 diseases and injuries.
The researchers found that sepsis rates had improved over time, with an estimated 60 million cases and 16 million deaths in 1990 dropping by a fifth to 49 million cases and 11 million deaths by 2017.
Lower respiratory infections were the most common underlying cause of a sepsis-related death.
The majority of sepsis cases occurred in low- or middle-income countries. The highest burden was found in sub-Saharan Africa, the south Pacific islands near Australia, and south, east and southeast Asia.
Incidence was higher among women than men, and more than 40 per cent of all cases occurred in children under five.
Dr Rudd added that improved public health infrastructure, vaccinations, clean drinking water and better nutrition would help to prevent the condition. Even in high-income countries such as the US and the UK, she said, it was still a major killer and people needed to ensure they were vaccinated against flu and pneumonia.
Some clinicians have criticised efforts to raise awareness of sepsis and blamed it for causing "sepsis hysteria".
Dr Rudd said: "There has been a conversation in the last two years among the sepsis and critical-care community, mostly initiated by researchers and clinicians in high-income areas saying that sepsis is maybe being made to be a bigger deal than it actually is.
"I think our findings really give numbers to the concerns our colleagues in low- or middle-income countries have been raising for years, really pushing back and saying sepsis is a big deal everywhere but is the biggest deal in the poorest communities."
Register for free to continue reading
Registration is a free and easy way to support our truly independent journalism
By registering, you will also enjoy limited access to Premium articles, exclusive newsletters, commenting, and virtual events with our leading journalists
Already have an account? sign in
Join our new commenting forum
Join thought-provoking conversations, follow other Independent readers and see their replies