Shrewsbury maternity scandal: Mother made to wait two weeks before giving birth after her waters broke
'Nothing can make up for what happened, especially to Morgan, but we deserve to know whether more should have been done to help us'
Shaun Lintern
Health Correspondent
Saturday 30 November 2019 10:10 Comments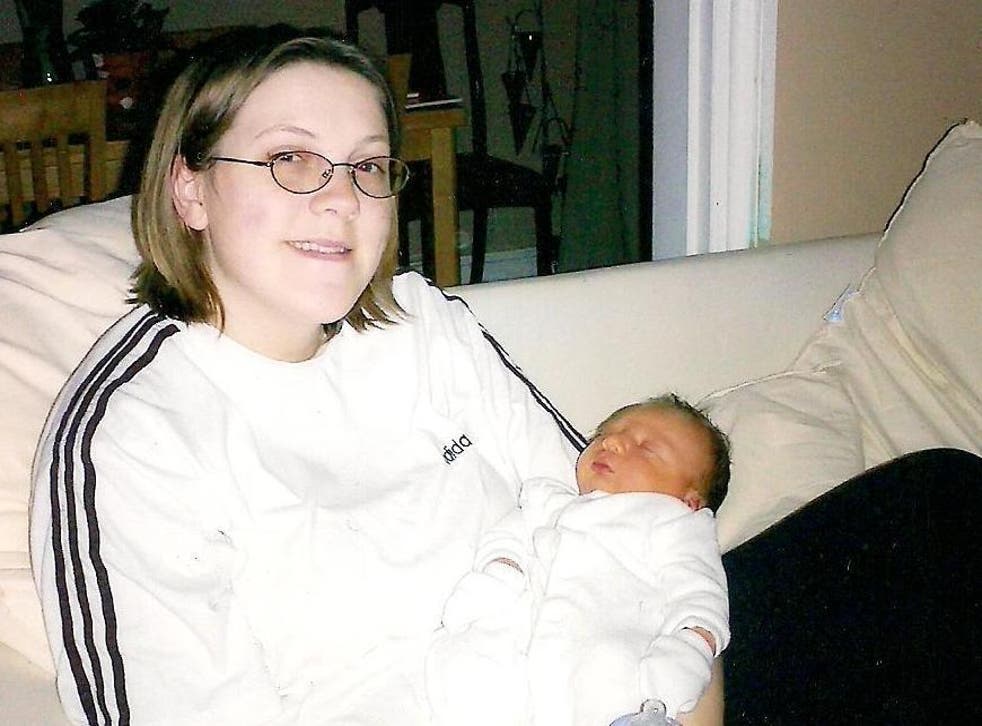 A mother who was made to wait two weeks after her waters broke before giving birth has criticised Shrewsbury and Telford Hospitals Trust for leaving her son permanently disabled.
Kate-Anne Wilds is one of hundreds of mothers complaining about poor care at the Shropshire trust which is at the centre of the largest maternity scandal in the history of the NHS.
Ms Wilds, who now lives in Chesterfield, gave birth to her son Morgan in January 2004 but has accused the trust of making her wait two weeks after she first raised alarms that her waters may have broken.
She sought help after her waters broke and she started leaking amniotic fluid, which protects the baby and aids their development.
Over the coming three to four days she stayed stuck at two centimetres dilated and underwent a number of sweeps, where midwives attempt to naturally induce labour.
She was visited by a community midwife and had a hospital appointment, including an ultrasound which showed her amniotic fluid had almost gone.
After pleading with staff she claims the decision was made to induce her two weeks after she first sought help. Her son Morgan, who was stuck in the birth canal, was born with forceps after a 14-hour labour on 7 January 2004.
UK news in pictures

Show all 50
Now aged 15, Morgan has a range of disabilities including autism, dyspraxia as well as other learning difficulties and a stutter. He also suffers from behavioural problems, mobility, coordination and balance issues, he frequently falls and has hypermobility syndrome in both ankles and feet – meaning his joints are too flexible.
Ms Wilds, 40, has now asked lawyers from Irwin Mitchell solicitors to start legal action against the trust claiming the delays in inducing her labour caused Morgan's disabilities.
She said: "I have always been angry by what happened around Morgan's birth but we just tried to get on with things the best way we can. I thought that my concerns would not be listened to. It's only now with all the other issues at the hospitals emerging that you realise the extent of the problems and there are others with similar concerns.
"Hearing the findings of the report and that issues have been going on for years but nothing appears to have improved is worrying.
"Nothing can make up for what happened, especially to Morgan, but we deserve to know whether more should have been done to help us and if so if the conditions Morgan now has were the result of his birth."
A leaked report obtained by The Independent last week revealed widespread concerns about the trusts maternity care. The investigation is now looking at more than 800 cases.
Tim Annett, partner at Irwin Mitchell, said: "As more detail continues to emerge about maternity services at Shrewsbury and Telford hospitals the more concern there is among patients.
"What happened to Kate-Anne and Morgan is one of a number of firsthand accounts we are continuing to hear from families."
A spokesman for the Shrewsbury and Telford Hospital Trust said: "We will look closely into Kate-Anne and Morgan's case to help ensure the family get the answers to the questions they have.
"We would encourage anyone who has any concerns about their Maternity care to contact the independent review by emailing maternityreview@donnaockenden.com or calling 01243 786 993."
Register for free to continue reading
Registration is a free and easy way to support our truly independent journalism
By registering, you will also enjoy limited access to Premium articles, exclusive newsletters, commenting, and virtual events with our leading journalists
Already have an account? sign in
Join our new commenting forum
Join thought-provoking conversations, follow other Independent readers and see their replies