Shrewsbury and Telford joins Morecambe Bay and Mid-Staffs on grim roll call of horrific NHS scandals
Analysis: Examples revealed by NHS report are truly disturbing but sadly not unique
Shaun Lintern
Health Correspondent
Tuesday 19 November 2019 14:10 Comments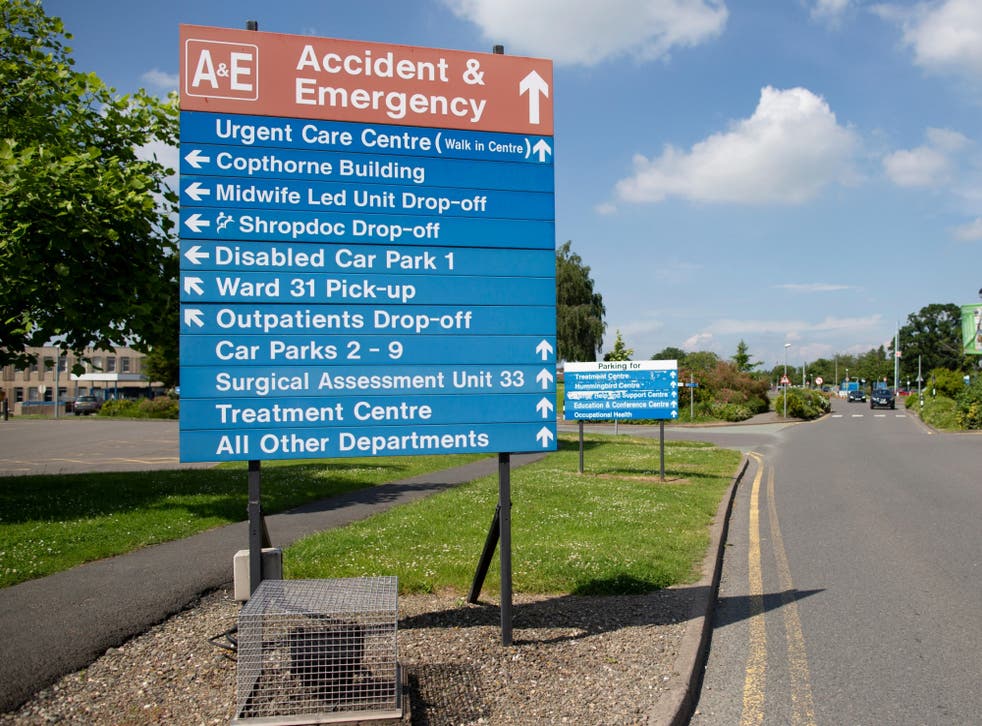 Having the moment that should be the joy of a lifetime turn to soul-crushing tragedy when a baby is lost is a horror that mars too many lives.
Each year more than 1,000 babies die or are left with severe brain injury because of avoidable mistakes, according to the Royal College of Obstetricians and Gynaecologists.
But hundreds of parents who suffered poor care at Shrewsbury and Telford Hospital Trust are now learning their child's death, or permanent brain damage, or other injury may not just have been avoidable, but that the mistakes that caused it have been made over and over again.
Today, The Independent has revealed the findings of a leaked interim report detailing widespread failures reaching back decades. More than 600 cases are now being examined – each one a life ended or changed forever, with a family around it changed forever too.
The examples are truly disturbing, but sadly not unique. They are exactly the same as those that featured in previous maternity scandals. The pattern of failing to learn lessons, of covering up rather than coming forward, is repeated not just in that single trust but across the whole NHS. Who knows where the very same mistakes are happening, right now, in hospitals elsewhere across the country?
UK news in pictures

Show all 50
The leaked Shrewsbury report does not just detail clinical failure, it also describes in chilling detail how families were cruelly treated by the hospital after the mistakes were made.
Such little care was taken that babies were described as "it", and parents were made to feel they were to blame.
The NHS as a system is brutal in its treatment of bereaved families. The complaint system is labyrinthine in its complexity, and regardless of whether they are maternity incidents or avoidable errors in other parts of the NHS, families face years of struggle to get answers.
There is no guarantee that even where apologies are made, things will actually change.
In the worst cases, desperate to protect their own and their hospital's reputations, clinicians and managers can sometimes engage in an unholy alliance to suppress the truth.
Sometimes, doctors and nurses themselves are silenced by their own bosses – the NHS has a woeful record when it comes to protecting whistleblowers.
At the top of the tree there is a whole pack of national bodies and regulators who have frequently been found to be willing to look the other way or worse when poor care incidents are brought to their attention.
This culture was laid bare in 2013 by the public inquiry into the Mid-Staffordshire NHS care scandal.
It was a feature in the public inquiry into the children's heart scandal in Bristol back in 2001.
Gosport War Memorial Hospital, Morecambe Bay, Southern Health – the history of the NHS is littered with the names of hospitals which have become infamous for failing their patients.
Shrewsbury and Telford now joins this sickening roll call.
These moments of clarity, when the truth emerges, shine a light on a shameful and hidden underside to the nation's beloved health service.
Pregnancy is a natural process – but without healthcare interventions, it would also be natural for a certain number of mothers and babies to die from complications.
And for the vast majority of patients seen by the NHS, the care is good, and tens of thousands of nurses and doctors work extremely hard to do their very best in a system that is underfunded, understaffed and sometimes poorly managed.
Failures on the scale of Shrewsbury do not happen overnight. It is the culmination of years of slow decline, poor leadership and isolation from other units which mean the hospital loses sight of what good care looks like.
After years of eroding standards, and corners repeatedly cut in the face of constant pressures, staff in those situations both on the front line and around the board table can act in ways that are totally out of character. They lose sight of what matters, their values are corrupted.
Repeated promises to improve NHS culture have been made, and the service has repeatedly failed to live up to them.
In memory of the lives that have been lost and devastated, and to protect the mothers, babies and families of the future, it is time that changed.
Register for free to continue reading
Registration is a free and easy way to support our truly independent journalism
By registering, you will also enjoy limited access to Premium articles, exclusive newsletters, commenting, and virtual events with our leading journalists
Already have an account? sign in
Join our new commenting forum
Join thought-provoking conversations, follow other Independent readers and see their replies