Shrewsbury hospital scandal: Inspectors criticise poor nursing and leadership in latest damning report
'We found that there was a normalisation of poor care and a complacency around professional curiosity and challenge'
Shaun Lintern
Health Correspondent
Friday 14 August 2020 07:23 Comments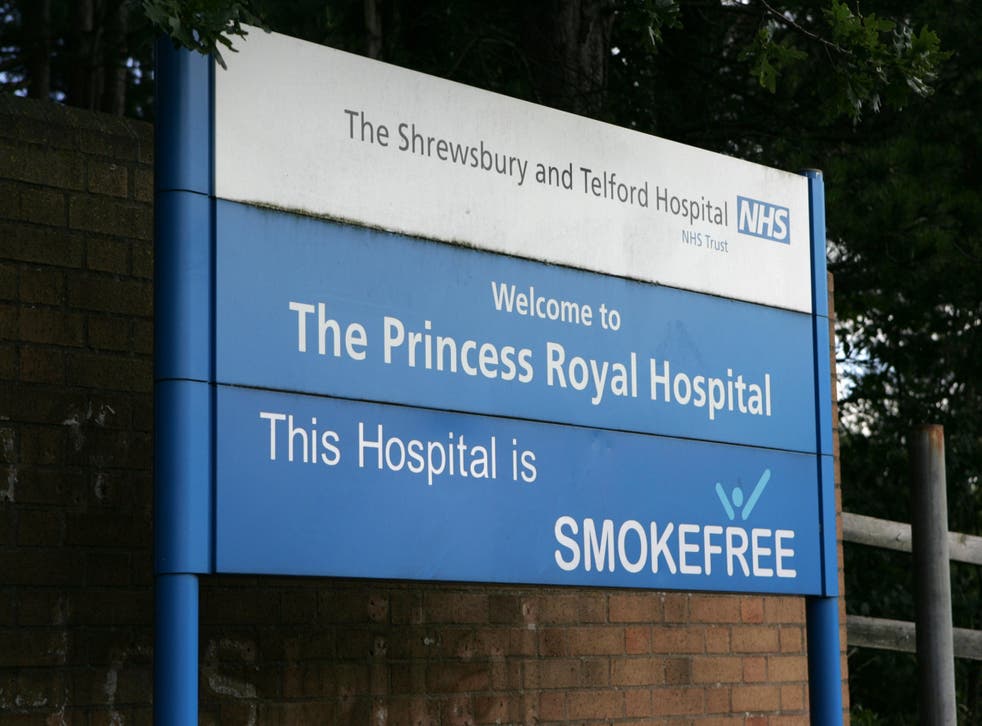 A damning new report has exposed numerous lapses in nursing care on wards at Shrewsbury and Telford Hospital Trust amid a culture which left patients at risk of "unsafe and uncaring" treatment, the care watchdog has said.
Inspectors from the Care Quality Commission cited multiple examples of nurses at the scandal-hit trust lacking the knowledge to look after patients safely and failing to record key information needed to keep patients safe during an inspection of medical wards in June this year.
The inspectors found poorly completed nursing records, equipment unavailable and nurses not following procedures.
This meant some patients developed pressure sores, fell from their beds and were injured or suffered pain at the end of their life. Other patients were at risk of suffering similar harm.
Inspectors ruled the trust, which was rated inadequate and put into special measures in 2018, was unsafe and criticised the hospital leadership for what it said was a "collective failure" that was perpetuating the problems at the hospital.
Examples of poor care found during the inspection included:
Falls assessments were not completed for six out of 12 patients. One of those patients experienced a fall and suffered an injury.
Bed rails were used in beds with confused patients. One later fell after trying to climb over the rails and was injured.
Four patients who were at risk of developing pressure sores had no plan in place to manage their skin care.
A patient with a tracheostomy to breathe was on a ward which had no emergency equipment in case it became blocked. Staff didn't know this was needed and after the CQC raised the alarm and a kit was brought to the ward, the nurse responsible for the patient wasn't trained to use it.
Where catheters were used there was no plan or information to say when they should be changed or reviewed.
Inspectors said nurses "displayed a lack of accountability" for their role in managing patient risk. In one example a nurse blamed another ward for a lack of information in the patient's care plan. Inspectors said this nurse "did not acknowledge their role in assessing and managing this risk as the patient was now their patient on their ward."
Nursing records were wrongly completed to claim assessments on blood pressure had been taken when they hadn't.
Nursing notes lacked clear entries of the names and roles of staff as well as dates and times of written entries.
Two patients with challenging behaviour had been given sedatives with no mental capacity assessment or consideration of whether this was in their best interests.
Fluid charts to measure patient's liquid intake were not accurate in all five notes reviewed on a ward. A patient who was admitted with dehydration was wrongly described as overloaded with fluid and prescribed a diuretic by mistake.
One patient developed a pressure ulcer after having to wait three days for a special mattress. Nursing notes failed to show if their skin was checked for several days.
In their report the inspectors concluded: "We saw that the lack of appropriate risk assessment and care planning had been normalised on the wards we inspected.
"Staff at all levels did not recognise that this failure to adequately assess and plan patient care led to practice that was unsafe and uncaring. We found that there was a normalisation of poor care and a complacency around professional curiosity and challenge."
As an example the report described one member of staff being unable to explain why a patient at risk of pressure sores was not being nursed on a special mattress.
The report said: "We reframed this question and asked what would trigger a specialist mattress being requested, they told us that if the patient developed a pressure ulcer then they would request a specialist mattress. They did not acknowledge that this was potentially too late for the patient as harm to the patient had already been caused."
There were also concerns about end of life care at the trust with three patients suffering delays in being provided with a syringe pump to help administer pain relief before their death.
Another eight incidents related to pain management occurred between January and July this year.
On one ward the manager could not say how many staff were trained to administer pain relief through a syringe pump.
An end of life care strategy developed 18 months ago was still in draft with no action plan when the CQC inspection took place. It had not been discussed by the board.
The CQC said the trust had until 30 September to demonstrate improvements.
It is separately facing a criminal investigation and an NHS inquiry into the worst maternity scandal in NHS history with more than 1,900 cases of alleged poor maternity care under investigation.
The chair of the trust Ben Reid resigned last week as the trust agreed a new "improvement alliance" with University Hospitals Birmingham.
Register for free to continue reading
Registration is a free and easy way to support our truly independent journalism
By registering, you will also enjoy limited access to Premium articles, exclusive newsletters, commenting, and virtual events with our leading journalists
Already have an account? sign in
Join our new commenting forum
Join thought-provoking conversations, follow other Independent readers and see their replies