Shrewsbury hospital scandal: Chief nurse warns staff over poor care in leaked letter
Leaked letter reveals concerns over poor nursing care as one worker criticises 'blame culture'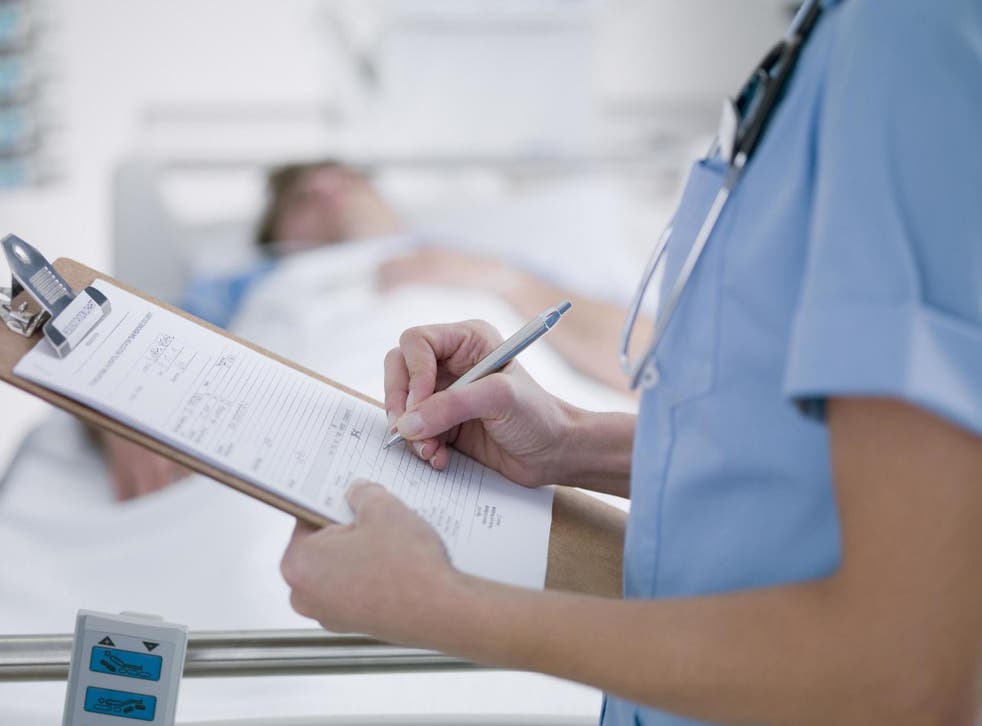 The chief nurse at a scandal-hit NHS trust has warned nurses of their "professional duty and responsibility" amid concerns over poor record-keeping and unsafe care.
A leaked letter sent to nurses at Shrewsbury and Telford Hospital Trust also urged them to challenge their colleagues and reminded them of their duties under the Nursing and Midwifery Council code of conduct.
One member of staff said the letter was an example of "how intimidating the senior team are", adding that it showed a "blame culture" within the trust and didn't account for the pressure nurses were working under.
It comes as the Care Quality Commission last week criticised the trust for poor nursing care on its medical wards in a report, with multiple examples of inaccurate nursing records and poor care including examples of notes of tasks having been carried out when they had not in fact been undertaken.
The hospital has now instituted weekly audits of nursing notes and introduced new documentation for nurses to fill out.
One nurse at the trust, who asked to remain anonymous, said some areas did not have enough nurses for the types of patients they were treating, claiming staff were being forced to choose between filling in documents or treating patients.
During June when the CQC inspected the hospital, which is also facing a criminal inquiry into poor maternity care, its average fill rate for nurses working on wards during the day was 95 per cent. But this varied across wards with one medical ward at the Royal Shrewsbury site having 40 per cent fewer nurses than planned.
The letter from interim chief nurse Maggie Bayley was sent to all nurses and midwives at the trust in July.
It said: "In certain instances, it has been highlighted through the review of documentation that there has been a failure to uphold standards and accuracy which may have impacted on the quality of care delivery and the safety of our patients.
"I wish to remind you that as a registered nurse and midwife you are required to comply [with] the expectations set out in the code and standards for documentation.
"You have a professional duty and responsibility to ensure that you represent your patient fully and challenge colleagues to ensure the best care is delivered at all times and ensure that your care is documented fully and appropriately."
One nurse said they believed there was a "vein of bullying and harassment" towards staff from senior nurses and managers and said staff "were on their knees" but that senior managers would not listen to concerns and were "first class at passing the blame".
They said the letter sent out by the chief nurse was an example of "how intimidating the senior team are. The letter is hollow and points out the blame culture within the trust."
"New documentation has been issued to cover the CQC report but no training given, documentation that will take hours to complete properly unless made up by the nurses to save time and to allow them to get to the bedside."
A spokesperson for the trust rejected these claims and said staff were being trained and helped to complete the new documentation.
The trust has a workforce plan to reduce the number of nursing vacancies which includes hiring more international staff through a national recruitment drive by Health Education England, as well as its own recruitment of nurses from India who are experienced and able to work in the trust's emergency departments.
An alliance between the trust and University Hospitals Birmingham was announced last month to help drive improvements at the Shropshire trust, after the CQC shared concerns that the situation was "worsening."
The trust spokesperson added: "Following an unannounced inspection by the CQC in early June, a letter was sent to all nurses and midwives reminding them of their professional duty and responsibility to ensure our patients receive the safest and most compassionate care possible.
"The failings reported during that CQC inspection have been well publicised and a lot of work is underway to drive improvements. As well as the new 'improvement alliance', of which a key element will be improving nursing care, we launched our new nursing documentation on 29 June to ensure maintenance of professional documentation and record-keeping. Feedback from the nursing team has been very positive so far."
They added: "We are dedicated to achieving a rapid improvement plan that will support clinically safe and sustainable patient services. This is a complex and difficult challenge that will require commitment from colleagues at all levels of the organisation.
"To help with this matrons now conduct weekly audits on record-keeping, which involves training staff on the wards, where colleagues are encouraged to discuss any concerns that the process could have on their ability to deliver high-quality care."
Register for free to continue reading
Registration is a free and easy way to support our truly independent journalism
By registering, you will also enjoy limited access to Premium articles, exclusive newsletters, commenting, and virtual events with our leading journalists
Already have an account? sign in
Register for free to continue reading
Registration is a free and easy way to support our truly independent journalism
By registering, you will also enjoy limited access to Premium articles, exclusive newsletters, commenting, and virtual events with our leading journalists
Already have an account? sign in
Join our new commenting forum
Join thought-provoking conversations, follow other Independent readers and see their replies