Shrewsbury maternity scandal: 'Normal births' sought at 'any cost' led to baby deaths in scandal-hit hospital, inquiry chief says
'The only agenda that should ever be pursued in maternity is safe birth' says bereaved mother Rhiannon Davies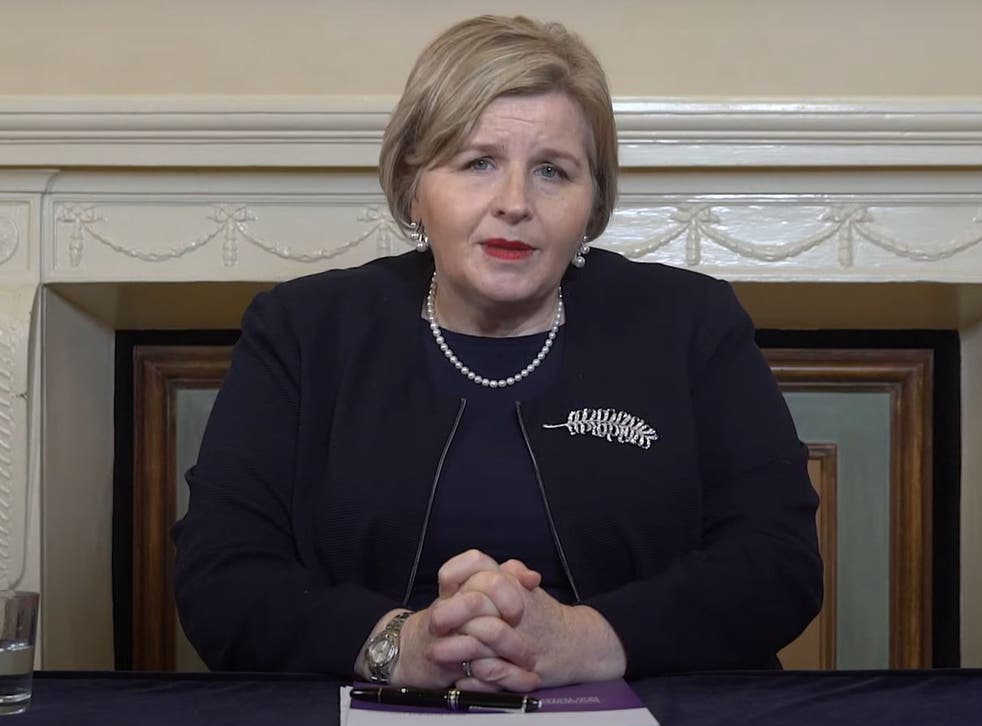 Doctors at the scandal-hit Shrewsbury and Telford Hospital Trust led the way in pursuing an ideology of 'normal birth' at "almost any cost" the head in an inquiry has said.
An interim report on what is the largest maternity scandal in NHS history published last week revealed more than a dozen women had died giving birth at the trust with dozens more babies also dying or being left severely brain damaged.
Speaking to MPs on the Commons health select committee, Donna Ockenden, who is leading an independent investigation into almost 1,900 complaints of poor care and deaths at the trust said the drive to push women into a vaginal birth was the cause of deaths and injuries.
She said doctors were very much part of the effort to avoid caesarean sections and to promote vaginal births. The report found this led to women being given drugs and leading to traumatic births including deliveries with forceps which left babies with skull fractures and broken bones due to "excessive force".
Donna Ockenden told MPs: "We saw and it's very clear in our report this very big difference in the C-section rates, between the Shrewsbury and Telford Trust and other local and regional trusts and across England.
"We need to look at this in more detail in our second report but what was very clear was this was a multi-professional effort. We know that the obstetricians were very much leading the way in Shrewsbury and Telford in terms of the push for normal birth.
"I think it's really important to say that at this trust. It was a multi-professional, not just midwifery led, focus on normal birth at pretty much any cost. It is also very clear in our report that there were cases when, had a baby been delivered by a caesarean section, the outcome may well have been better and almost certainly would have been safer."
Ms Ockenden said women needed to be seen as equal partners and that it was important that poor approaches were challenged.
She said: "We need to call it out for what it is, that childbirth and the arrival of a new baby should be the most joyous event in a family's life, and it's simply unacceptable if what we leave along the way, are instead broken families and women who carry guilt on their shoulders for many many years. I will be the strongest advocate for women that I can be, I'll continue to speak out on this for as long as is necessary."
She told MPs the inquiry will be examining the issue in more detail in its second report which is due to be published next year.
Rhiannon Davies, one of the parents who helped expose what happened at the hospital after the avoidable death of her daughter Kate in 2009, said: "Donna clearly stated that this was a multi-professional issue. Obstetricians and midwives are pushing this harmful agenda equally hard. It cost lives, it caused harm. How can we have any assurance that it is not still happening today?
"There is no such thing as a normal birth – every birth experience is different. The only agenda that should ever be pursued in maternity is safe birth. Safe for the mother, safe for the baby. And safety must be at the heart of every conversation had, every decision made, every single day across the entire maternity team."
Speaking to the committee later, Gill Walton chief executive of the Royal College of Midwives, said she accepted what Donna Ockenden had said about the culture at Shrewsbury and under question by committee chair Jeremy Hunt she said he believed the wider culture in other hospitals "was changing."
She said: "I think it's really important that all the teams work together with women at the centre of care and they don't promote one type of birth over another."
Eddie Morris, president of the Royal College of Obstetricians and Gynaecologists said: "We know there are some excellent units around the country that have extremely good rates of intervention and good rates of satisfaction and safe deliveries.
"Obstetricians are part of a team that support women to have a birth that is safe for them and their baby. In the UK only about 40 per cent of women give birth without any form of intervention and that's mainly because birth is unpredictable, complications can arise."
He said decisions about delivery "should be very much made with the complete involvement of the mother, she should feel fully informed. She should be part of the process very definitely, and she feels comfortable about the choices that she has made."
He added: "I think our role as the colleges working with the right partners, is to make sure that this culture, if it exists is wiped out."
Gill Walton told the committee the NHS was still 3,000 midwives short of what was needed while Dr Morris pointed out teams that were understaffed and under pressure would struggle to train together and have a good culture.
She said: "We've been saying for a long time that maternity services are underfunded. They're underfunded, and they are still subject to cuts, every year. So some of the things that we believe are the essential components of safe maternity care are affected year after year."
Register for free to continue reading
Registration is a free and easy way to support our truly independent journalism
By registering, you will also enjoy limited access to Premium articles, exclusive newsletters, commenting, and virtual events with our leading journalists
Already have an account? sign in
Register for free to continue reading
Registration is a free and easy way to support our truly independent journalism
By registering, you will also enjoy limited access to Premium articles, exclusive newsletters, commenting, and virtual events with our leading journalists
Already have an account? sign in