'They condemned my daughter to death': The family whose fight for justice uncovered the Shrewsbury maternity scandal
'We are not historic, we are not legacy, we are real families whose lives have been turned upside down, and forever'
Shaun Lintern
Health Correspondent
Tuesday 19 November 2019 14:09 Comments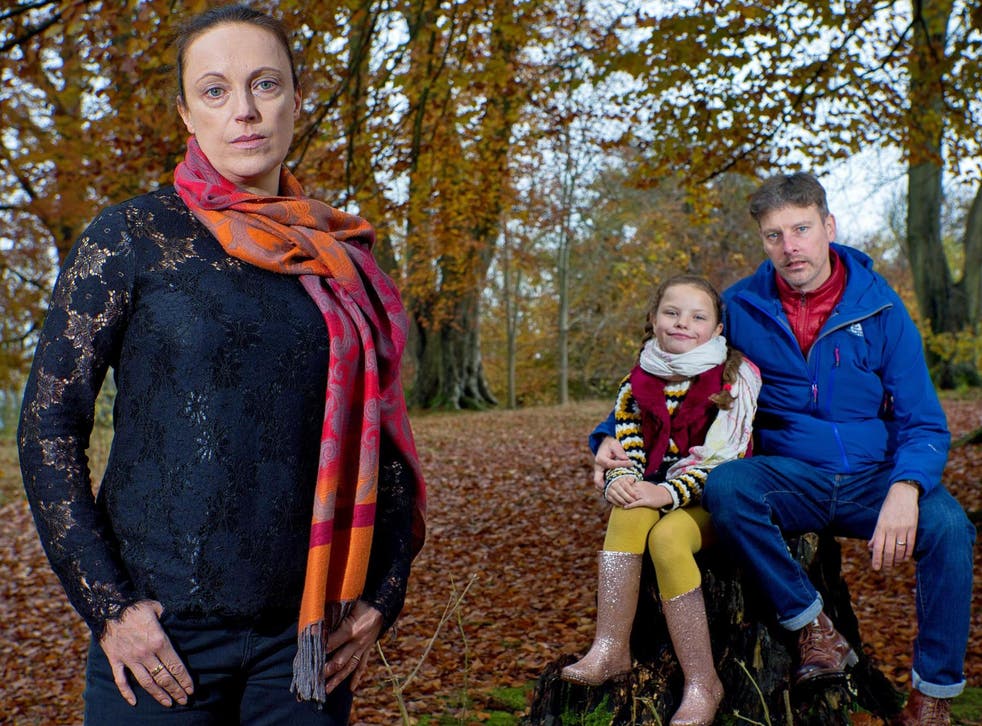 Struggling with grief after the death of their daughter due to catastrophic medical mistakes, Rhiannon Davies and Richard Stanton demanded answers.
The pair were forced to fight for an inquest to uncover what caused their baby Kate's death then, along with other grieving families, pushed for a major investigation into the Shrewsbury and Telford Hospital Trust's maternity units.
Now, a decade on, Rhiannon says the findings in the leaked interim report, showing dozens of mothers and babies died, are "spectacularly horrific" – and confirm their worst fears.
"I couldn't accept that we were the only people that this had happened to which is why we pushed for an investigation," she told The Independent.
"But I am devastated that so many people have been treated in such a way and other families have suffered. How has this been tolerated for so long? It is horrific."
In March 2009, Kate Stanton-Davies was born "pale and floppy" at Ludlow midwifery-led unit after midwives did not monitor her condition properly, in contravention of basic good practice.
Rhiannon was only sent to the unit because medical staff failed to classify her pregnancy as high-risk, despite repeated check-ups and tests in the weeks leading up to the birth.
When Kate was born, midwife Heather Lort, who was banned by the Nursing and Midwifery Council last year, did not monitor her condition and failed to put her into an incubator when it became clear one was needed.
Shortly after her birth, Kate was discovered gravely ill and in a collapsed state – but staff inexplicably waited half an hour before calling paramedics.
Kate was airlifted from the unit to a larger hospital – but the only briefing medical crew on the helicopter were offered was a small piece of card by the midwife, who did not go with her.
Her parents had to drive themselves to hospital separately, forced to make frantic calls from the road to find out where their hours-old daughter was being taken.
Rhiannon – suffering from the effects of having just given birth – then collapsed and had to be admitted to Worcestershire Royal Hospital while father Richard went on to Birmingham's Heartlands Hospital, where Kate died. Her mother arrived an hour after she had passed away.
Determined that other families would not have to suffer what they went through, Rhiannon and Richard then began a fight for the truth to come out about what had happened to Kate, that was to last the next 10 years.
While struggling with the grief of losing their daughter, they had to threaten a coroner with a judicial review before being granted an inquest into her death. In 2012, three years later, the hearing confirmed their fears. Kate's death had been entirely avoidable.
An investigation by the Parliamentary Health Service Ombudsman in 2013 concluded the child's death had been the result of serious failings in care, and criticised the hospital's investigation.
A review of the trust's own investigation found it was flawed and criticised midwives for retrospectively changing records and not following guidelines.
It also criticised the trust's head of midwifery Cathy Smith, who later received a final written warning for her actions. She was moved to a new patient safety role in the trust.
UK news in pictures

Show all 50
Now, it has emerged dozens of babies and mothers may have died due to failings similar to those in Kate's case.
An interim report into the Shrewsbury scandal details many examples of patients and their relatives being treated poorly by the hospital and its staff.
Families said they were made to feel guilty about mishaps, while others were told the best way to get over the loss of a child was to have another one.
In one of the most graphic examples, a mother told investigators the trust failed to tell her for three weeks that her child's body was ready for collection after a post-mortem, by which time it had undergone "extensive post death changes and deterioration" meaning she was unable to see the baby before burial "because of the poor condition of the body".
The report said this was a clear example of poor systems and processes and a "lack of compassion" for the family.
One mother has been so badly affected by what happened she cannot visit the Royal Shrewsbury Hospital, despite many years since the death of her daughter.
She said: "I just can't go to the building, I physically can't ... I'll park in the housing estate across the road but I just can't go there."
Many parents were angry at the trust's use of the terms "historic" and "legacy" to describe older cases, with one mother telling the inquiry team: "We are not historic, we are not legacy, we are real families whose lives have been turned upside down, and forever. Our lives will never be the same again. My son will always be profoundly disabled, he will never live an independent life."
In an example of the poor communication from the trust, the GP for one woman, who had a heart attack and ended up in intensive care after labour, was not told what had happened for months.
The woman said: "I phoned my GP and when I said I'd had a cardiac arrest she actually swore because she was so shocked, she knew absolutely nothing about it."
Another mother whose baby died told the inquiry: "What I want out of this, what would be worthwhile, is to know that whatever comes from it are positive changes to prevent things like this from happening again, that's ultimately all I think any of us really want from it."
Rhiannon Davies said the report showed Shrewsbury and Telford Hospitals Trust had "catastrophically failed to learn from incidents and past reports and that failure condemned my daughter to death".
Ms Davies added: "It takes a massive toll to keep fighting. We have done it for Kate.
"There is a cultural problem nationally in maternity. We need to have a more grown-up conversation about the risks of pregnancy. No one ever wants to think about death in maternity."
She continued: "People who have never been harmed by the NHS can never understand the burden we carry.
"The NHS should help with that burden but the system adds to it and makes it worse. The whole system is unkind and thoughtless, the exact opposite of what the health service should be."
Register for free to continue reading
Registration is a free and easy way to support our truly independent journalism
By registering, you will also enjoy limited access to Premium articles, exclusive newsletters, commenting, and virtual events with our leading journalists
Already have an account? sign in
Join our new commenting forum
Join thought-provoking conversations, follow other Independent readers and see their replies