All smokers admitted to hospital will be offered help to quit in new NHS drive to highlight personal responsibility for health
Supporters say it will save lives and hospital beds but critics say it's an invasion of privacy 
Jane Dalton
Saturday 05 January 2019 01:21 Comments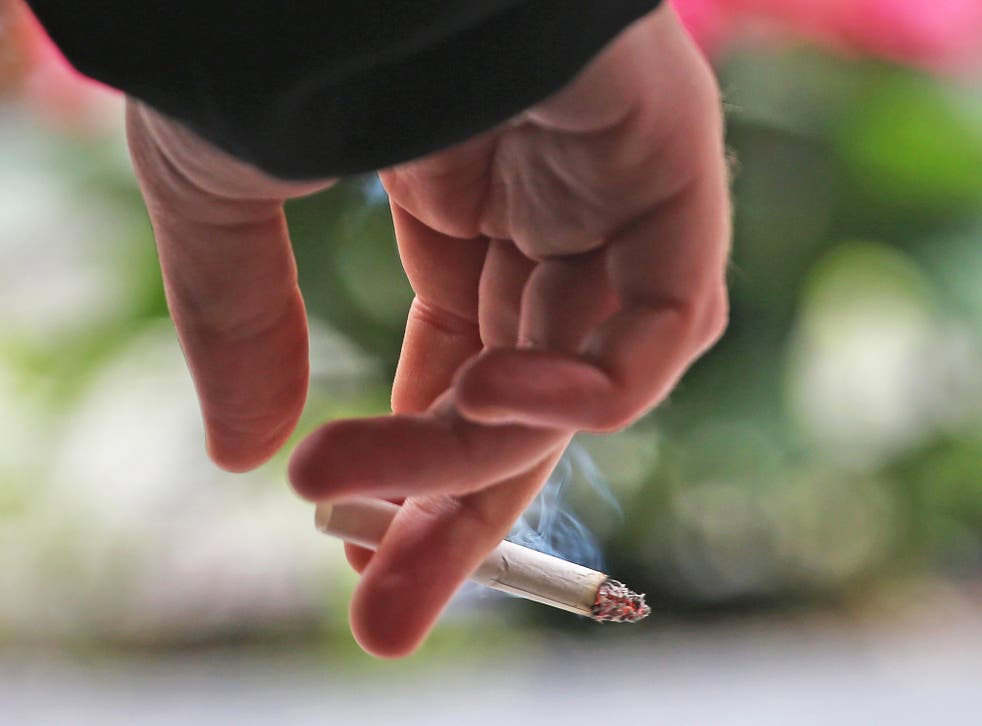 Every smoker will be offered help to quit when they go into hospital under a new NHS money-saving crackdown that has sharply divided supporters and critics.
Problem drinkers and smokers will be helped by expert teams during their stay on a ward, NHS England announced.
People who are alcohol-dependent will be helped by specialists to stop drinking, while a drive targeting smokers admitted to hospital will affect an estimated 500,000 people, including pregnant women and their partners.
NHS chiefs say the savings will vastly outweigh the costs of £183m over five years of the schemes.
The bulk – £157m – will target smoking, which costs the NHS £2.6bn every year. Alcohol problems, which cost the NHS £3.5bn every year, will receive £26m of funding.
But critics said it sounded like "mass lifestyle engineering", and tantamount to bullying vulnerable people.
The measures, part of the NHS's 10-year plan announced last year but delayed repeatedly because of uncertainty around Brexit, follow a renewed focus by health chiefs on prevention to curb demand for services.
It comes after drastic cuts to smoking cessation schemes in England, with local authority public-health budgets having been slashed for several years running.
A further cut of £85m is due in 2019-20, and the Nuffield Trust says total cuts between 2015 and 2021 equate to a real-terms reduction of £600m.
NHS England bosses say every smoker in hospital will be offered support to quit, with personalised bedside care, therapy and follow-up help when they have been discharged.
A scheme is already running in Manchester that is expected to save £10m and more than 30,000 hospital beds across the city, and it will be replicated across the country over the next five years.
NHS figures show that the 10 per cent of new mothers who smoke are doubling the risk of stillbirth and tripling the chances of sudden infant death.
Alcohol care teams will be rolled out in the top 25 per cent of hospitals for alcohol-related admissions to urge patients who misuse alcohol to give up and stay off it. Up to 50 hospitals will be involved.
Alcohol-related admissions have grown by 17 per cent in a decade, and in 2016-17 they accounted for 2.1 per cent of admissions.
Health chiefs say the measures could prevent 50,000 admissions and almost 250,000 bed days over five years.
NHS England chief executive Simon Stevens said: "Drinking to excess can destroy families, with the NHS too often left to pick up the pieces.
"Alcohol and tobacco addiction remain two of the biggest causes of ill health and early death, and the right support can save lives."
But Simon Clark, director of smokers' group Forest, said: "It's stressful enough being in hospital without the additional pressure of being hounded to stop smoking.
"Pressuring smokers to quit, especially if they're in hospital for a non-smoking-related reason, is an invasion of privacy and tantamount to bullying.
"No one should be lectured about their lifestyle while they're at their most vulnerable."
And Sean Gabb, former director of the Libertarian Alliance, said the move smacked of oppression.
"We pay our taxes and present ourselves to the NHS for treatment and should receive treatment. The NHS is funded by a collective compulsory levy and is a compulsory pooling of risk.
"So it's one thing for an insurance company to tell us what locks to have but quite another for the NHS to tell us to stop eating or drinking what we want."
He said the argument that it would save money was "an excuse to employ a large number of prodnoses" and the move was a step towards "mass lifestyle engineering".
Toby Green, of the Royal Society for Public Health, welcomed the announcements but called for England to follow Scotland and introduce a minimum unit price on alcohol.
He said: "We're particularly encouraged by the commitment to provide support for smoking cessation to every smoker admitted to hospital – a measure we have been calling for some time.
"At the same time, local authority-funded stop smoking services are vital and remain hugely effective, and it is indeed a great shame that cuts to the public health grant have resulted in declining availability and access over recent years."
Duncan Selbie, chief executive of Public Health England, said: "Investing in prevention is the smartest thing the NHS can do. Tobacco kills 1,500 people a week so helping people to quit when admitted to hospital helps them, their families and the taxpayer."
NHS at 70: Pride and worry as free health service celebrates birthday

Show all 18
Deborah Arnott, of Health Charity ASH, said the plan was what they had long called for. "It is disappointing, however, that at the same time that the NHS is receiving additional funding, public health budgets continue to be cut," she added.
The British Lung Foundation last summer revealed research showing that in some areas, GPs were being asked to stop prescribing anti-smoking treatments altogether, in opposition to national guidelines.
Register for free to continue reading
Registration is a free and easy way to support our truly independent journalism
By registering, you will also enjoy limited access to Premium articles, exclusive newsletters, commenting, and virtual events with our leading journalists
Already have an account? sign in
Join our new commenting forum
Join thought-provoking conversations, follow other Independent readers and see their replies