Social care cuts led to increase in over-65s going to A+E, says IFS study
Slashing social care under austerity forced millions of over-65s to seek help in A&E instead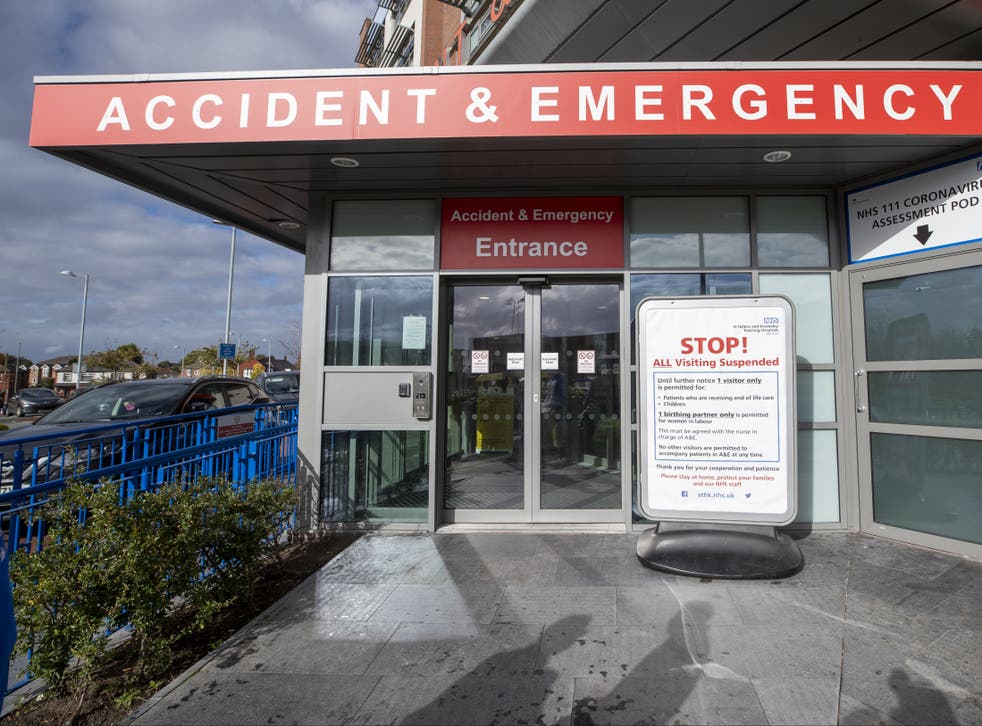 Cuts to social care funding prompted an increase in unnecessary visits to A&E departments by elderly people, new research has discovered.  
A study by the Institute for Fiscal Studies (IFS), a widely respected non-partisan economic thinktank, have found a clear link between the austerity-era reduction in funding for social care and a corresponding surge in numbers of over-65s going to A&E in NHS hospitals.   
Between 2010 and 2018, spending on social care services for those of retirement age was slashed by 31 per cent, on a per person basis.
In the same time frame the average number of visits a person aged 65 or over made to A&E each year went up by a third, the IFS report.  
The cuts to social care spending, which made it harder for older people to access services from both their local council and nationally funded services, were responsible for about a between a quarter and a half of this rise in A&E visits, researchers suggest.
There was both an increase in the proportion of over-65s who attended A&E and an increase in the average number of visits each person made in a year.
NHS in Crisis march: in pictures

Show all 25
The rise equates to about one additional visit for every 15 people aged over 65, but was most pronounced among the poor and the very elderly (those aged 85 and over).
The IFS said there was evidence that these new visits to A&E prompted by difficulties in accessing social care placed an unnecessary extra strain on already squeezed hospitals, as most of those who came to A&E did not have any medical issue which needed treating.
This can be seen by the fact that inpatient admissions or outpatient visits did not noticeably go up in the same time frame, despite the surge in people coming to A&E.
"This indicates that some older individuals, following a reduction in the quantity or quality of social care that they receive, ended up presenting in hospital with minor complaints that would likely have been better addressed in a non-hospital environment," the IFS said.
Even before the Covid pandemic wreaked havoc on the NHS, A&E services were already buckling under the pressure.
Waiting times in England were at their worst on record this time last year, with only 74.5 per cent of patients treated, admitted or discharged within four hours; the national target is 95 per cent.
However, despite the influx of older people into A&E, the IFS concludes that the cuts to social care still saved the government a significant amount of money.
Because A&E care is among the cheapest of hospital services and the vast majority of the new older people who started visiting after austerity decimated social care did not actually need admitting to inpatient care, there was no marked rise in spending associated with the surge in numbers.
For every £100 saved by cutting social care, the IFS estimate there was only a £1.50 corresponding increase in A&E costs, and no statistically significant increase in other hospital costs.
However, even if the social care cuts achieved their goal of reducing state spending without triggering a cash crisis in the NHS, they were not without other costs, the IFS noted.
"Increased use of A&E departments is likely distressing for the affected individuals, and we provide evidence that the performance of those departments suffered as a result of the influx of additional elderly patients," the report concludes.
"The coronavirus pandemic has again brought to the fore the importance of coordination between hospitals and social care providers. As the government considers the future of social care funding post-pandemic, our work serves as another useful reminder that the NHS and social care should not be considered in isolation."
Join our new commenting forum
Join thought-provoking conversations, follow other Independent readers and see their replies