Social care crisis will leave thousands of NHS beds out of action, warns Labour
In December last year, 4,155 beds per day were occupied by patients delayed in hospital every day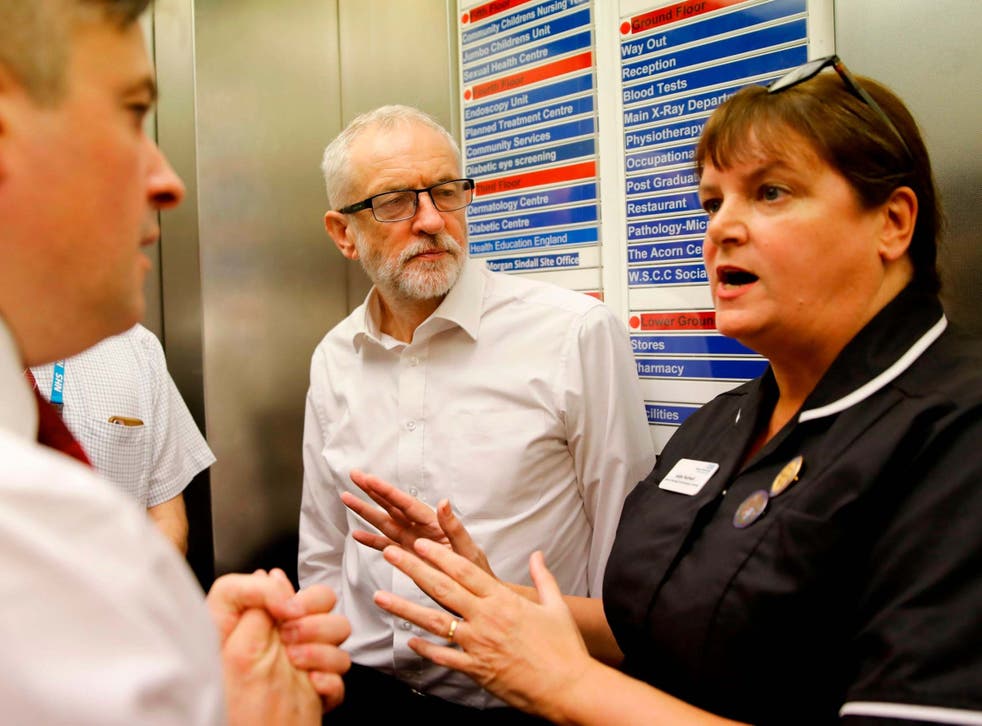 Thousands of hospital beds could be filled with patients who don't need to be there over the Christmas period, according to projections by the Labour Party.
Labour has analysed NHS data on so-called delayed transfers of care, where healthy patients are unable to leave hospital because of delays in organising social care and other community services.
Based on past average performance Labour says the data suggests as many as 4,400 beds could be out of action during December. In December last year, 4,155 beds per day were occupied by patients delayed in hospital every day.
The NHS has already been hit by a national outbreak of norovirus, which closed 1,100 beds last week, while at the same time hospitals have reported record A&E attendances and a spike in seasonal flu cases needing admission to hospital.
A shortage of beds will mean many patients waiting longer in A&E and could mean other patients due to have surgery will see their operations delayed.
General election: On the campaign trail

Show all 114
Labour says it estimates, 2,750 of these beds will be occupied by patients who are there because of NHS delays, while 1,200 could be waiting for social care services.
The party is hoping to revive its messaging on social care with Jeremy Corbyn and shadow minister for care Barbara Keeley promoting the party's manifesto pledge to invest £10bn in creating a new National Care Service.
The party is promising free personal care and increasing the numbers of care packages provided.
Labour says since April 2017, more than 9,200 people have been forced to turn to their local council for help with care costs after running out of money.
Labour's plans will more than double the number of people receiving state-funded care.
Barbara Keeley said: "Boris Johnson stood on the steps of Downing Street and said he had a plan to fix social care. His refusal to come forward with this plan is holding people who are struggling to cover the cost of care in contempt."
She added: "Tory cuts to council budgets have meant £7.7bn being lost from social care budgets and they have squeezed NHS funding so that the vital care people need outside of hospital just isn't available."
The Conservative Party have promised £1bn more in social care spending and said it will see party consensus on a way forward to tackle the crisis with many critics saying the solutions to the care crisis have been delayed too long already.
A Conservative spokesman said: "We've invested an additional £650 million of new money for social care in 2019-20, including another £240 million for adult social care to alleviate winter pressures on the NHS this year.
"Boris Johnson and the Conservatives are delivering for the NHS – putting £33.9 billion more into our frontline services, building 40 new hospitals, and delivering 50,000 more nurses."
Register for free to continue reading
Registration is a free and easy way to support our truly independent journalism
By registering, you will also enjoy limited access to Premium articles, exclusive newsletters, commenting, and virtual events with our leading journalists
Already have an account? sign in
Register for free to continue reading
Registration is a free and easy way to support our truly independent journalism
By registering, you will also enjoy limited access to Premium articles, exclusive newsletters, commenting, and virtual events with our leading journalists
Already have an account? sign in
Join our new commenting forum
Join thought-provoking conversations, follow other Independent readers and see their replies