Number of children in England being vaccinated reaches six-year low
England is failing to meet the 95 per cent rate recommended by the World Health Organisation
Toyin Owoseje
Tuesday 18 September 2018 16:00 Comments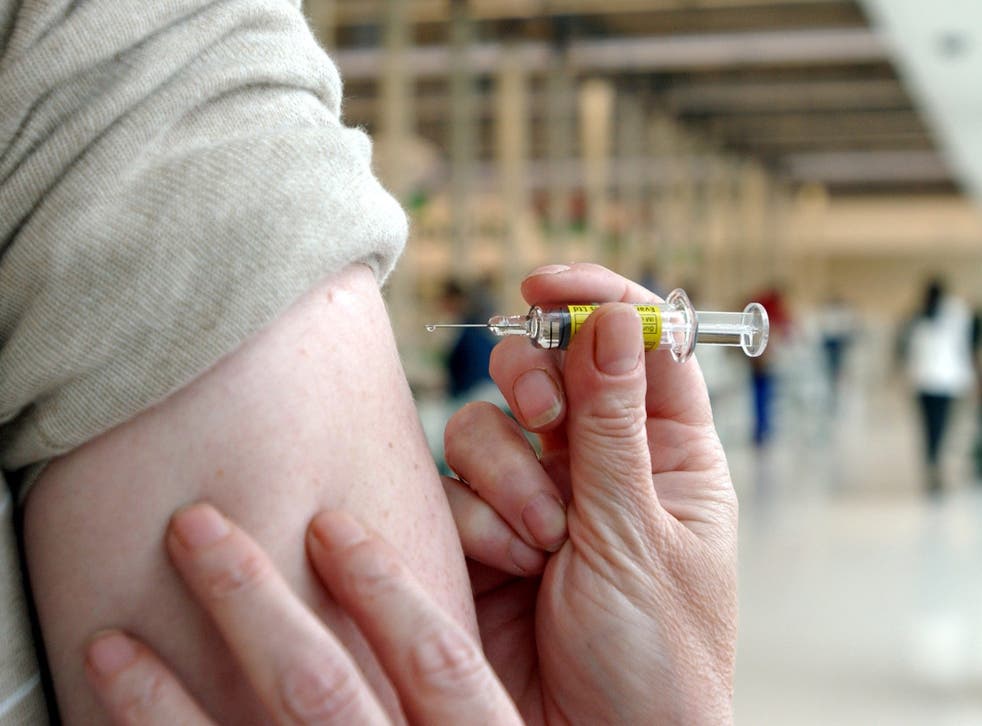 The number of children in England getting vaccinated against potentially deadly diseases has dropped to a six-year-low, new data shows.
Coverage for the measles, mumps and rubella (MMR) vaccine for children reaching their second birthday fell to 91.2 per cent – the fourth consecutive year that it has decreased and the lowest rate since 2011-12, according to research by NHS Digital.
MMR coverage for children reaching their fifth birthday fell from 95 per cent in 2016-17 to 94.9 per cent in 2017-18.
Children are supposed to have their first dose before their second birthday but a combination of fears amongst parents and religious convictions mean this is often not the case.
The NHS Digital data reveals that England is failing to meet the 95 per cent rate recommended by the World Health Organisation.
Helen Donovan, professional lead for public health at the Royal College of Nursing, said that rejecting vaccines was a concerning trend.
"For the first time last year, Britain was declared free of endemic measles, but these figures show we are turning the clock back and leaving thousands of children unprotected.
"Coverage declined in nine out of 12 of the routine vaccination measures compared to last year. This means immunity against deadly or life-changing diseases such as tetanus, diphtheria and polio is dropping. These were diseases of the past – they should not be part of our future."
Although former doctor Andrew Wakefield's link between the MMR vaccine and autism was discredited in the early 2000s, healthcare professionals are still trying to re-establish public confidence in vaccinations.
Jonathan Ball, professor of molecular virology at the University of Nottingham, said that it was important to understand why people are not getting their children vaccinated so that "measures can be put in place to overcome these barriers".
He warned that that a downward trajectory could lead to more serious illness and possible death.
According to the NHS Digital report, 93.1 per cent of one-year-olds had been vaccinated in 2017-18.
The percentage of two-year-olds who had received the Hib and MenC vaccine, which protects against meningitis caused by meningococcal group C bacteria and haemophilus influenzae type b, also declined between 2016-17 and 2017-18 to 91.2 per cent.
And the percentage of one-year-olds who had received the so called five-in-one vaccine – a single injection which protects against diphtheria, tetanus, whooping cough, polio and Hib – declined for the fifth year in a row, reaching its lowest level since 2008-09.
So far this year there have been hundreds of cases of measles – figures from Public Health England show that between January 1 and September 10 there have been 876 laboratory confirmed measles cases in England.
Health news in pictures

Show all 40
Officials have warned that young people and adults aged 15 and over who missed out on the MMR vaccine when they were younger and some under-vaccinated communities have been particularly affected.
Dr Michael Edelstein, consultant epidemiologist at Public Health England, said: "We are seeing small reductions in uptake for most of the childhood vaccines which is why we continue to encourage all parents to get the best protection for their children by ensuring they are fully immunised.
"We are working closely with the NHS, and with staff in general practice where most vaccinations are delivered, to improve uptake."
Additional reporting by Press Association
Register for free to continue reading
Registration is a free and easy way to support our truly independent journalism
By registering, you will also enjoy limited access to Premium articles, exclusive newsletters, commenting, and virtual events with our leading journalists
Already have an account? sign in
Join our new commenting forum
Join thought-provoking conversations, follow other Independent readers and see their replies