Ultrasound at eight months could prevent deaths and emergency caesareans, study shows
Estimated 15,000 unsuspected breech births, 4,000 emergency C-sections and the deaths of up to 8 babies a year could be prevented with late-term scan
Alex Matthews-King
Health Correspondent
Wednesday 17 April 2019 08:27 Comments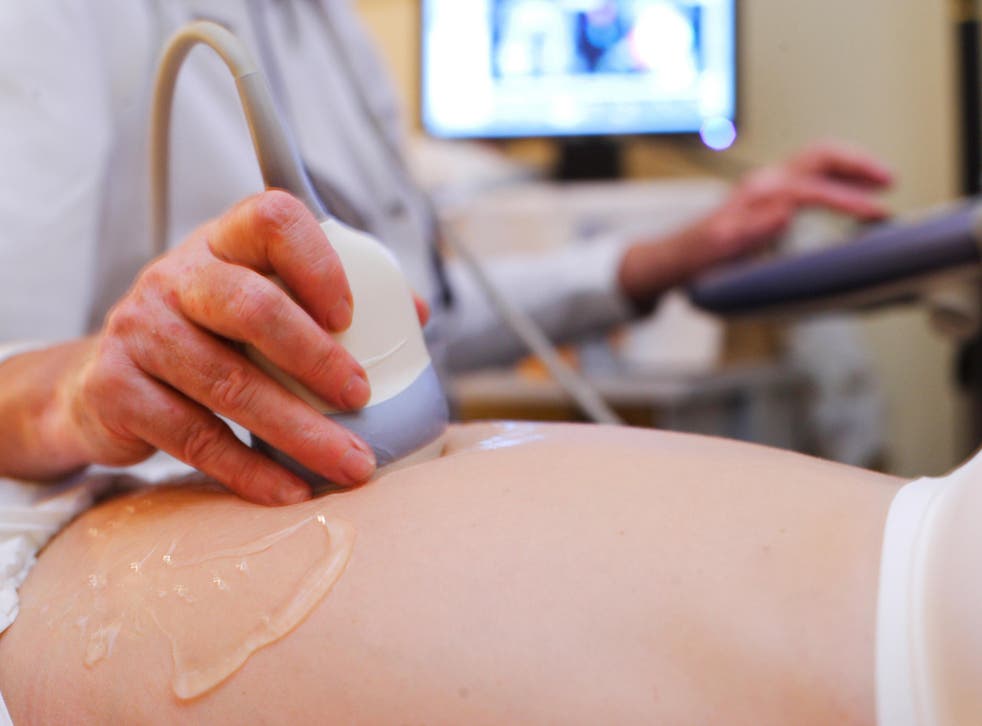 Baby deaths and and thousands of risky breech births could be prevented by a late-term ultrasound when women are around eight months pregnant, according to a new trial.
Half of the breech pregnancies identified during the study were previously unsuspected and may have led to the child being born breech (feet or buttocks first) or an emergency caesarean section.
Breech births significantly increase the risk of injury or death to both mother and child, while emergency c-sections also carry higher risks as a full complement of surgical staff may not be available.
Publishing their findings in the journal PLOS Medicine, the team from the University of Cambridge, estimated around 15,000 undiagnosed breech births, 4,000 emergency C-sections and the deaths of up to 8 babies a year could be prevented with routine scanning at 36 weeks.
"We believe the study highlights an opportunity to identify women at increased risk of a complicated birth," said Professor Gordon Smith, who helped lead the research. "It seems likely that screening for breech presentation near term could be introduced in a cost-effective manner and this should be considered by the NHS and other health systems."
Health news in pictures

Show all 40
The UK is one of the only countries in Europe which does not offer a late-term scan at around 34-36 weeks.
While ultrasounds are used to check the baby's early development and look for any potential anomalies at 20 weeks, a later scan is not considered cost effective if the pregnancy appears uncomplicated.
In the Cambridge trial they recruited 3,879 women in England who were having their first pregnancy, and offered scans at 36 weeks.
This identified 179 women who had a breech presentation, and in 55 per cent of these cases there had been no suspicion that anything was wrong.
Support free-thinking journalism and attend Independent events
In these cases maternity staff were able to try and manipulate the baby into a safe birth position, or to schedule a planned caesarean operation at a safe time.
This has the potential to save significant surgical costs as well as live,s but this has to be weighed against the additional time and expense of scanning every woman for a 5 per cent chance of breech.
"If scans could be done for less than £12.90 each, it could be cost-saving to the NHS," said Dr Ed Wilson another of the authors from the University of East Anglia, suggesting that midwives could be trained to use low cost portable scanners on visits.
Independent experts said preventing breech births alone might not make it cost effective, but late-term ultrasound could also spot placental issues and assess the wellbeing of the child.
This could also help reduce UK still birth rates which are among the highest in Europe.
"Current financial costs of routine scanning at 36 weeks are not insignificant," said Professor Basky Thilaganathan, of the Royal Collee of Obstetricians and Gynaecologists.
While more research is needed on the costs and benefits for all health issues of routine ultrasound scanning at 36 weeks, he added: "So far the evidence for its use looks very promising."
Register for free to continue reading
Registration is a free and easy way to support our truly independent journalism
By registering, you will also enjoy limited access to Premium articles, exclusive newsletters, commenting, and virtual events with our leading journalists
Already have an account? sign in
Join our new commenting forum
Join thought-provoking conversations, follow other Independent readers and see their replies