Hundreds of women take legal action over 'barbaric' vaginal mesh implants
The plastic mesh is used to treat organ prolapse and incontinence, usually after childbirth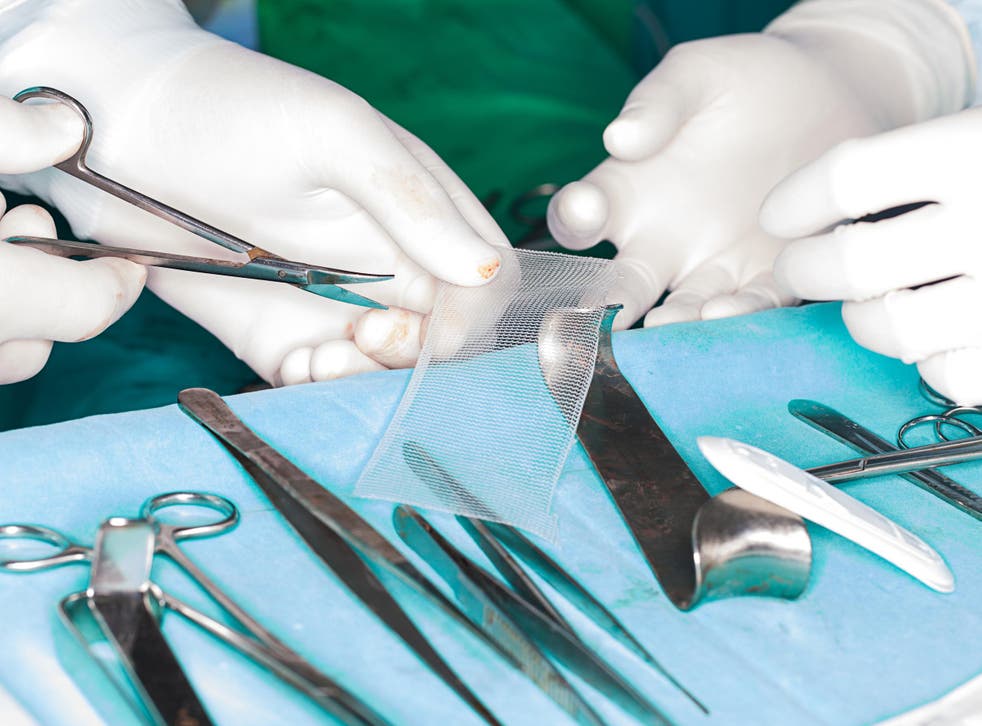 Hundreds of women are taking legal action over problems caused by vaginal mesh implants, which have left many in severe pain and some permanently disabled.
The plastic mesh is used to treat organ prolapse and incontinence, usually after childbirth. There are around 1,500 implants carried out in the UK each year to support the vaginal wall or nearby organs such as the bladder or bowel, according to the NHS.
In the majority of cases, the procedure works – but more than 800 women who have suffered painful and distressing complications are suing the health service and manufacturers of the mesh.
Kate Langley, who was admitted to hospital more than 53 times due to "agonising pain" caused by vaginal mesh, told the BBC's Victoria Derbyshire programme the implants were "barbaric".
"I could feel something really sharp every time I walk, it feels like something sharp is inside me, and I couldn't tell what it was," she said.
"The surgeon examined me and he could tell the [mesh] had come through my vagina. It had come all the way through and was protruding through. It's barbaric."
The thin plastic netting is made from a material called polypropylene, also used to make plastic chairs and drinks bottles.
Woman dies after having a heart valve put in upside down during surgery
Its insertion is meant to be permanent, but the mesh can cut through the wall of the vagina, with some women left unable to walk, work or have sex – with the protrusion so severe in some cases it had also injured their partner during sex.
The Medicines and Healthcare products Regulatory Agency (MHRA) has received more than 1,000 complaints about vaginal mesh implants.
There were 703 adverse incidents in the last five years among women with the implants related to stress urinary incontinence, while 346 were reported by patients suffering pelvic organ prolapse.
The MHRA told the BBC it "sympathises" with the women affected, but said the use of vaginal mesh implants were safe and effective for the majority of women.
They also said the figures did not necessarily indicate a fault with any particular device and said individual women may have reported more than one adverse reaction.
Health news in pictures

Show all 40
There are around 100 different types of vaginal mesh implants available on the NHS. None have yet been recalled due to complications caused by the device.
Manufacturer Ethicon said the implants "have helped millions of women", adding it had "acted appropriately and responsibly in the research, development and marketing of its pelvic mesh products".
In the US, transvaginal mesh is classed as a high-risk device, but is still used by some surgeons.
The US Food and Drug Administration (FDA) said last year it has seen "a significant increase in the number of reported adverse events associated with the use of surgical mesh for transvaginal pelvic organ prolapse repair".
Carl Heneghan, a professor of evidence-based medicine at the University of Oxford, told the BBC that new devices were being clinically approved without the regulator examining them.
A number of women, including Claire Cooper, who said the pain and disruption caused by her mesh implant had caused her to consider taking her own life, have called for the implants to be banned.
Lisa Woodrow, from Thetford in Norfolk, said she had been in a wheelchair for 18 months after the operation left her unable to walk.
"I joked that this operation would make me feel like a new woman," she said in a blog post.
"Now I've had the mesh removed, my legs shake badly and I need a stick to support me".
The 53-year-old had the mesh inserted in 2012 after the birth of her two sons caused prolapse of her uterus and mild incontinence.
She is now registered disabled and is on the highest legal dose of daily painkillers.
Almost 9 per cent of users have reported problems, according to the BBC, while lawsuits in the US have seen around £2bn paid out to affected women.
Register for free to continue reading
Registration is a free and easy way to support our truly independent journalism
By registering, you will also enjoy limited access to Premium articles, exclusive newsletters, commenting, and virtual events with our leading journalists
Already have an account? sign in
Register for free to continue reading
Registration is a free and easy way to support our truly independent journalism
By registering, you will also enjoy limited access to Premium articles, exclusive newsletters, commenting, and virtual events with our leading journalists
Already have an account? sign in
Join our new commenting forum
Join thought-provoking conversations, follow other Independent readers and see their replies