Mystery vaping-related illness kills man in eighth US death linked to e-cigarettes
'An unfortunate case of a young man with no prior lung illness who started vaping because of chronic pain'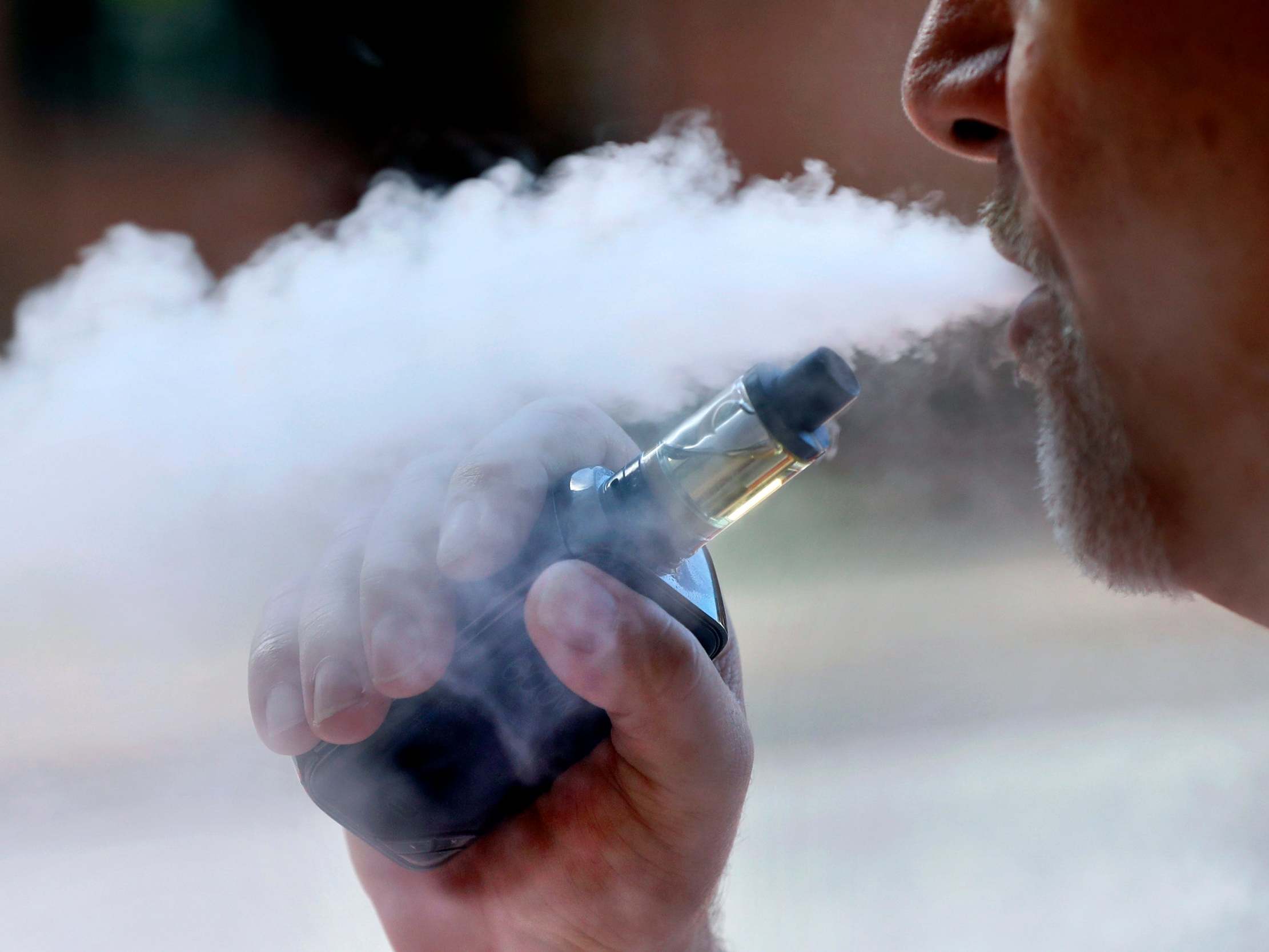 A man in his forties with "no prior lung illness" has become the eighth person to die from vaping in the US, health officials have said.
The Missouri man – who is the first person to die from vaping in the state – started using e-cigarettes in May this year, according to the Missouri Department of Health and Senior Services (DHSS).
"This is an unfortunate case of a young man with no prior lung illness who started vaping because of chronic pain issues," said Dr Michael Plisco, a critical care pulmonologist at Mercy Hospital in St Louis, where the man died.
Medical experts say his lungs were unable to provide the body with enough oxygen, which happens when they become inflamed due to an infection or injury.
Dr Plisco said: "He started out with shortness of breath and it rapidly progressed and deteriorated, developing into what is called acute respiratory distress syndrome. Once the lungs are injured by vaping, we don't know how quickly it worsens and if it depends on other risk factors."
E-cigarette vapour contains tiny particles that carry flavour. Some early-stage laboratory and animal studies suggest these can damage the lungs, airways and blood vessels, but more research is needed to better understand how human bodies react to them.
World news in pictures
Show all 50
Doctors have reported 22 lung conditions related to vaping in Missouri since late August. Symptoms include coughing, shortness of breath or chest pain, nausea, vomiting, diarrhoea and weight loss.
No single device, ingredient or additive has been identified as the culprit. Most of the patients said they vaped products containing THC, the high-producing ingredient in marijuana. Others said they vaped only nicotine and more still consumed both THC and nicotine.
"We are sad to report that this illness associated with vaping has now resulted in a death in Missouri, and extend our condolences to his family," said Dr Randall Williams, DHSS director.
"As previously stated, we encourage Missourians to follow the CDC guidance to refrain from using e-cigarette products if you are concerned about these specific health risks."
According to the Centres for Disease Control, Food and Drug Administration health experts are still investigating the illnesses. US officials looking at possible causes of the outbreak have now identified 530 cases and have described the surge in cases as "worrisome".
Trump says he plans to ban flavoured e-cigarettes: 'People are dying with vaping'
According to a joint investigation by Wisconsin and Illinois health departments, around 84 per cent of the patients told doctors they used THC in e-cigarette devices. They reported using 14 different brands of THC products; the most common one was marketed under the "Dank Vape" label.
That label is sold online and industry sources say marketers often fill an empty cartridge with potentially unsafe ingredients and sell to unsuspecting customers.
Patients also reported using 13 brands of nicotine products in a wide range of flavours.
Medical experts encourage people not to buy e-cigarette products off the streets or add any substances to them that were not intended by the manufacturer. Health officials say people experiencing any of the above symptoms should seek medical advice.
Join our commenting forum
Join thought-provoking conversations, follow other Independent readers and see their replies