Vaping increases risk of DNA mutations which could lead to cancer, study suggests
Flavoured, nicotine-infused vaping fluids can convert to harmful carcinogens after heating, study warns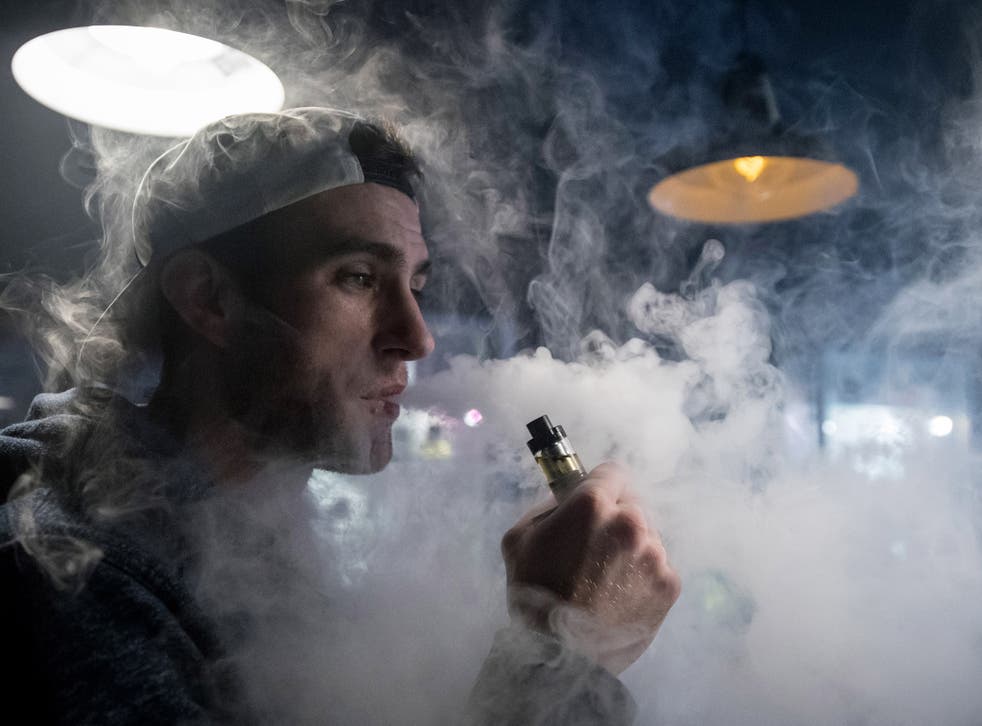 Vaping could increase the risk of mouth cancers, according to a new study, which suggests e-cigarettes lead to the buildup of chemicals known to cause harmful DNA mutations.
US researchers presented findings from a small as yet unpublished trial which showed that after a 15-minute vaping session, three chemicals known to be carcinogens increased measurably in the saliva.
Most of the trial participants also showed signs of DNA damage caused by one of the chemicals, acrolein, which is produced when glycerol – a common vape fluid ingredient – breaks down in heat.
E-cigarettes remain substantially safer than conventional cigarettes because they do not contain the host of poisonous substances found in tobacco leaf that coat the throat, mouth and lungs in tar.
However, the researchers said there may be long-term health effects that need to be understood given their increasing popularity.
"Comparing e-cigarettes and tobacco cigarettes is really like comparing apples and oranges. The exposures are completely different," said Dr Silvia Balbo, from Masonic Cancer Centre in Minnesota, who led the research.
"We still don't know exactly what these e-cigarette devices are doing and what kinds of effects they may have on health, but our findings suggest that a closer look is warranted."
For the research they recruited five volunteers and looked at the cancer-causing chemicals that built up after vaping, as well as analysing the type of DNA damage they caused.
They found three chemicals build up in the mouth after vaping – formaldehyde, acrolein, and methylglyoxal – all of which are known to cause DNA mutations, but there is little information on their effect in combination, Dr Balbo said.
When analysing the effect of these chemicals on the cells in the mouth, they found four out of five volunteers had measurable DNA damage. They saw measurable "DNA adducts" which are caused when chemicals like acrolein react with cellular DNA – if the cell is unable to repair the damage or if mutations build up over time, this could lead to cancer.
The team were presenting their findings at a conference of the American Chemical Society and now hope to conduct a larger study with more participants, though similar findings have been found in already published work.
Cleaning products as bad for lungs as smoking 20 cigarettes a day, scientists warn
Office for National Statistics data from 2017 suggests 5.5 per cent of Britons over the age of 16 are current e-cigarette users, while 19.4 per cent have tried an e-cigarette.
A report by the Commons Science and Technology Committee in August suggested that restrictions should be loosened on vaping in public places to encourage more tobacco smokers to quit.
However, studies looking at the effects of the fluids after they have been heated show it can switch off the lung's cleaning systems, which over time could lead to non-cancerous respiratory diseases.
Join our new commenting forum
Join thought-provoking conversations, follow other Independent readers and see their replies