Prince William tells Independent readers: 'You have the chance to save young lives'
The Duke of Cambridge backs the setting-up of a helpline for young people facing homelessness as The Independent launches its Christmas appeal to help the charity Centrepoint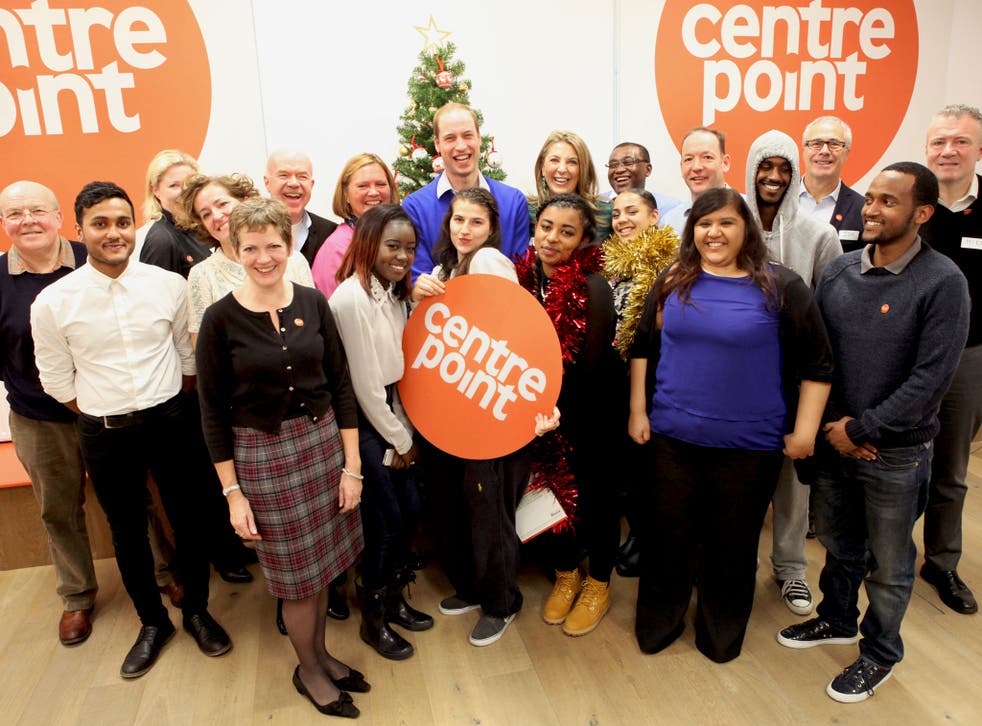 The Duke of Cambridge has told Independent readers they have "the chance to save young lives" as he issued a special message to mark the start of this website's Christmas Appeal to combat youth homelessness in the UK.
For the appeal, The Independent is partnering with Centrepoint, the youth homeless charity of which Prince William is patron, to help launch a helpline for 16- to 25-year-olds who find themselves either homeless or at risk of homelessness.
"Ending youth homelessness is not just about putting a roof over someone's head," the Duke told The Independent. "It's about teaching a young person to read and write. It's about helping them to live with the consequences of abuse and neglect. It's about stopping people becoming homeless in the first place.
"As a society, we will have a duty to help our most vulnerable young people."
By supporting the helpline, he added, "You have the chance to save young lives."
"Over the past decade," he said, "I have met hundreds of courageous and inspiring young people trying to escape homelessness. Unfortunately, their courage alone is not enough."
The causes of homelessness

Show all 7
The money raised in the appeal will help launch the Centrepoint Young and Homeless Helpline, which will be the first such service to deliver vital information to some of the most vulnerable young people in the country.
It will also help finance urgently needed hostel places and will go towards giving young people in desperate straits the skills they need to find work and a place to live.
The appeal, which launches today, is also backed by our appeal partners the London Evening Standard and the i newspaper.
The Duke said: "When a young person's world falls apart, they have nowhere to go. This is why we are launching the Centrepoint Helpline in 2017. Centrepoint Helpline will provide the information and support that vulnerable young people need before they become homeless."
This Christmas, Centrepoint warns that some 25,000 young people could be at risk of homelessness. The charity has been giving the young and homeless help through its hostels since 1969.
Now, new research by the charity has found that one in three young people seeking help from English local councils because they are homeless or about to become homeless are being turned away unaided.
The new helpline will include a Freephone number for young people with nowhere else to turn. By phoning the number, they will be able to reach a trained advisor who will make sure they receive the help they need immediately.
How to donate to The Independent's Christmas Appeal
The Independent's Homeless Helpline appeal is raising money for the Centrepoint Helpline, a brand new support service that will save young people from ending up on the streets.
To donate you can:
Call
0300 330 2731
Text
HOME66 £5 to 70070
Post
Freepost RTKC-JRGU-ZYGT
Centrepoint
40-42 Phoenix Court
Hawkins Road
Colchester
CO2 8JY
Go online: http://ind.pn/donate
www.independent.co.uk/homelesshelpline
Register for free to continue reading
Registration is a free and easy way to support our truly independent journalism
By registering, you will also enjoy limited access to Premium articles, exclusive newsletters, commenting, and virtual events with our leading journalists
Already have an account? sign in
Register for free to continue reading
Registration is a free and easy way to support our truly independent journalism
By registering, you will also enjoy limited access to Premium articles, exclusive newsletters, commenting, and virtual events with our leading journalists
Already have an account? sign in
Join our new commenting forum
Join thought-provoking conversations, follow other Independent readers and see their replies