Young and Homeless Helpline charity auction: The amazing lots you can bid on
Charity auction in aid of The Independent's Christmas appeal offers the chance to bid for everything from a stay in the Maldives to a night of VIP clubbing at the Ministry of Sound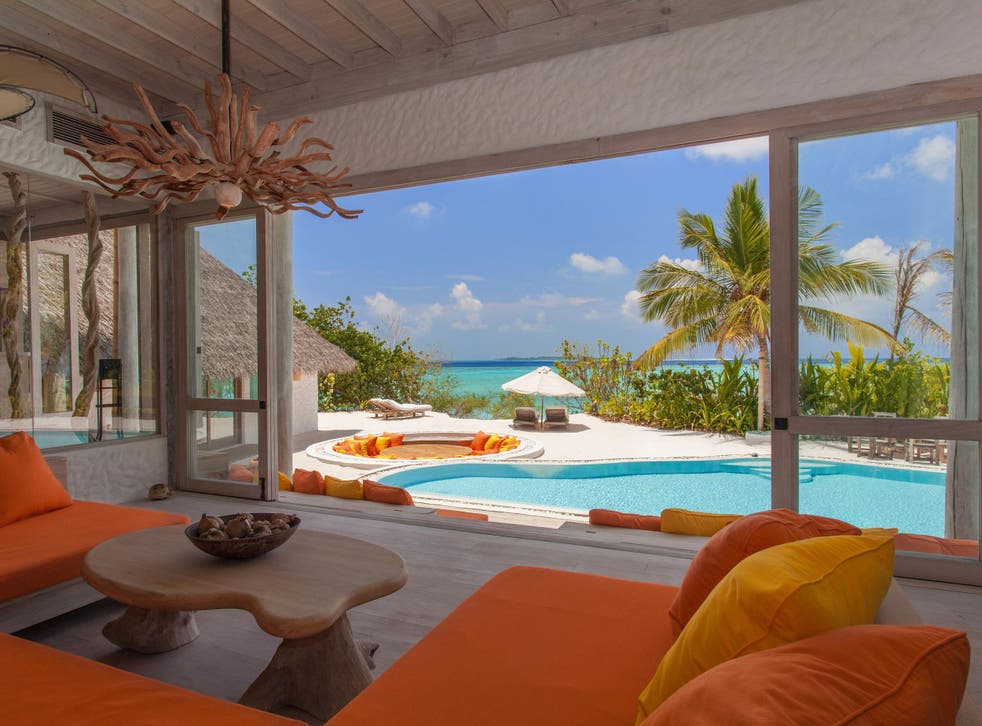 Everything from a stay in the Maldives, to VIP clubbing at Ministry of Sound to a special tour of a Formula 1 racing team's HQ are up for grabs in a special online auction to raise money for The Independent and Centrepoint's Homeless Helpline Appeal.
Other lots will include the chance to attend Sunday's X Factor semi-final live results show and to meet the finalists in person in February, before watching them perform at the O2 Arena as part of The X Factor Live Tour.
The winning bidder will get their hands on a signed acoustic guitar used during the writing of singer Craig David's new number one album Following my Intuition.
They will also get two tickets to the star's show at the O2 arena on Sunday March 26, 2017.
Craig David said: "I am thrilled to be supporting Centrepoint, a charity that does such amazing things to help troubled under 25 year olds get their lives in order and put a roof over their heads."
The auction also offers the chance to bid for an Arsenal shirt signed by every member of the Premier League football team, luxury UK hotel stays, and a helicopter ride over London.
The proceeds from winning bids will go towards The Independent and Centrepoint's Young and Homeless Helpline appeal which is raising funds for a nationwide helpline to ensure that the thousands of young people facing or experiencing homelessness get the support they need.
The auction is powered by Givergy, which offers anyone, anywhere in the world the opportunity to win high-profile, money-can't-buy items and experiences by taking part in online auctions, while making a real difference to the causes they are in aid of and making giving more rewarding.
The auction opens on Tuesday and closes a week later at 9pm on Tuesday 6 December. For the X Factor lot, however, bidding will close early, at 5pm on Friday 2 December.
For more information about all the lots – and to make your bid – visit www.givergy.com/charity/centrepoint.
The lots in the auction are...
Maldives getaway
Spend five nights with your other half at the romantic Crusoe Villa on the Indian Ocean islands, and get some sun this winter. Shower beneath the sky in your garden bathroom, or go fishing or island hopping.
BID NOW
Drive of your life
Indulge in the ultimate luxury, and get driven around in a Bentley Mulsanne for the day, by your very own chauffeur. You could even do your Christmas shopping in style.
BID NOW
The X Factor
Courtesy of Simon Cowell and Syco Entertainment, the successful bidder will win two tickets to attend the X Factor semi-final on Sunday, December 4.
Watch Louis Walsh, Sharon Osbourne, Nicole Scherzinger, left, and Simon Cowell in the last live results show before the X Factor Final, and enjoy a performance from a world-class special guest.
The successful bidder will also get four tickets to the X Factor Live Tour at the O2 on February 25 (either matinee or evening). Take selfies and chat with the finalists in an exclusive meet and greet, then watch them all in concert.
BID NOW
A year's supply of great shoes
From pumps to platforms, stilettos to sandals, Dune is giving away a year's supply of their glamorous shoes. With a new pair every month, each worth up to £100, the highest bidder on this lot will have fancy footwear for every occasion.
BID NOW
Party like an A-lister
Join The Evening Standard's Londoner's Diary at a top star event, go for a cocktail with them at the Groucho Club afterwards — and maybe even get a mention in next day's column. Choose between a political, social or fashion party.
BID NOW
Vineyard tour
Visit Charles Palmer and family's vineyard, in the hills of East Sussex, and spend a day with seven friends sampling sumptuous sparkling wines and delicious bites.
BID NOW
Arsenal shirt signed by the team
Win a football shirt signed by the entire Arsenal team. A great piece of memorabilia — and a great present — for a diehard Gunners fan.
BID NOW
Ultimate dinner date
Enjoy a divine dinner for two at 45 Jermyn Street, including caviar to start, two courses, paired wines and boozy ice-cream floats to finish. The stylish new restaurant from Fortnum & Mason offers a seasonal menu of innovative dishes and immaculate classics.
BID NOW
London zoo tour
A once-in-a-lifetime opportunity for a private, backstage family tour of London Zoo. Led by an expert staff member from the Zoological Society of London, the lucky guests will discover more about the incredible animals, from tigers to tarantulas.
BID NOW
Be pampered like the stars
Everyone from Nicole Scherzinger to Nigella Lawson has had their hair done at FOUR salon in Mayfair. You and a guest can spend a day there, with a colour consultation, haircut and style, and a manicure. Complete with champagne lunch and hair goody bag.
BID NOW
Craig David's signed guitar
The winning bidder will get their hands on a signed acoustic guitar used during the writing of singer Craig David's new number one album Following My Intuition. They will also get tickets to the singer's show at the O2 Arena on Sunday, March 26 next year.
BID NOW
Shop 'Til you drop at Selfridges
The department store is offering one lucky winner an unforgettable behind-the-scenes visit including an appointment with an "Elfridge" personal shopper, £1,000 to spend in store, a festive dinner for four at the store's Forest Restaurant & Bar, and a chance to try the Gizzi Erskine Feasting Menu.
BID NOW
Luxuriate in nature
Spend three nights in a stunning Natural Retreats eco lodge in one of the UK's most beautiful spots. Take the family or make it a romantic break for two in the Yorkshire Dales, Cornwall or Scotland.
BID NOW
See London – by Helicopter
The Air Charter Service is offering five people an incredible sightseeing tour from the skies. Spend 30 minutes marvelling at the bird's eye view of the capital as you glide over Parliament, the Tower of London, St Paul's Cathedral, Buckingham Palace and the Olympic Park.
BID NOW
A bottle of Champagne signed by Roger Daltrey
To celebrate The Who's 50th anniversary Roger Daltrey has signed a bottle of award-winning bubbly and it could be yours. The Charles Orban Champagne, created in association with Eminent Life, will be the biggest rock star in your drinks cabinet. You will also get a signed microphone, used by Roger Daltrey at The Who's 2014 show at the Glasgow SECC.
BID NOW
Life in the F1 fast lane
Silverstone is offering a day out like no other: a VIP factory tour of the Sahara Force India Formula 1 Team HQ. You and two friends will get a welcome by a team member and a tour of the factory. Donated by motorsport legend Eddie Jordan, this is not to be missed.
Luxury London hotel stay
Uber-chic hotel La Suite West is offering a two night B&B stay in one of its luxurious suites. Set in the heart of west London, it is a stone's throw from Notting Hill, and the perfect spot for a romantic walk around Kensington Palace Gardens. Afternoon tea is included, so look forward to a truly indulgent weekend.
BID NOW
Shaken not stirred
Master barman Davide Segat will teach you and 11 friends how to become professional mixologists at the Punch Room in Fitzrovia's Edition Hotel. Shake up the best drinks, with plenty of samples to try.
BID NOW
Something to Rave about: be a ministry of sound VIP
The iconic superclub is offering you and a friend a table plus a complementary bottle of liquor — and throwing in one of their limited edition 25th anniversary bomber jackets.
BID NOW
Build your own computer
The award-winning Kano Computer Kit is a computer that anyone can build. A bit like Lego but much more functional, it is used in thousands of homes and schools worldwide. The owner will learn how to create art, apps, music and games using code. A terrific, fun present — and an educational one as well.
BID NOW
Join our new commenting forum
Join thought-provoking conversations, follow other Independent readers and see their replies