'I found myself homeless and alone on the streets aged 17'
With just days to go before the Young and Homeless Helpline launches, Natasha Thompson tells her story, and explains how vital the helpline will be.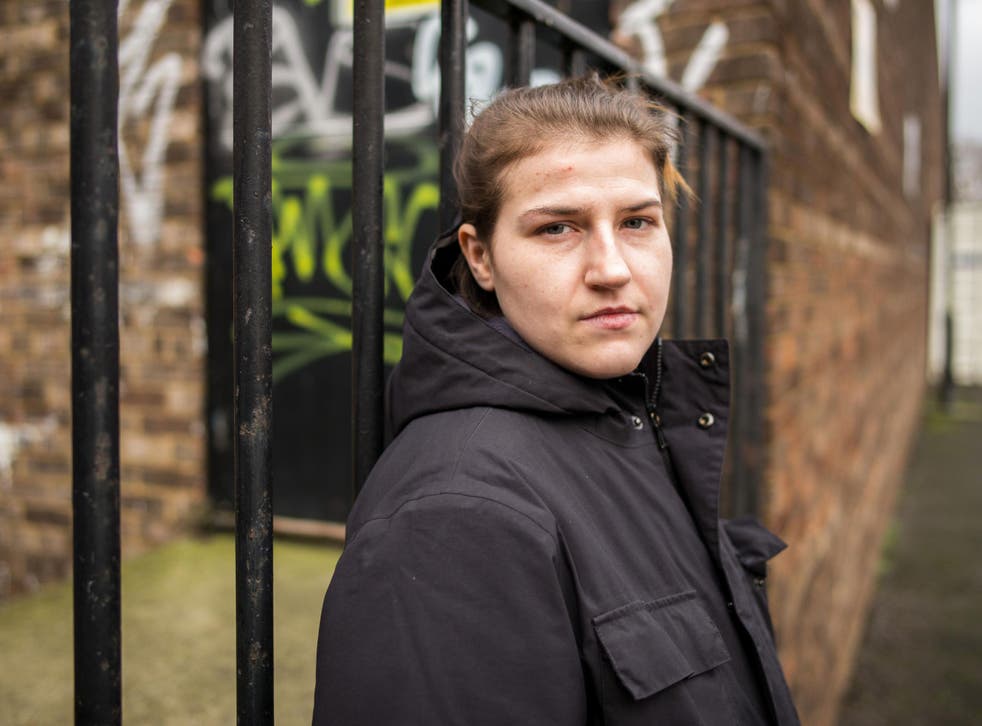 Sometimes 'home' would be a friend's sofa. But there were other nights, when all other options failed, and Natasha Thompson, still only a teenager, still a sixth form student, would find herself on the street.
"I would just keep walking," she recalled, "Staying under the streetlights so I could be as safe as I could be. Then I'd go to college, and sleep the next day."
Now 25, Natasha can at times manage a grim humour about her four years of homelessness, even when it comes to freezing nights on cold London streets.
A poem about homeslessness
"One night," she says, "It was snowing. I remember I spent all night building a snowman."
But there is no escaping the reality of those nights where she had nowhere safe to go. They could, she admits bluntly, be "really scary".
Natasha became homeless in 2009 aged 17. She was living in cramped conditions in her four-bedroom home on a west London council estate with her mother, six sisters and three brothers.
The sixth form student often fought with her family and when she came out as gay she was bullied in her local area. She felt she had no choice but to leave.
Not that she really knew where to turn for help, especially after being initially rebuffed by her council – an experience that put her among up to one in three young people who, according to Centrepoint research, are being turned away with little or no assistance by English local authorities.
"I was just turned away," she said, "And given a list of numbers of homeless shelters to call - but I had no credit on my phone, no way of calling them.
"I had no idea of the support that was out there and how I could get it.
"So I ended up spending four years often worrying where I was going to be spending the next night."
The causes of homelessness

Show all 7
If only the Centrepoint Young and Homeless Helpline, the focus of The Independent's homeless helpline appeal, had been there then.
Natasha seems in little doubt that the helpline could prove a "lifeline" for thousands of young people facing homelessness.
"With a Freephone number like the helpline," she said, "With someone to give me real advice and support, I could have probably avoided a lot of what I went through."
More money is still needed to ensure the long term future of the helpline and the services to which young people will be referred, but for now, Natasha can observe: "It's really good that the helpline is going to be there for others."
For her, getting real help took four years. She was 21 when she again sought help from her local council. This time, she was referred to Centrepoint.
The youth homelessness charity gave her support with mental health issues. It built her confidence and helped her live more independently. Natasha participated in Centrepoint sports activities and represented England in the International Street Football Festival,
She performed in a Centrepoint dance troupe in front of Prince William at Kensington Palace, on the same bill as Tinie Tempah.
Centrepoint has also nurtured her talent for writing, and she has used poetry to raise issues and challenge stereotypes about homelessness, and to confront her own experiences.
Her poem, Homeless Not Useless, is to feature in The Centrepoint Anthology, a collection of 50 poems from staff and young people in Centrepoint accommodation to be published this year.
"The support has been brilliant," she said. "I have grown as a person, I have confidence. I'm now volunteering to get the experience to get a full time job and move into my own place."
There's just one thing:
"I just wish I had found Centrepoint sooner."
Register for free to continue reading
Registration is a free and easy way to support our truly independent journalism
By registering, you will also enjoy limited access to Premium articles, exclusive newsletters, commenting, and virtual events with our leading journalists
Already have an account? sign in
Register for free to continue reading
Registration is a free and easy way to support our truly independent journalism
By registering, you will also enjoy limited access to Premium articles, exclusive newsletters, commenting, and virtual events with our leading journalists
Already have an account? sign in
Join our new commenting forum
Join thought-provoking conversations, follow other Independent readers and see their replies