'What if it happened to my daughter?' Why volunteers are braving the cold in the first Centrepoint DIY sleep outs
'I just thought, my God, it could so easily be her or one of her friends' – Sam Stewart on her fundraising motivation for the homeless helpline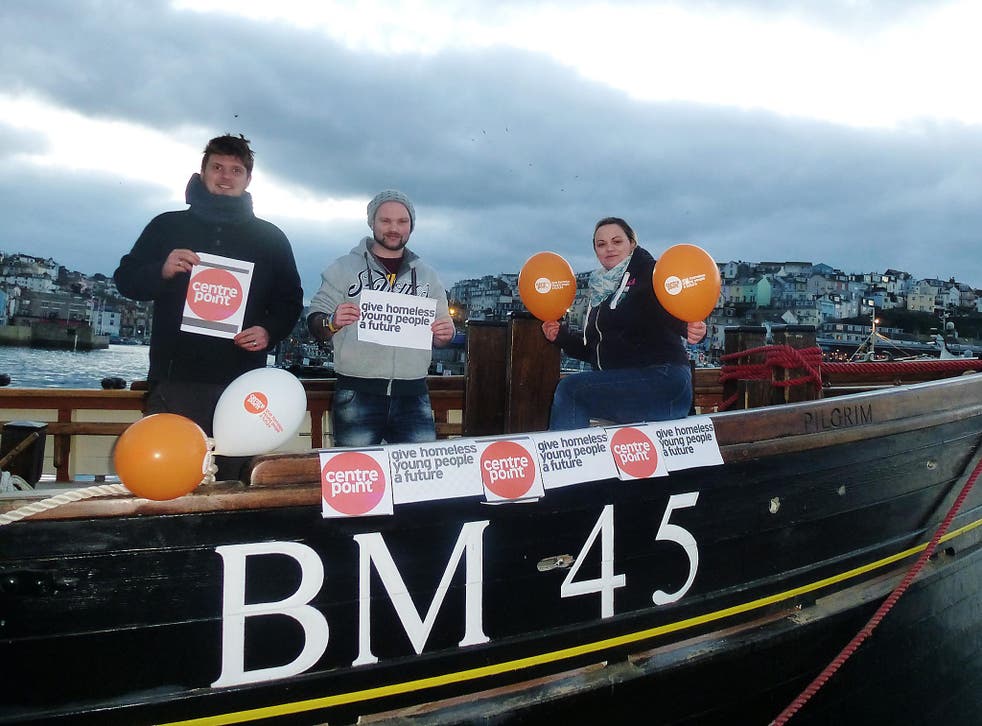 When a group of volunteers restored the 19th-century Brixham trawler Pilgrim from a wreck to her former sailing glory, they made sure to instal the kind of cosy bunks that allow for 21st-century comfort: fully upholstered, sheets, duvets, individual reading lights.
Yet on the night of 25 March, Sam Stewart and her husband Brendan, the boat's skipper, will forego all that and sleep exposed to the elements on Pilgrim's cold, hard wooden deck.
Sam and Brendan are among the first to have answered the call to organise your own sleep out to raise funds for The Independent and Centrepoint's Homeless Helpline Appeal.
The DIY sleep outs – the first time Centrepoint has suggested communities organise their own such events – will fund the first nationwide helpline to assist 16-to-25-year-olds facing homelessness.
And for Sam and Brendan that was all the motivation they needed to overcome any uncertainty about a cold night on a trawler deck's unforgiving wooden planking.
Sam, 33, a healthcare assistant, explained: "We have been reading a lot about the homeless crisis going on up and down the country, especially with youth homelessness.
"It really hit home with me because I've got a daughter who is nearly 15. I just thought, my God, it could so easily be her or one of her friends.
"They are – thank God – lucky to be having a normal upbringing, but you don't know how things are going to pan out. Life can turn on a sixpence.
"I would just like to think that if it ever happened to her, if she was going through a crisis, there would be someone to help."
The causes of homelessness

Show all 7
The homeless helpline will also launch at a time when, according to Centrepoint research, up to one in three young people seeking help with homelessness in England are being turned away unaided by their local council.
Sam said: "I dread to think how many kids are out there at the moment, who might be in trouble, who might need expert help, and who can't get it from their local authority. If there was a Centrepoint helpline for them, it would be a godsend for so many children and young adults."
The couple say they been getting considerable support in their home port of Brixham, Devon – renowned in the late 19th century for its fleet of about 200 of the red-sailed trawlers.
Sam said she was pleased others, like their friend Matt Kenyon, will now join them on board Pilgrim for the sleep out.
"I wanted to raise a bit of awareness," she said.
"People always think of homeless people as some drunk on a street corner. It's not like that at all.
"My Dad used to be a housing officer. He came across a heck of a lot of homeless people and they were nothing like the stereotype.
"People have mental health issues, they haven't had the support they need, they have lost their jobs… they are just vulnerable, and it's wrong for people to make assumptions about them.
"And some young homeless people have had horrific upbringings. Anything that can help them escape that and have a future is just brilliant."
Her sentiments were echoed at the City of London School, where the plan is that on 18 March more than 100 schoolboys aged ten to 18 will stay very late at school – voluntarily.
Abe Tolley, 16, chairman of the pupils' charity committee organising the sleep out in the school courtyard, explained: "We feel really strongly about homelessness, because of where our school is in central London, and where we live. The boys, myself included, will probably see homeless people every day on the way to school.
"We can all see it is a problem that needs to be addressed. And with Centrepoint, a lot of the young people that the charity works with are the same age as people from our school, which makes it even more poignant."
The helpline, he said, could have the power to lift young people out of homelessness before their lives were ruined beyond repair, before they resorted to desperate measures or turned to drink or drugs.
"If Centrepoint is able to intervene right at the start it could minimise the impact of homelessness, and the suffering. It could rectify situations before they lead to that downward spiral."
Despite January's freezing temperatures, some DIY sleep outs have already taken place.
Housing association Moat Housing raised £18,000 through a sleep out held in temperatures of -5C at their headquarters in Dartford, Kent, on the night of 20 January.
Steve Nunn, 49, Moat's executive director of development and new business, said: "It was a long, cold, incredibly uncomfortable night.
"There was frost on the ground, frost on our cardboard shelters. We were really proud to make it through.
"But that was just one night. It really makes you appreciate how difficult it must be for people on the streets night after night. It was really sobering.
"Not many fundraising ideas bring you so close to the cause you are working for."
Reiko Murray, Centrepoint's events and community manager, said: "Hosting your own sleep out is a lot of fun but there's a serious side to it. It would be impossible to replicate the true terror of being forced to spend a night on the streets, but participants do get a feel for the strange noises, the cold and the discomfort some young people have to endure. And the money they raise will go directly towards supporting the Centrepoint Helpline."
For more information on organising a Sleep Out visit www.centrepoint.org.uk/get-involved/sleep-out.
Register for free to continue reading
Registration is a free and easy way to support our truly independent journalism
By registering, you will also enjoy limited access to Premium articles, exclusive newsletters, commenting, and virtual events with our leading journalists
Already have an account? sign in
Register for free to continue reading
Registration is a free and easy way to support our truly independent journalism
By registering, you will also enjoy limited access to Premium articles, exclusive newsletters, commenting, and virtual events with our leading journalists
Already have an account? sign in
Join our new commenting forum
Join thought-provoking conversations, follow other Independent readers and see their replies