Celebrities join more than 1,000 Londoners to brave the elements for the End Youth Homelessness Sleep Out
People across the country are sleeping outside in support of homelessness charity Centrepoint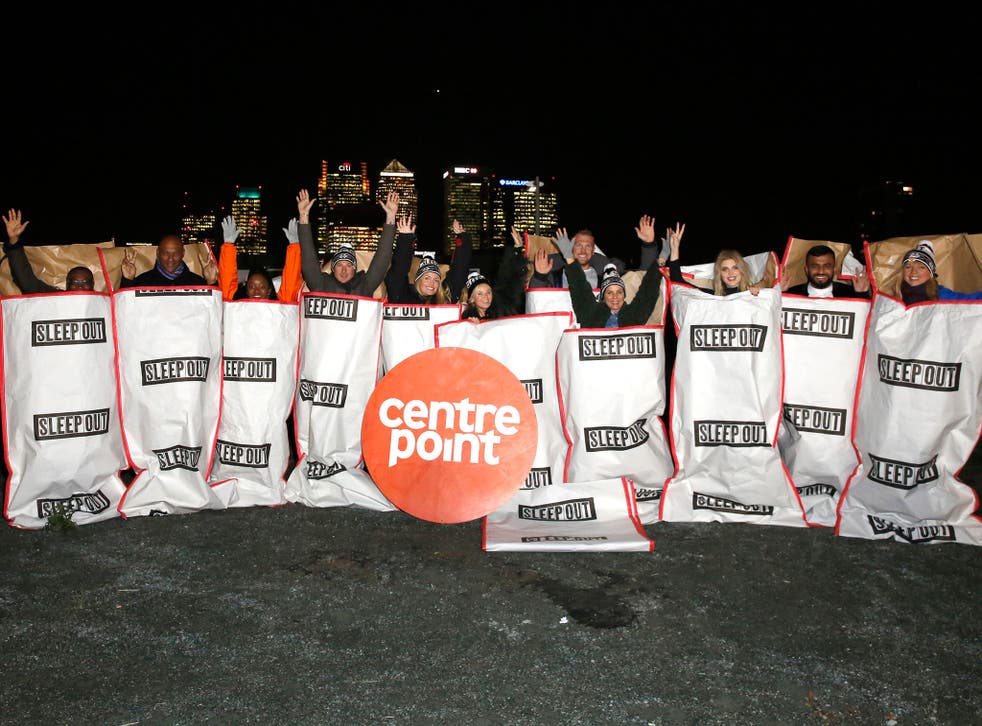 More than a thousand Londoners are steeling themselves for a night exposed to the elements as they gather for a record-breaking Sleep Out in solidarity with Britain's homeless young as part of The Independent's Christmas appeal.
On a blustery night in south east London, city workers, celebrities, and individual fundraisers will have just a sleeping bag to guard against temperatures as low as 5C.
"It's going to be freezing," said Holly, a sixth former from Bacon's College, who along with 20 classmates is taking part in her first Sleep Out. "But we're prepared for it with lots of blankets and layers. We're not going to get much sleep, but that's fine."
Another Bacon's student, Kezia, chipped in: "We see a lot of homelessness people around our school, and where we live. We're exposed to it. Doing something like this is eye opening. We know this is nowhere near the experience of actual homeless people – here we have food and a tent, but it's still humbling."
London's End Youth Homelessness Sleep Out coincides with similar events in Bristol and Birmingham, and follows hundreds braving the elements in Edinburgh, Cornwall, Southampton, Cardiff and Norwich during a nationwide campaign.
At least £210,000 has already been raised for End Youth Homelessness, a coalition of charities including Centrepoint, The Independent's Christmas appeal partner. Organisers hope Thursday's events will add another £500,000 to that total.
Law-firms, banks and teams from schools were to be joined by Liberal Democrat leader Tim Farron MP, Downton Abbey actress Daisy Lewis, fashion designer Sadie Frost and radio DJ Sara Cox for the event on the Greenwich Peninsula.
Organisers say the Sleep Out doesn't replicate rough sleeping, but does force participants to contend, for one night, with some of its harsh realities. Cold, wind, rain, the hard floor and a day at work with minimal sleep give participants an insight into the problems faced by homeless young people every day.
In pictures: End Youth Homelessness Sleep Out

Show all 16
The London event is expected to raise £400,000, all of which will go Centrepoint's Young and Homeless Helpline, a new nationwide service for young people at risk of homelessness. The Independent's Christmas appeal is funding the launch of Helpline.
Before bedding down participants will keep warm dancing to a DJ set by Brandon Block, followed by dinner, a singalong led by Downton Abbey actor Matt Barber and a bedtime story read by Christopher Biggins. Lights go out at 1am with breakfast served at 5.30am.
Roxy Corrieri, a support manager from financial company Intelliflo, has raised £6000 with four of her colleagues. She said: "There are so many homeless people in this country, especially young people who through no fault of their own are struggling. And as the harsh winter draws in we just want to do something, raise money and awareness."
BBC Radio 2 DJ and Centrepoint ambassador Sara Cox said: "We will be safe while the vulnerable people on the streets are in danger. But though the Sleep Out doesn't replicate homelessness, even the glimpse we get enforces how difficult the situation is that people find themselves in."
How to donate to The Independent's Christmas Appeal
The Independent's Homeless Helpline appeal is raising money for the Centrepoint Helpline, a brand new support service that will save young people from ending up on the streets.
To donate you can:
Call
0300 330 2731
Text
HOME66 £5 to 70070
Post
Freepost RTKC-JRGU-ZYGT
Centrepoint
40-42 Phoenix Court
Hawkins Road
Colchester
CO2 8JY
Join our new commenting forum
Join thought-provoking conversations, follow other Independent readers and see their replies