Host stress-free dinner parties like an interior designer
Interior designer Brian Woulfe gives his top tips for hosting a stress-free dinner party your guests will remember
Wednesday 21 February 2018 20:53 Comments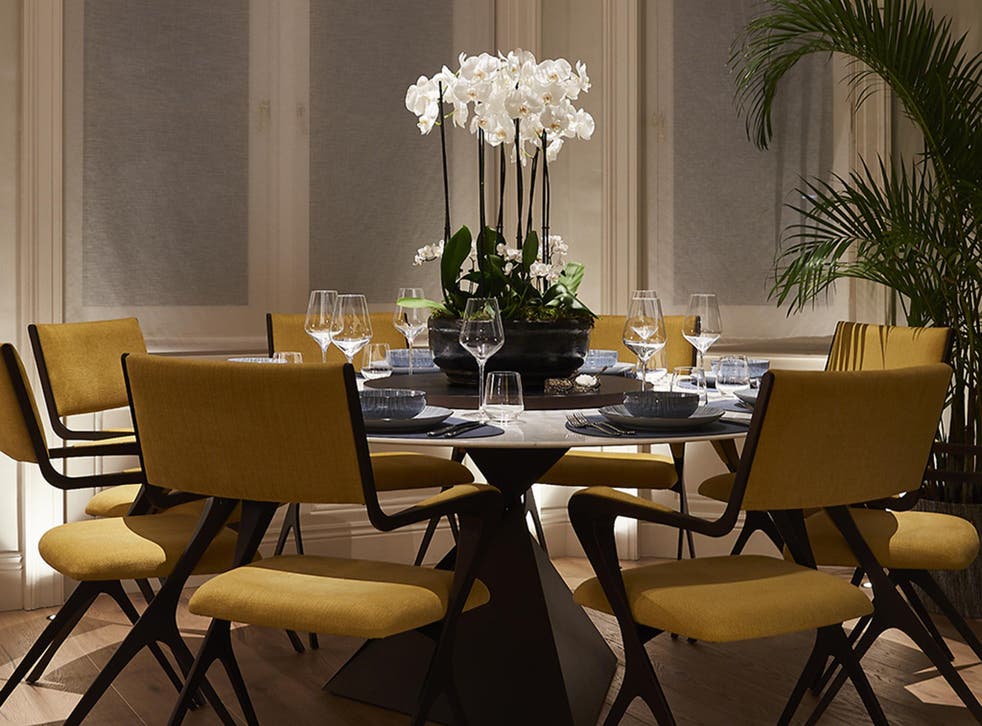 For some, hosting a dinner party is an unrivalled catalyst for stress, its position threatened only by holidays with the in-laws or transport delays. However, below is an exhaustive list of the essentials, that, when done right, will be the wind beneath the wings of your evening extravaganza. Just add good conversation. And gin.
Dinnerware
Invest in dinnerware. Choose something that's both practical and stylish, and don't be afraid to mix and match. I have a passion for glassware so I keep my china consistent but decorate the table with an impressive display of old and new glasses. Don't be afraid to use your finest pieces outdoors. Life's too short and guest will enjoy your laid back comfortable approach to dining.
Invest in linen tablecloths and napkins to make your guests feel special. Depending on the occasion and theme of your party consider mixing the colours and styles of napkins to add texture to the table. Mix new with old.
Lighting
As in any home, room, or for any occasion, lighting is one of the most important things to get right, dinner parties included! I always make sure I have dimmer switches on all my downlights (if these particular lights are used) to match the mood of the room. Usually, the rule is the lower-lit the better. Don't use downlights if at all possible, instead using table or floor lamps to light the space more intelligently. This will also give you more flexibility in your scheme. Lamps at eye level are most flattering, for the room and your guests!
Candles are another great lighting option, and a natural fire will undoubted create a romantic and intimate setting for your guests. As a rule, I never use scented candles when entertaining. Turn your guests into drooling fools with the aromas coming from the kitchen and freeze your ivory candles over night to stop them dripping on your linen table cloth.
The Centrepiece
Play with the centrepiece. Consider flowers an option rather than an obligation. Flowers do look great, but consider using non-floral natural centrepieces like seasonal fruit and vegetables. Theme the table by colour or material, such as mirror, ceramic or feathers. If using flowers for your centrepiece keep arrangements low in height or if using tall centrepieces have them above 65cm to avoid blocking the line of sight for guests.
Consider the shape and size of the table when deciding on the centrepieces. Round tables suit a tall single centrepiece, in a stem-like vase. Rectangular tables suit a larger centrepiece piece with smaller arrangements on each end. Square tables require a larger centrepiece to utilise the space in the centre.
The Unspeakables
Don't forget the lavatory. Light your favourite candle, display your nicest soap and make sure the mirror is clean. Individual cotton or linen guest napkins are a lovely touch. If you have space share one of your perfumes or colognes.
DIY Bar
One of the easiest things to do to keep the party flowing is to set up a DIY bar for your guests. Fill glass bowls with fresh limes, lemons, passionfruit and lychee. Prepare an ice bucket and have mixers to hand. Not only will it look amazing but your guests will feel instantly relaxed and at home. I set this up in a lounge area for people to enjoy and relax before and after dinner. It also takes the pressure off you to clean up the dining room after the meal.
Top tips from the above:
•Invest in dinnerware that you will actually use – and don't 'save it for best.' Life is far too short.
•Lighting can transform a room – the way it looks and the way your guests feel. Lamps and candles where possible, downlights when necessary!
•Consider flowers an option rather than an obligation when designing your table centrepiece.
•Don't neglect the bathroom and continue the mood into every space that your guests may wonder into.
•A DIY bar will create a relaxed atmosphere, and means you won't have to keep running to top up peoples' glasses!
Register for free to continue reading
Registration is a free and easy way to support our truly independent journalism
By registering, you will also enjoy limited access to Premium articles, exclusive newsletters, commenting, and virtual events with our leading journalists
Already have an account? sign in
Join our new commenting forum
Join thought-provoking conversations, follow other Independent readers and see their replies