How architecture uses space, light and material to affect your mood
An architectural award for libraries led Kashmira Gander to ponder the relationship between space and mood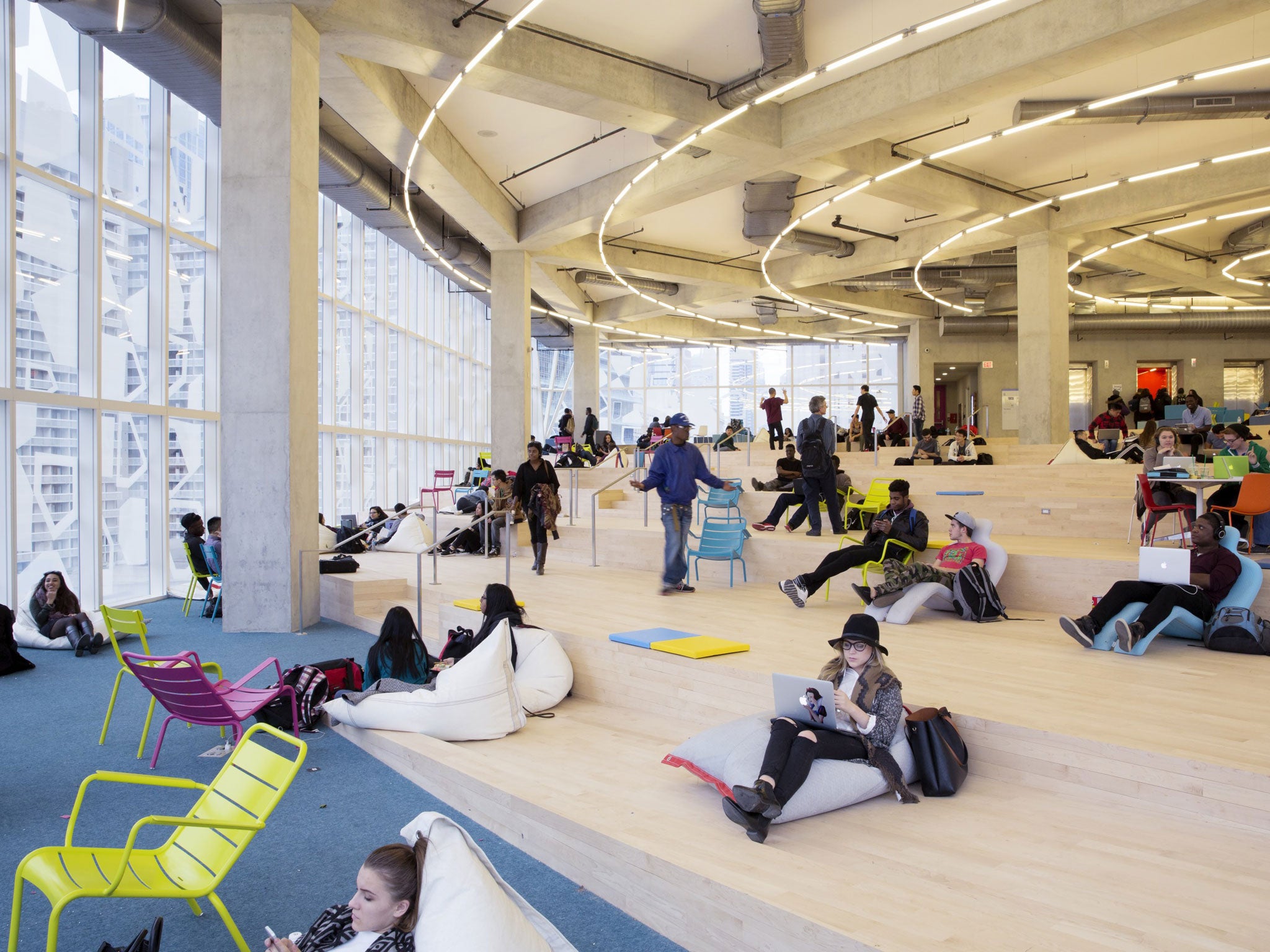 No longer silent, fusty and reserved for solitary study, libraries are now bright and buzzing spaces where people can also engage with their local community and new technologies. And the seven winners of the American Institute of Architects (AIA) 2016 Library Building Awards are a perfect showcase of this. Comprised of new and renovated buildings from both small towns and major cities, the winners were chosen by a panel of industry professionals. What unites them, aside from being striking buildings, is how they demonstrate the powerful effect that architecture, through elements like space, light, geometry and materials, can have on our mood.
The celebrated projects include Renton public library in Washington, an ethereal glass and raw aluminium building straddling the banks of the Cedar river; and the Lawrence public library in Kansas, a geometric structure of harsh lines clad in terracotta panels
It may seem obvious, but even the most beautiful building is largely useless if it doesn't fulfil its function. What use are stunning aesthetics if a person inside is stifled by heat from a badly placed window, or unable to arrange furniture neatly inside?
"Buildings and urban spaces should be designed first and foremost around their occupants," says Dr Sergio Altomonte, architect and associate professor in the department of architecture and built environment at the Nottingham university. "The importance of architecture as a trigger to physical, physiological and psychological wellbeing is nowadays becoming a topic of significant relevance."
Architect Lynn Grossman, AIA chair and Library Awards jury member, believes that the award-winning libraries were built with this in mind
"The libraries all are exciting, engaging and comfortable places to spend a morning, an afternoon or an evening," she says. "With abundant views and natural light, people using them can observe the activity and the natural world outside, and those outside have a glimpse of what's happening inside. They are separated yet connected, and they help to connect their communities together."
Numerous studies show that buildings can impact a person's health, and as citizens of modern societies spend 90 per cent of their time indoors, this is more important than ever.
American Institute of Architects Library Building Awards: In pictures
Show all 14
Recognising this impact, the AIA has compiled six key areas for architects to pay particular attention to when designing a space, explains AIA spokesman Scott Frank. Among these are safety, promoting social connectedness, ease of movement, and sensory stimulation.
Natural light, for example, can help hospital patients to recover and school pupils perform better. "Light certainly has a physiological impact on people," says Dr Alan Lewis, a lecturer in architecture at Manchester university. "Research has shown that visible light helps the human body to regulate the production of the hormone melatonin, which in turn helps to regulate our body clock, affecting sleep patterns and digestion. "Visible light also helps to stimulate the body's production of the neurotransmitter serotonin, which can reduce the symptoms of depression."
But a well-designed space, particularly a modern library, must also be versatile yet appropriate for its main use. "Good designs are where it is not dictated to the individual how they should perceive, operate or feel in the building, but have the flexibility to explore and experience it for themselves," says Dr Marialena Nikolopoulou, from the school of architecture at the university of Kent .
Dr Birgitta Gatersleben, senior lecturer in environmental psychology at Surrey university, agrees. "People perform a range of different tasks and have different needs: sometimes to be alone, sometimes to be with others. A range of spaces that offer different things works best. It all comes down to the people-environment fit. Some of the featured libraries in the AIA awards clearly have a wide variety of flexible spaces in abundance," she says.
But the truth is that creating the "perfect" space is an impossible, and subjective, balancing act between form and function. This is made harder by the fact that architects do not have the luxury of creating a prototype outside of computer or physical models, and are restricted by laws and often tight budgets. "'Negative' spaces are never deliberately constructed," says Dr Raymond Lucas, head of architecture at the Manchester university, adding: "Building design is complex, and it is impossible to predict everything about a space before it is built."
Essentially, the power a building has over a person is limited. It cannot change their personal needs or circumstances, and its uses are always changing.
According to Dr Lucas: "Buildings are never truly 'finished'. They require constant maintenance and occupation in order to function well."
"The impact architecture has on a person's mood is huge. Arguably these are the fundamentals of architecture: not how it looks, but how we feel it, through the way it allows us to act, behave, think and reflect," says Dr Melanie Dodd, programme director of spatial practices at the Central St Martins art school. "But it's not necessarily causative – meaning architecture may not have a direct relationship with our mood that is measurable. It may be complex, subjective and happen over time and with use."
Adrian Lahoud, dean of the school of architecture at the Royal College of Art, has perhaps the most frank assessment of the impact spaces have on the individuals using them. "Does architecture matter? Absolutely. Can it insulate people from the political circumstances around them? No."
Encapsulating the architect's unenviably difficult tasks, he adds: "To be a good architect, you need to have a deep appreciation of human character and its capacity for transformation."
Join our commenting forum
Join thought-provoking conversations, follow other Independent readers and see their replies