How to style your houseplants: From terrariums to hanging planters
 The humble houseplant offers health benefits, calming credentials and down-right Instagramability from your bedroom to your kitchen – turning your home into a summery enclave in the run up to the festive period
Anya Cooklin-Lofting
Monday 29 October 2018 10:35 Comments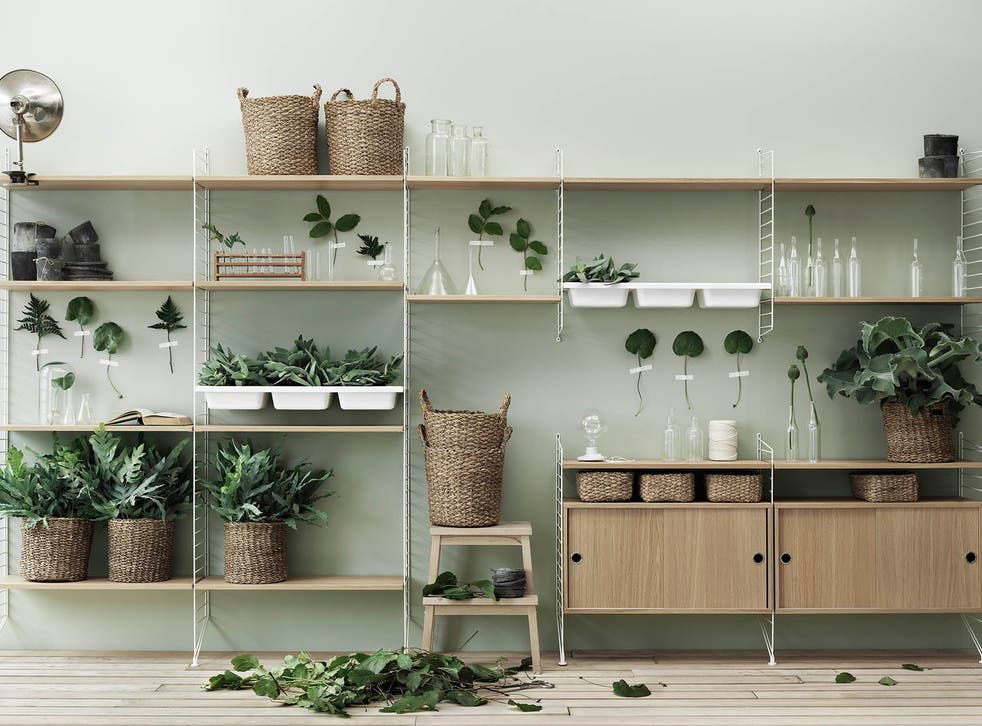 As the clocks go back, many will start to live their lives largely by night. Without a brisk lunchbreak stroll, many an office worker will seldom see sunshine, commuting to and from their desks in a murky continuum of dusks and dawns.
However, the humble houseplant can provide a certain solace in this wintry mire, with its health benefits, calming credentials and down-right Instagramability. As Merje Shaw, Founder of Scandiscapes, an online platform for biophilic homewares, puts it: "Although they undoubtedly make our homes look stylish, houseplants aren't just pretty. They also do amazing things such as improve air quality, help deter illness and bring us a greater sense of wellbeing."
This week, I spoke to some houseplant and styling aficionados about how to choose and style greenery for different rooms in the house, keeping your home feeling fresh and light right through to spring and beyond. From your bedroom to your kitchen, turn your home into a summery enclave in the lead up to the festive period.
Bedroom
Your bedroom should be a relaxing space, with limited technology and calming decor. Introducing a houseplant or two into this room will increase your sense of wellbeing as you get ready for bed, in turn helping you get a good night's sleep.
According to Merje Shaw of Scandiscapes, the ideal houseplant for a bedroom will release oxygen at night time, recommending plants such as sansevieria trifasciata, aloe vera and orchids.
When considering which plants to use in your bedroom, it's hard to ignore the warning cries regarding their emission of CO2. When I mentioned this to Shaw, she assured me that there is nothing to worry about. She told me, "The truth is, the amount of CO2 most plants produce at night is far less than the amount humans and pets do. Even with a bedroom full of plants, you would be sharing less of your oxygen than when sharing this bedroom with another human." So it's settled. Bye-bye boyfriend, "aloe" vera!
Jo Ross, the General Manager of Design at bedlinen design house Sheridan Australia also believes that houseplants are essential for ultimate relaxation in the bedroom. Her top tip for the larger-leafed variety is to wipe the leaves with a damp cloth every few weeks. Ross warns that "large leaves tend to catch dust while helping to purify the air. It's important to keep them clean so they can work their magic."
Work space
Although there is no houseplant proven to increase productivity (we remain hopeful), anxiety-reducing benefits make them brilliant additions to offices and home offices alike.
I spoke to Kara O'Reilly, journalist and co-author of At Home With Plants (Mitchell Beazley), who gave me some top tips for office styling. Firstly, she advocates using smaller plants like succulents and cacti on your desk where space may be tight, suggesting a terrarium for a "self-contained indoor garden".
Next, O'Reilly believes houseplants are great for turning a shelving system into a feature wall. She says: "On shelves, use individually potted plants as decorative spacers to break up solid rows of reference books and box files or try a plant as a bookend. Trailing plants such Scindapsus aureus (Devil's Ivy) look dramatic tumbling over the edge of shelves."
Finally, for an instant retro aesthetic, O'Reilly suggests opting for hanging planters, claiming "there is nothing more fabulously retro than a group of Chlorophytum comosum (Spider plants) hanging at different heights over the corner of your desk".
Support free-thinking journalism and attend Independent events
Bathroom
All the most glorious bathrooms combine beautiful tiling, a deep bath and copious greenery. Even smaller bathrooms benefit aesthetically from a smaller pot plant dotted somewhere near the sink.
In fact, the bathroom provides the perfect atmosphere for a range of different plants. Shaw of Scandiscapes tells me: "Bathrooms, particularly humid ones, will be adored by jungle plants such as swiss cheese plants, calatheas and air plants. If you have a particularly damp bathroom, you might also consider growing a boston fern or two, though be warned – they like a lot of water. In a darker bathroom, you would do well with a "ZZ plant" (Zanzibar gem) or a cast iron plant, which are both very tolerant of low light and forgiving of infrequent watering."
Kitchen
With the ever increasing popularity of wide kitchen islands comes the opportunity for some creative houseplant styling. I spoke to Helen Reeks, the Creative Development Manager at Tom Howley, who suggests using more structural plants to make a statement. "Dramatic colour theme. Ideal for kitchens, tropical species thrive in well-lit spaces where there's plenty of moisture. Aloe Vera, Palms and Sansevieria, more commonly known as 'Mother In-Law's Tongue' are all great choices."
Smaller varieties also work well in kitchens, adds Reeks. "Smaller plants are so versatile and easy to incorporate throughout your home décor. Populate an empty corner with a cluster of varieties or create a unique feature with hanging planters over a kitchen island. Succulents are hugely popular currently and are well suited to kitchens."
Register for free to continue reading
Registration is a free and easy way to support our truly independent journalism
By registering, you will also enjoy limited access to Premium articles, exclusive newsletters, commenting, and virtual events with our leading journalists
Already have an account? sign in
Join our new commenting forum
Join thought-provoking conversations, follow other Independent readers and see their replies