The Independent's journalism is supported by our readers. When you purchase through links on our site, we may earn commission.
Illuminating Newton: Scientist's home is lit up in the colours he discovered
New design installation celebrates the life and work of the man who found colour in light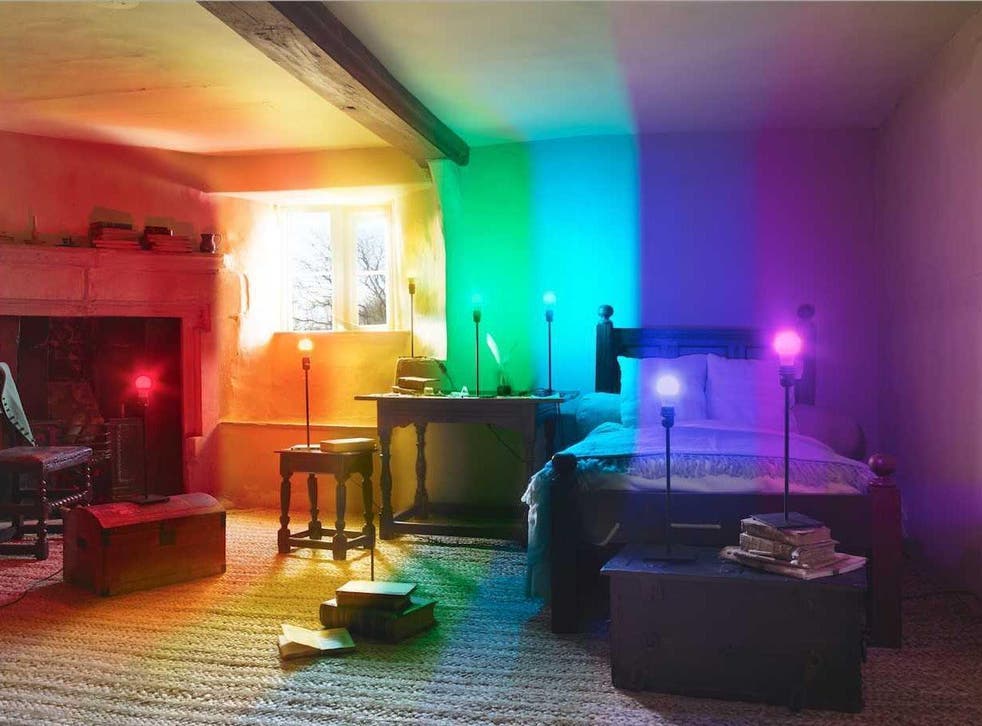 Sir ​Isaac Newton's home usually appears to visitors as it would when he lived in it: a modest farmhouse nestled into a small hamlet in Lincolnshire, with the famous apple tree still in tact. But recently, there's been new addition to the Woolsthorpe Manor tour.
The dark bedroom in which Newton found the true nature of light has been illuminated by the seven colours of the spectrum which he discovered 350 years ago, in a recent celebration of his life and work.
The project, in collaboration with lighting company LEDVANCE, has seen the historic building innovatively lit up using Osram Smart+ products to help tell the story of the scientist's revelations.
The installation has quite literally shone new light on one of Newton's most important discoveries, illuminating in brilliant colour the candle-lit room he spent many hours in poring over theories and experiments.
Jim Grevatte, site manager at Woolsthorpe Manor, explains why Newton's experience of light was far different to what we experience today. "Forced to work in natural lighting, or resort to candles and rush-lights in the evening, Isaac Newton took what he'd learnt at the University of Cambridge and began to challenge it," he says.
"Miraculously, he discovered his light prism didn't make these colours artificially – instead it revealed the true nature of light."
The exact prism that Newton used to develop his theory of light has been lit up at Woolsthorpe. The artificial colours reflect what the scientist would have seen when he split sunlight into the seven colours of the spectrum, a moment in history that has been bought to life in a new technological era.
"Light has a personal impact on all of us," says Peter Alexander of LEDVANCE. "It influences our environment, our mood and our wellbeing. Yet the importance of light in our everyday lives is so often overlooked."
The importance of the discoveries made at Woolsthorpe Manor is why some of the world's greatest minds have visited to pay homage to Newton's birthplace. The visitor book includes the likes of Stephen Hawking and Albert Einstein.
Join our new commenting forum
Join thought-provoking conversations, follow other Independent readers and see their replies