InfoWars' Alex Jones is a 'performance artist playing a character', says his lawyer
But his ex-wife says he is 'not a stable person'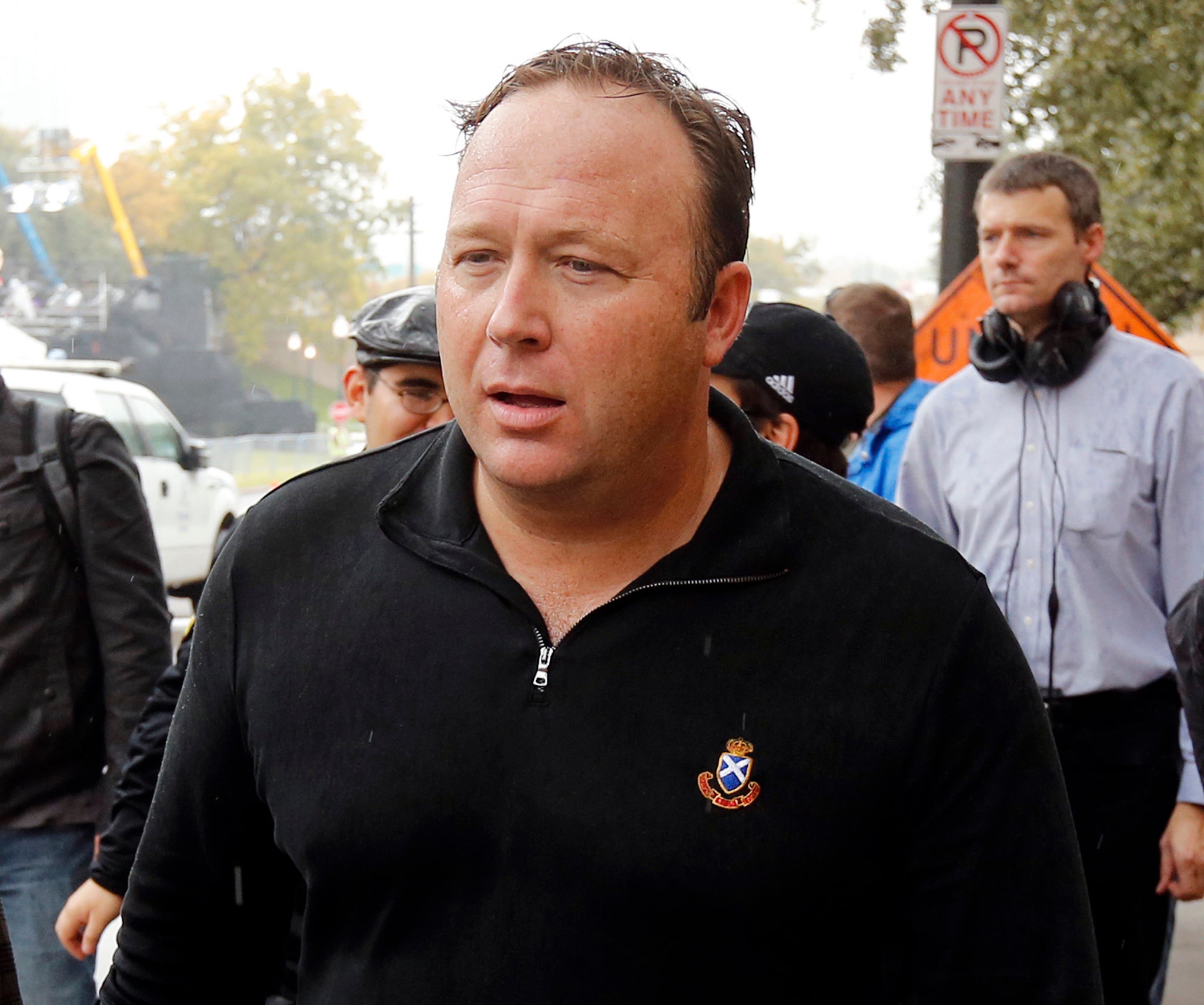 Notorious US broadcaster Alex Jones is a "performance artist" and his on air persona is an act, according to his lawyer.
Mr Jones runs the controversial Infowars website, which is known for propagating conspiracy theories and its support of Donald Trump.
But Mr Jones is now embroiled in a custody battle with his estranged wife, Kelly Jones, with whom he has three children. She said some of Mr Jones's on-air rants – for which he is renowned – are evidence of him being "not a stable" father.
Fake news conspiracy theory about Hillary Clinton led a man to open fire in a pizza parlour
However, Randall Wilhite, Mr Jones's attorney, said the behaviour was merely an act.
"He's playing a character. He is a performance artist." Mr Wilhite said, according to the Austin-American Statesman.
Mr Wilhite said that using Mr Jones' on-air persona to judge him as a father would be like judging Jack Nicholson in a custody dispute based on his performance as the Joker in Batman.
The claim is likely to cause some confusion among Mr Jones's fans, who have closely followed his musings. These included unfounded assertions that the Sandy Hook massacre and Boston bombings were hoaxes, Hillary Clinton should be jailed and that Barack Obama founded Isis.
But Mr Jones is not just any shock jock – his listeners are believed to include President Trump, who appeared on his show in December 2015, several months after he announced his candidacy. With millions of listeners a month, Infowars is credited with galvanising a large amount of support for Mr Trump during last year's election.
Yet Mr Jones's former wife claimed he was unhinged.
According to the Statesman, Ms Jones told a pre-trial hearing: "He's not a stable person. He says he wants to break Alec Baldwin's neck. He wants J-Lo to get raped."
She also referred to comments Mr Jones made about California Democrat Adam Schiff, a ranking member of the House Intelligence Committee who has also defended LGBT rights.
"I'm concerned that he is engaged in felonious behaviour, threatening a member of Congress. He broadcasts from home. The children are there, watching him broadcast," Ms Jones said.
In pictures: Women of the world march against Trump
Show all 32
Mr Jones had called Mr Schiff a "fairy" and said he would "beat [his] goddamn ass".
The presiding judge said he didn't want Infowars to be a factor in the case but several pieces of footage from the website have already been submitted as evidence.
Join our commenting forum
Join thought-provoking conversations, follow other Independent readers and see their replies