How to use Victorian-style animal prints in your interiors
19th-century zoological and botanical prints were once used for scientific purposes. Now, they're cropping up on decorative homewares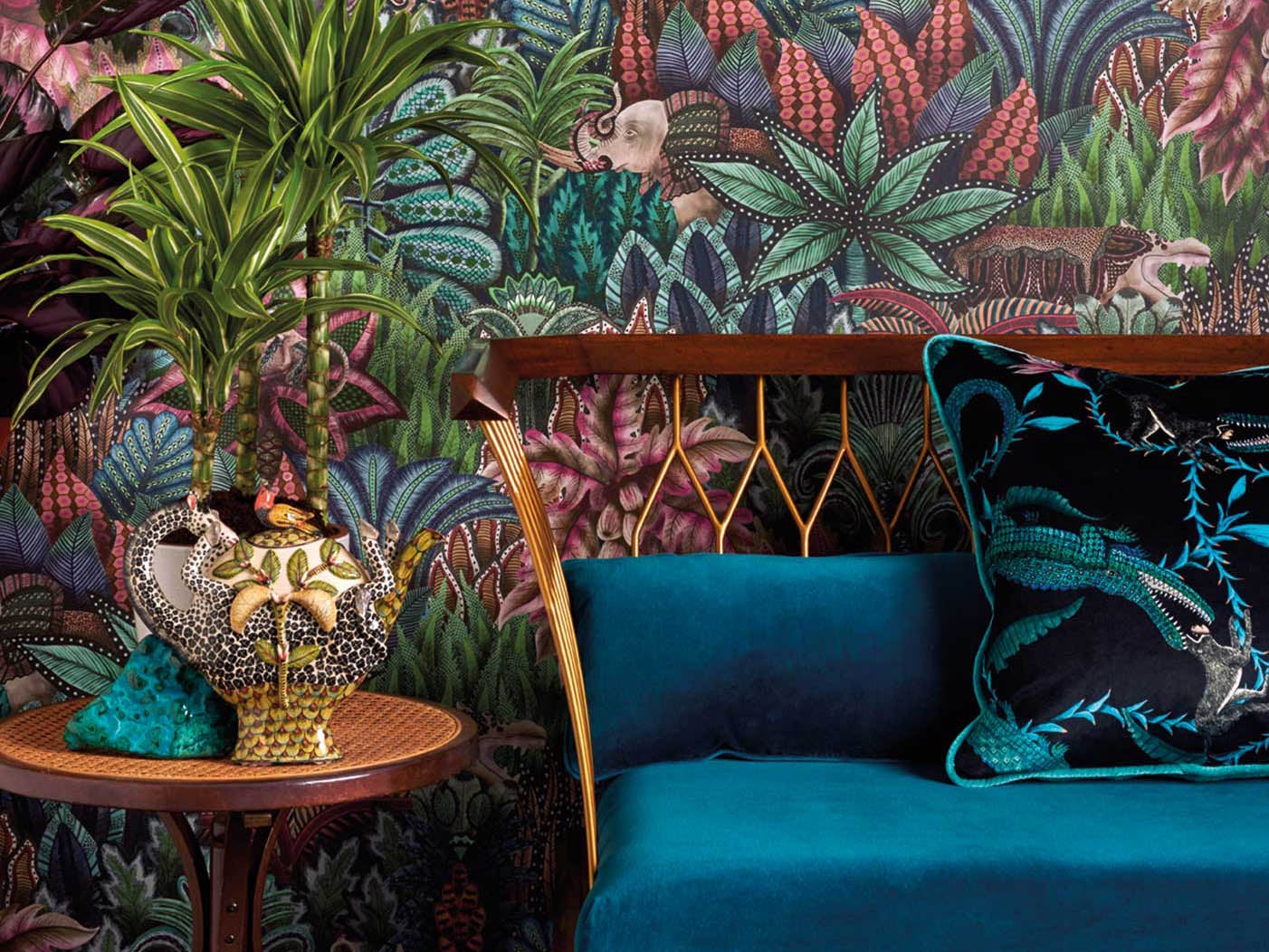 Victorian-style animal patterns and tropical prints have become increasingly popular in the design world in recent months. From the domestic to the endangered, prints inspired by zoological and cryptozoological drawings from the mid to late 1800s can be spotted in homewares collections from the high street to the high end.
Original Victorian zoological drawings and watercolours by naturalists, biologists and artists such as Margaret Fountaine, Ernst Haeckel, Charles Darwin and Elizabeth Gould were created for scientific purposes alone, to further the understanding of the natural world via identification and classification. Now, these diagrams are considered works of art, proving popular inspiration for new wallpaper collections, lighting designs, and fabrics from some of the most popular interiors brands today.
Rosanna Lonsdale's use of botanical and zoological illustrations in her collection of lamp bases provides a playful allusion to the Victorian spirit of travel and discovery. Elephants, flamingos, lobsters and birds make up just some of the designs, which fuse quirkiness with tradition. Handmade in London, Lonsdale uses decoupage techniques inherited from her grandmother, and has been perfecting the skill and modernising the designs over the last 20 years. Decalomania, the 18th century technique, involves decorating the glass lamps from the inside, overlaying the animal motifs with paints in trend-led colours.
To commit further to the trend, a sofa or a carpet in a zoological print can add a real point of interest to a design scheme. With access to vast archives of fabrics from brands such as Sanderson, Linwood and Morris & Co, Sofa Workshop is a great place to go for a statement sofa with a Victoriana twist. The Little Lady sofa in the Songbird Rose Garden fabric by Linwood is a popular choice, featuring a twisting repeat pattern that channels the sense of wonderment in John James Audubon's bird illustrations of the early to mid 1800s.
In Brintons' most recent collaboration with Timorous Beasties, the carpet manufacturer shows that Lepidoptery need not be confined to box frames or watercolours. The Ruskin Butterfly collection is a woven Axminister pile, inspired by the watercolours of Victorian artist, art critic and philanthropist, John Ruskin. Ruskin was a strong advocate of and influencer within the Pre-Raphaelite Brotherhood, having been immortalised in oils by John Everett Millais, a founder of the notorious group of artists.
The Pre-Raphaelites were strict naturalists, committed to painting scenes from myth, legend and Shakespearean narrative from nature, and in great detail. Millais' commitment to botany can be seen in the tens of species of flowers in his famous Ophelia. The foliage was painted from life over a period of five months, meaning flowers typical of different seasons are seen together in an impossible yet truthful depiction of nature. Brintons' work with Timorous Beasties is an homage to the intricacy, detail and love of nature inherent in the work of the Victorian brotherhood.
The embodiment of product designers' obsession with zoological prints is Cole & Son's Ardmore collection of wallpapers. Complete with leopards and thick leafy patterns interspersed with South African artist, Alex Sibande's, detailed animal illustrations, the Singita wallpaper designs are reminiscent of Henri Rousseau's Tiger In a Tropical Storm. The dream-like elephants and monkeys pick their way through striped, polka-dotted and cross-hatched leaves and flowers layered for depth, and hand-painted for charm.
So too does Susy Paisley hand paint her wares. Paisley is an artist and conservation biologist who started Newton Paisley, a fabric and wallcoverings brand, to highlight the beauty and vulnerability of the natural world. Paisley's collections incorporate narratives around rare plants and animals to generate interest and concern for the 25,000 plus species under the threat of extinction. Paisley draws the sprawling, lush designs by hand, gaining inspiration from global travel. Native, and often extinct, species from the American South and Mexico feature heavily, alongside English equivalents of the imaginary species found in The Lorax by Dr Seuss.
It is this same urge to identify and interpret the beauty of both existing and extinct species that unifies Victorian zoologists and explorers with Paisley and her contemporaries in the interiors industry. Add a Pre-Raphaelite, Darwinian or "Lonsdaleian" charm to your home to capture excitement and sense of adventure intrinsic to the original scientific pieces – once academic, now decorative.
Join our commenting forum
Join thought-provoking conversations, follow other Independent readers and see their replies