Ivanka Trump photographed sitting in US President's chair angers American public
Twitter users have accused the Trumps of nepotism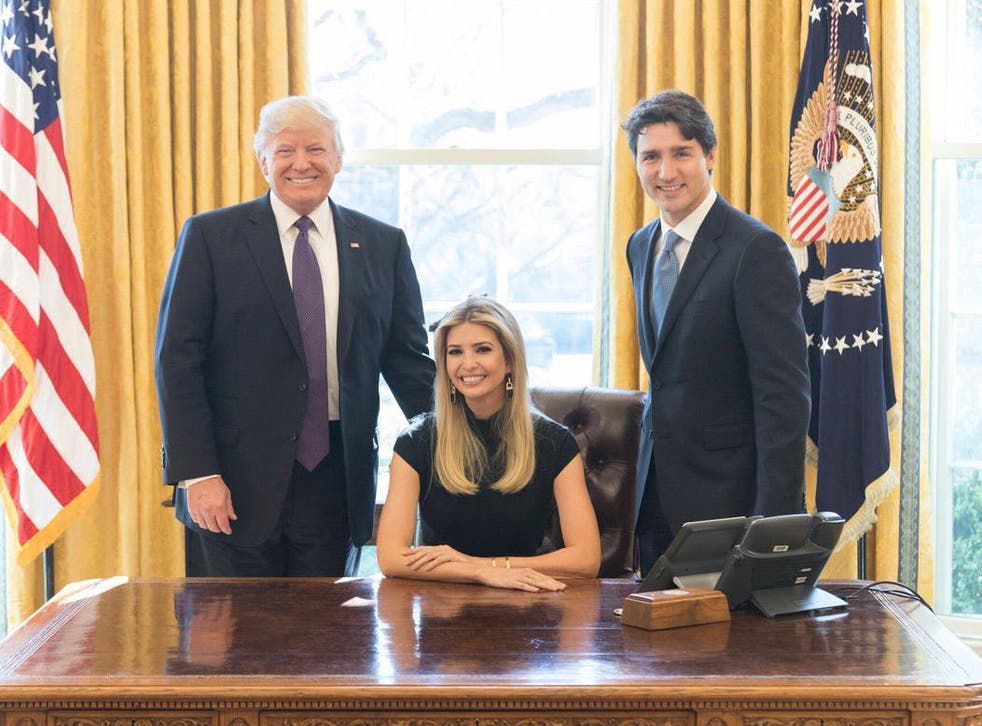 Ivanka Trump has shared a photograph of herself sitting in the President's Oval Office chair, triggering a wave of criticism on social media.
The picture, which Ms Trump tweeted, shows her sitting between Canadian Prime Minister Justin Trudeau and her father, Donald Trump.
"A great discussion with two world leaders about the importance of women having a seat at the table!" she said alongside the image.
The photo was taken after Ms Trump attended a roundtable discussion on women in the workforce. The White House said she "helped recruit participants and set the agenda".
But Twitter users have accused the Trump family of nepotism, with one man asking: "How many 'bring your daughter to work' days is this administration going to have?"
Ms Trump, who worked for the Trump Organisation for a decade and is the founder of her own fashion and accessories brand, was seen by some as a controversial choice to head the summit.
The Trump family have been accused of using the White House to further their own business interests.
Last week, when the department store chain Nordstrom announced it was dropping Ms Trump's clothing line, citing poor sales, her father drew criticism by tweeting about the matter.
Senior advisor Kellyanne Conway was later reprimanded for following the President's lead and advising people to "go buy Ivanka's stuff" during a TV interview.
Under federal law, it is illegal to use public office for private gain, as well as "for the endorsement of any product, service, or enterprise" and for the "private gain of friends, relatives, or persons with whom the employee is affiliated in a nongovernmental capacity".
Ms Trump, the President's third child, was later reported to have reproached Ms Conway for endorsing her brand on air.
In pictures: Women of the world march against Trump

Show all 32
Mr Trudeau, meanwhile, appeared to be taking an extremely diplomatic approach to dealings with the first family.
He said the task force was "about understanding that women in leadership positions is a very powerful leverage for success, for business, for communities and for our entire economy".
Earlier, Mr Trudeau had said he "wouldn't lecture" Mr Trump over his controversial travel ban.
"There have been times where we have differed in our approaches and that's always been done firmly and respectfully," he said. "The last thing Canadians expect is for me to come down and lecture another country on how they choose to govern themselves."
Join our new commenting forum
Join thought-provoking conversations, follow other Independent readers and see their replies