Jeremy Corbyn's Momentum movement to mobilise its 100,000 supporters behind Remain in the EU referendum
Polling has shown that the votes of Labour supporters could be crucial in the referendum
Charlie Cooper
Whitehall Correspondent
Monday 27 June 2016 12:47 Comments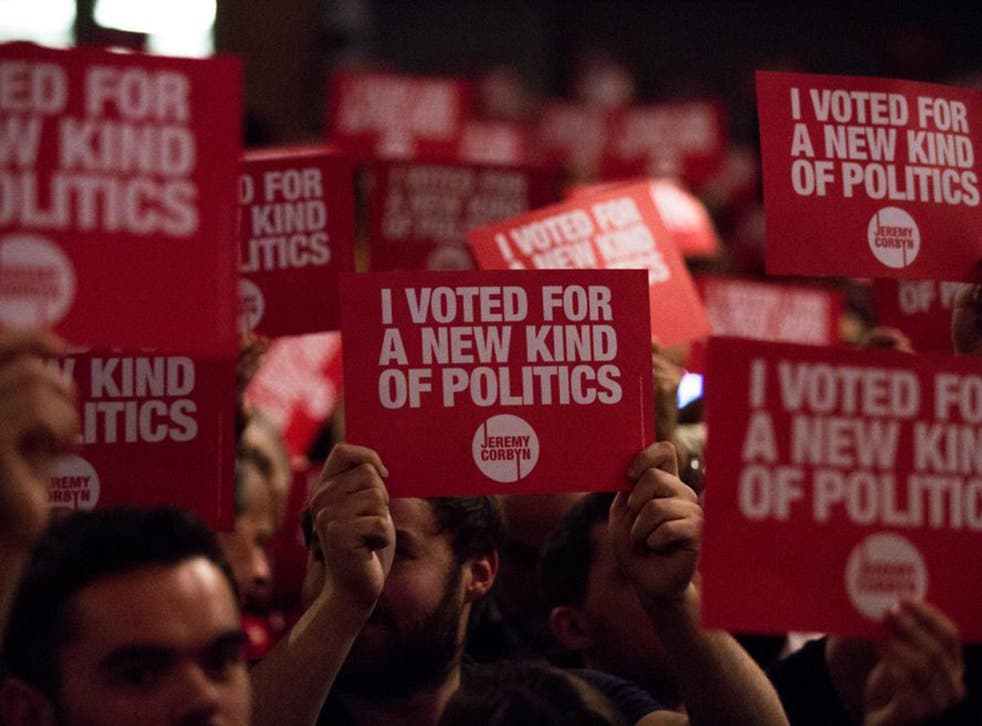 Thousands of campaigners from the Momentum movement, which grew out of Jeremy Corbyn's Labour leadership campaign, will be drafted in to rally support for a Remain vote in the EU referendum, the group's leadership has confirmed.
In a boost to the Remain campaign, the group will mobilise its 100,000 registered supporters nationwide ahead of the 23 June referendum.
While not a youth movement, Momentum draws much of its support from younger voters. The Remain campaign is seeking to boost youth turnout in the referendum, with polls showing younger people are far more likely to vote to stay in.
Only 43 per cent of 18 to 24-year-olds voted in the 2015 General Election, compared to two thirds of the wider population.
There had been uncertainty over whether Momentum would back a Remain vote, with some prominent left-wingers arguing that the European Union has become a vehicle for precisely the kind of austerity-driven economics the group opposes.
However, a motion of its national committee this weekend passed overwhelmingly, criticising "the status quo in the EU", but concluding that "Britain leaving the EU would be a victory for the nationalist right and their campaign against migrants".
A survey of Momentum members found that 66.5 per cent wanted the group to campaign for Remain.
Announcing the outcome yesterday, Emma Rees, a national organiser for Momentum, said: "Although individuals will be free to take whatever position they wish, we will be now be mobilising our resources and networks and fighting hard to keep Britain in the EU, with a very different message to that of David Cameron."
Polling has shown that the votes of Labour supporters could be crucial in the referendum. While around two thirds back a Remain vote, little more than half say they are very likely to vote, according to research by GQRR.
Support for Brexit increases among older voters, who are more likely to vote, so the Remain campaign's ability to motivate "soft" Labour Remain voters to turn out could be pivotal.
Momentum will launch their campaign, under the banner "Another Europe is Possible" with a campaign event on Saturday attended by Shadow Chancellor John McDonnell and former Greek finance minister Yanis Varoufakis.
The group's decision came as senior Labour figures warned that the EU debate risked becoming "a proxy leadership election" in the Conservative party, that could turn off supporters of other parties.
Shadow Business Secretary Angela Eagle said the debate had so far resembled "an unmistakably masculine playground spat taking place between Tory blokes fighting a proxy leadership election", pitting "Boris Johnson with his blunder-bus" against "George Osborne with his dwindling hopes".
Meanwhile, the Remain campaign received a mixed response to a new video, aimed at increasing the youth vote, which portrayed the younger generation as "workin, earnin, shoppin, ravin, chattin".
Britain Stronger In Europe's #votin campaign, launched yesterday quickly started trending on social media, but was branded patronising by some.
Conservative MP and Brexit campaigner James Cleverly claimed the video, with its bass-heavy soundtrack and apparent disregard for the letter "g", was "clearly" the brainchild of "someone in their 50s".
However, fellow Tory Sam Gyimah, an education minister, said it was "the job of us politicians to make politics engaging and accessible – less official, less formal, more casual."
Register for free to continue reading
Registration is a free and easy way to support our truly independent journalism
By registering, you will also enjoy limited access to Premium articles, exclusive newsletters, commenting, and virtual events with our leading journalists
Already have an account? sign in
Join our new commenting forum
Join thought-provoking conversations, follow other Independent readers and see their replies