Jeremy Corbyn uses speech to move immigration policy away from 'reducing numbers'
The leader wants the focus to be on tackling the pressure a rising population puts on public services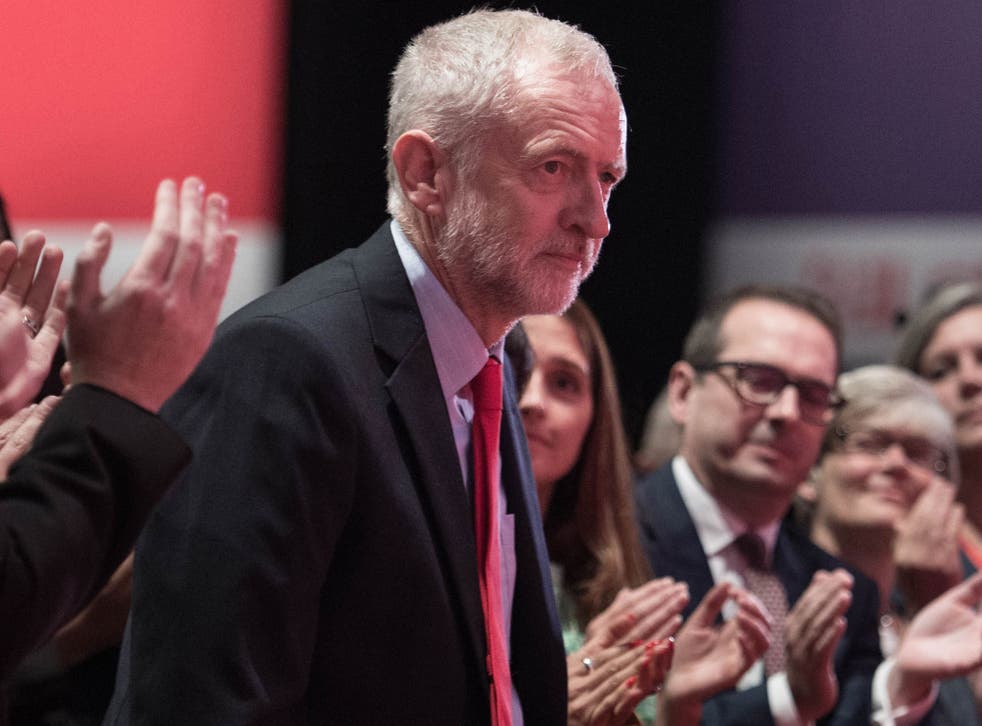 Jeremy Corbyn is to make a bold move to shift his party's immigration policy away from the debate about reducing numbers.
The Labour leader will tell delegates he refuses to "sow division or fan the flames of fear" and will instead tackle the pressure a rising population puts on public services by boosting investment.
A spokesman went further by telling reporters it was not Mr Corbyn's aim to reduce immigration figures and even saying the leader would be "relaxed" if numbers rose.
The approach risks causing divisions with some MPs who believe their constituents overwhelmingly backed Brexit because of concern about EU immigration.
In his speech to Labour conference Mr Corbyn will also say the central task for the whole party is to win the next election and he called on members, officials and MPs to stop "trench warfare".
But addressing immigration, he said the party would reinstate the abolished migrant impact fund, which gives extra support to areas experiencing high migration.
Money levied from visas will also pay into the fund, as will a new 'citizenship application fee levy' - though what level it would be set at is not yet clear.
Mr Corbyn was to say: "A Labour government will not offer false promises. We will not sow division or fan the flames of fear.
Corbyn re-elected as leader
"We will instead tackle the real issues of immigration and make the real changes that are needed. We will act to end the exploitation of migrant labour to undercut workers' pay and conditions.
"And we will ease the pressure on hard pressed public services. Services that are struggling to absorb Tory austerity cuts, in communities absorbing new populations."
Former Labour leader Ed Miliband argued for similar measures before the 2015 election, but Mr Corbyn's spokesman said the new leader's measures would have more impact because they would be backed by much more public investment. He has also pledged some £500 billion of spending to boost the economy.
Ahead of the speech, Mr Corbyn's spokesman said it is "not our objective to reduce the numbers, to reduce immigration," before adding "he isn't concerned about numbers."
The spokesman even replied "yes", when asked if the leader would be "relaxed" about numbers going up.
But Mr Corbyn's approach, which goes against the current mainstream political dialogue, could cause friction with Labour MPs who backed Brexit or believe voters in core Labour areas did so due to immigration fears.
In his speech, he was to tell delegates and MPs that the "central task for the whole Labour Party is to rebuild trust and support to win the next general election and form the next government.
"That is the government I am determined to lead, to win power to change Britain for the better."
Labour leadership contest: Jeremy Corbyn vs Owen Smith

Show all 8
Directly addressing the turmoil of recent days, he will then say: "But every one of us knows that we will only get there if we accept the decision of the members, end the trench warfare and work together to take on the Tories.
"Anything else is a luxury that the millions of people who depend on Labour cannot afford."
Claiming that there is every chance Theresa May could still go to the polls, Mr Corbyn said he would put his party on an election footing.
The leader will then highlight "ten key pledges to rebuild and transform Britain" passed by the conference.
He will say: "They are for full employment; a secure homes guarantee; security at work; a strong public NHS and social care; a National Education Service for all; action on climate change; public ownership and control of our services; a cut in inequality of income and wealth; action to secure an equal society; and peace and justice at the heart of foreign policy.
"Those pledges, the platform on which I was re-elected leader, will now form the framework for what Labour will campaign for - and what a Labour government will do.
"Together they show the direction of change we are determined to take – and the outline of the programme that will take Labour into the general election."
Register for free to continue reading
Registration is a free and easy way to support our truly independent journalism
By registering, you will also enjoy limited access to Premium articles, exclusive newsletters, commenting, and virtual events with our leading journalists
Already have an account? sign in
Join our new commenting forum
Join thought-provoking conversations, follow other Independent readers and see their replies