Sick of all-white kitchens? Here are six ways to spice things up
Bright colours are entering our white spaces, in small doses 
Jura Koncius
Thursday 17 May 2018 11:17 Comments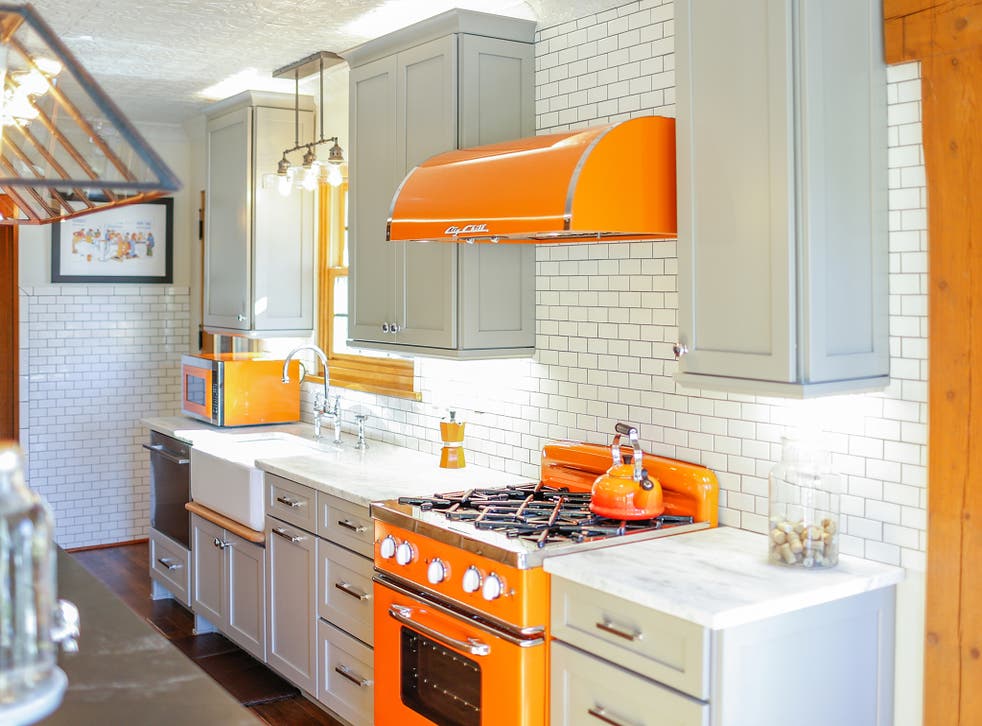 The all-white kitchen, the reigning trophy room of the home, is not going away anytime soon.
But change is afoot: colour is tiptoeing back into the kitchen. A growing number of consumers are looking to add some friendliness and warmth to the often cold, clinical white-and-grey cooking spaces that have dominated the past decade. Cobalt blue, pale pink and pumpkin are among the colours that are seeping into cabinets, islands, and even sinks and taps.
"White is people's comfort zone," says Elle H-Millard, industry relations manager for the National Kitchen and Bath Association. "White is all about safety and cleanliness. It's the feeling of purity we all want in the kitchen. White offers uncluttered, visual simplicity in a room where many of us spend a lot of our time." Colour, she adds, provides emotion and personality.
"We are seeing more colour confidence as the economy does better," says Wendy Mushow Werner, a Corian Design spokeswoman. "People are choosing more colour, and the brighter and bolder colours are trending upwards."
Aqua turned up in the Clive Christian luxury kitchen in the Kips Bay Decorator Show House that opened in New York recently. The colour was used in the marquetry on the range hood, on the leather lining of the cabinets and in the Le Creuset tea kettle.
According to a 2018 National Kitchen and Bath Association trends report, white and grey continue their dominance in kitchen colour schemes, with 90 per cent and 89 per cent of respondents selecting them as "hot" choices, but today, "more people are willing to take a risk," says H-Millard, "especially millennials."
You can inject colour with new mint cabinets or a lipstick-red stove. But it can also be done with salmon leather bar stools. Or colour can come in a smaller, lower-risk detail, such as a yellow toaster or an emerald-green glass pendant lamp. You could simply paint your white walls grass green or peony pink.
Manufacturers are dishing up kitchen options in a new rainbow of hues. Want to make one big colour statement? Get a major appliance in an unexpected hue, something fans of Aga and Lacanche luxury ranges have been doing for decades.
The Italian company Smeg popularised Italian retro style in the 1990s with its pastel and candy-coloured fridges. And appliance manufacturer Big Chill has been offering colour in the kitchen for 15 years. The colour palette for the Retro line, which includes turquoise, jadeite green and pink lemonade, is inspired by 1950s cars and kitchens.
"We typically see our appliances as a jolt of colour in an otherwise fairly neutral kitchen," says Orion Creamer, Big Chill co-founder. "People are nervous about putting an entire red kitchen in their house, but they may get a red refrigerator."
For a kitchen using one colour in multiple elements, he suggests sticking to green, blue or yellow. There are also 200 custom colours; you can even get a chartreuse dishwasher.
More and more designers are using two colours for kitchen surfaces, one for the island and one for the perimeter. Shades of white and grey are still the most dominant colours for kitchen counters, according to Werner. (Of the 181 Corian solid surface colours available, 33 are white, and 47 are grey; there are only two reds, eight greens and one orange.) But brighter colours are becoming more popular, in small doses. In small kitchens, Werner says, the same colour can be used on several surfaces – perhaps some open shelving or a small cabinet door – to unify the space.
Colour statements can make an appearance on counters or backsplashes as flecks of vibrant or reflective colour, H-Millard says. Quartz and natural stone manufacturers are adding interest to their surfaces using glass chips or metallic flecks.
French blue lower cabinets anchor the white upper cabinets in the kitchen of a 1950s Maryland ranch house recently renovated by Washington architect Chris Snowber of Hamilton Snowber. Designer Christie Leu of Christie Leu Interiors in Chevy Chase, Maryland, worked with Snowber's clients to pick a main kitchen colour other than white.
"She liked orange and he liked green, but they both liked blue," Leu says. They selected Greenfield cabinets in juniper blue and a backsplash in a similar shade: Glazzio glass tiles in Morning Mist.
If you want to paint your own cabinets, you'll want a hard, durable finish, says Leu. She suggests Advance by Benjamin Moore or Emerald Urethane Trim Enamel by Sherwin-Williams.
"Paint can transform a kitchen for a very small cost," Leu says. Her advice to clients who want different colours on upper and lower cabinets is to always put the darker colour on the bottom; otherwise, she says, it looks "top-heavy."
Taking a cue from the style or period of a house is a good way to choose a colour that will fit your home's look. "A traditional house might use Williamsburg colours for the cabinetry," Snowber says. "We've done that recently on several kitchens."
Washington designer Caryn Cramer was delighted that her Bethesda, Maryland, client did not want an all-white kitchen remodel. They decided to channel the look of a charming French country kitchen with Old World maple cabinets and an oak floor. The centrepiece of the space is a marble-topped oval wooden table that serves as a free-standing island. Its base is painted a traditional Provençal green (Parsley Snips by Benjamin Moore).
"An island is a good way to bring colour into a kitchen, as it's easy to change out or repaint," Cramer says. "I think this is a really happy green and a really happy space." The shade coordinates with the pale green BlueStar French door oven and gas range they chose to complete the room.
A sink may be an unexpected place to add colour, but it can turn into a focal point of a kitchen. Farmhouse sinks with their big apron fronts are one of the hottest looks at the moment, H-Millard says.
"We've been doing colour in Europe for our sinks for about 20 years now," says Akgun Seckiner, president of Bocchi USA. "Americans used to be only interested in biscuit and white."
But now fireclay farmhouse kitchen sinks by Bocchi are available in nine colours that include sapphire blue in the US, and red and purple in the brand's European line. The apron-front style lets the colour show through more in the room.
The Elkay brand recently rolled out stainless farmhouse sinks with interchangeable apron fronts in several colours. Using colour on a sink, says H-Millard, gives it the ability to become a design element instead of just a fixture.
Your choice of tap finish used to be stainless, nickel, chrome or bronze. Now you can dress up your tap with colour. The Essence Semi-Pro single-handle tap by Grohe is available with interchangeable silicone hoses in nine colours including yellow, purple and green. You can use a colour to tie in a stand mixer or backsplash of the same hue. Or you can just make this tap the only colour in your kitchen. "Think of using a pink or red tap," says Noelle Giblin, Grohe's senior director of taps. "It would put a real splash in an all-white kitchen."
© Washington Post
Register for free to continue reading
Registration is a free and easy way to support our truly independent journalism
By registering, you will also enjoy limited access to Premium articles, exclusive newsletters, commenting, and virtual events with our leading journalists
Already have an account? sign in
Join our new commenting forum
Join thought-provoking conversations, follow other Independent readers and see their replies