The Independent's journalism is supported by our readers. When you purchase through links on our site, we may earn commission.
Here are some of the 59 victims of the Las Vegas mass shooting
The President called gunman Stephen Paddock 'sick and demented'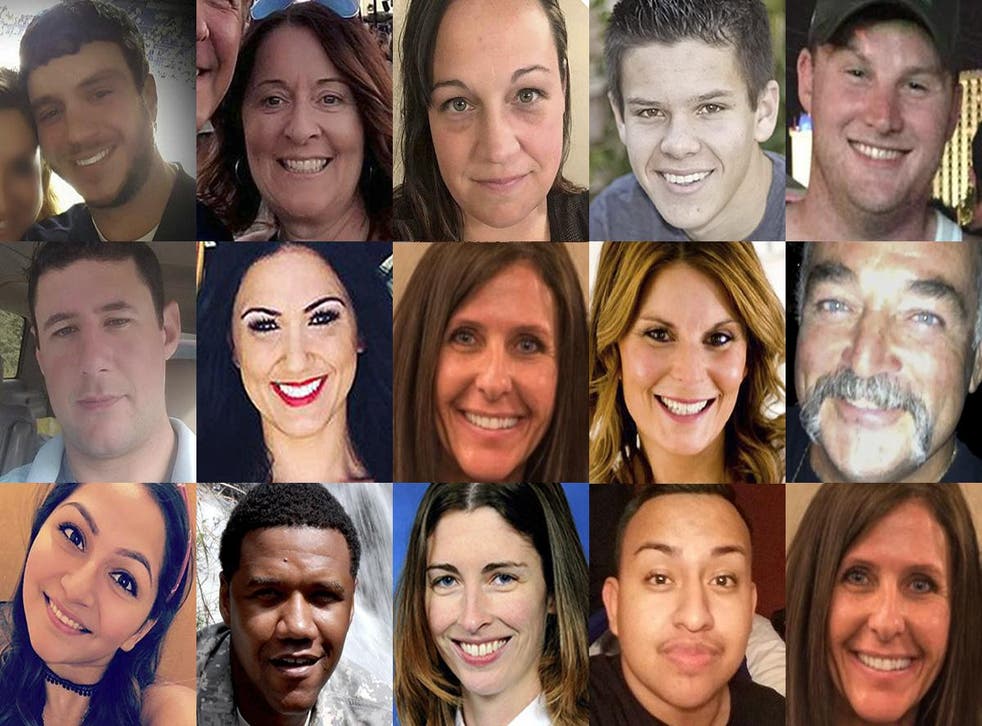 Families of some of the 59 people who lost their lives in the mass shooting in Las Vegas have paid tribute to their loved ones, praising devoted dads, "spectacular" teachers and "kind-hearted" husbands.
Heather Melton's husband grabbed her and ran with her until she was safe, even as he was shot in the back. Sonny Melton would later be the first victim officially named.
The Meltons' story is one of dozens about heroism and tragedy from that ill-fated Sunday night.
"I want everyone to know what a kind-hearted, loving man he was but at this point I can barely breathe," Ms Melton, an orthopaedic surgeon from Tennessee said about her husband, a nurse.
Hannah Ahlers, 35, of Murrieta, California, was no stranger to at least some danger, having been part of an avid group of skydivers.
Married for 16 years and a mother of three, Ms Ahlers also enjoyed the simple things in life, according to a friend, Sunni Almond.
"She was possibly one of the most beautiful women I have ever seen, with a heart to match," Ms Almond told the Los Angeles Times.
Denise Burditus was attending country music star Jason Aldean's concert with her husband of 32 years, Tony.
The two posed for a photo of all smiles with the now infamous Mandalay Bay Hotel and Casino in the background just hours before Stephen Paddock aopened fire from his hotel room's 32nd-floor window.
From Martinsburg, West Virginia, the grandparents enjoyed travelling and semi-retirement.
In a Facebook post, Mr Burditus wrote: "It saddens me to say that I lost my wife of 32 years, a mother of two, soon to be grandmother of five this evening in the Las Vegas shooting... Denise passed in my arms. I LOVE YOU BABE."
Thomas Day Jr of Riverside, California, was enjoying the Route 91 Harvest Festival with his four adult children, all in their 20s and 30s.
Mr Day Jr's father said: "He was the best dad. His kids are with me right now. They're crushed."
Another Riverside, California, resident, Austin Davis, 29, was initially thought to be missing but later confirmed dead by his girlfriend Aubree Henningan.
"Our students, employees and parents are devastated by Sandy Casey's death. We lost a spectacular teacher who devoted her life to helping some of our most needy students," said Mike Matthews, superintendent of the Manhattan Beach Unified School District.
Ms Casey was a special education teacher for nearly a decade in California and had attended the festival with several colleagues, none of whom were harmed.
Also a teacher, Jenny Parks of Palmdale, California, was among the victims.
Ms Parks, who taught kindergarten in the Lancaster School District and recently completed her Masters degree, is survived by her husband Bobby and two children Bryce and Leah.
Mr Parks underwent surgery for gunshot wounds to his arm and was made aware of his wife's death.
His uncle Steve McCarthy told CNN Ms Parks, who was visiting her brothers who live in Las Vegas at the time of the festival, "was truly one of the most loving people you could ever hope to meet".
Of course, there were several Las Vegas residents among the dead as well.
Erick Silva, 21, lived in Las Vegas and worked for the Contemporary Services Corporation, according to his stepsister, Daisy Hernandez.
Neysa Tonks is survived by three young boys living in the Las Vegas area.
Her cousin posted an emotional tribute to her and other victims of the tragedy.
Ms Tonks "brought so much joy, fun and laughter" to the office, her employer Technologent said.
She grew up in Utah. Her brother, AJ Yerage, told the CBS affiliate in Salt Lake City that he felt lucky that Ms Tonks was a part of his life.
Charleston Hartfield, 34, was one of several off-duty local police officers who attended the event.
Mr Hartfield had posted a picture from the concert grounds just ahead of the shooting. Friends posted comments on the picture, frantically asking him to let them know he was safe.
"I figured he was probably busy helping others," said his friend Troy Rhett.
The husband and father of two was also a 16-year military veteran and coach of a local youth football team.
He also authored a book titled Memoirs of a Public Servant, about his nearly 30 years of service in the military and police.
Mr Hartfield was not the only off-duty police official killed in Las Vegas.
Rachael Parker was a police records technician from, like special education teacher Ms Casey, Manhattan Beach, California.
She had been with the department for 10 years and they wrote in a post that Ms Parker "was known for her cheerful and compassionate demeanour".
"Rachael, we love you and we miss you."
Another death at the hands of the gunman was that of Stacee Etcheber, the wife of San Francisco police officer Vinnie, who was at the concert off-duty.
Mr Etcheber instructed his wife to run once the bullets began to fly so she could get to safety while he stayed behind to help those wounded in the immediate area. She was thought to be missing for several hours after the shooting but has been identified among the deceased.
San Francisco Police Chief William Scott said in statement: "Stacee was taken in a senseless act of violence...[and] was a beloved mother of two young children and a well-loved hair stylist in Marin County."
Another military veteran was also among the people killed.
Chris Roybal, a gym manager from Colorado Springs, Colorado, who rather ominously wrote about his experience serving in Afghanistan for the US Navy in a July 2017 Facebook post that began: "What's it like being shot at?"
In the post he wrote of his first fights in battle, his excitement, fear, anger and "raw emotion".
He said: "What's it like to be shot at? It's a nightmare no amount of drugs, no amount of therapy and no amount of drunk talks with your war veteran buddies will ever be able to escape."
Mr Roybal's manager, David Harman, told CNN his employee had a "big teddy bear smile and infectious laughter".
Angela Gomez, just 20 years old, graduated from Riverside Polytechnic High School in California in 2015.
The former high school cheerleader and stage actor with the Riverside Children's Theatre excelled academically, according to a statement for the Riverside Unified School District.
The district said Ms Gomez "was always seen with a smile on her face whenever she was on campus".
Another 20-year-old, Bailey Schweitzer, had attended the concert with her mother. The pair had gotten separated during the ensuing panic of the gunshots. Her mother was not shot.
Ms Schweitzer had graduated a few years ago from Centennial High School in Bakersfield, California, where she lived and helped run the family business, the Bakersfield Speedway store. She was a cheerleader in high school and a member of the Valley Bible Fellowship Church.
Lisa Romero-Muniz of Gallup, New Mexico, was another educator and victim.
Students had gathered at Miyamura High School on Monday night to remember the school secretary who touched many young lives.
"When I was in middle school she helped me through a lot with my family. You could trust her with anything," freshman Shelby Silva told a local television station.
"I was trying not to get angry, it's just that's a lot of what I'm feeling right now is just, why? It's just senseless," said student Darci Sanchez, as several students, faculty and staff shared tears and hugs.
Ms Romero-Muniz's husband had forgotten their wedding anniversary last year but in a bid to make it up to her he planned a grand getaway to Las Vegas this past weekend only for it to turn to tragedy.
Susan Smith, like Ms Romero-Muniz, was also a school administrator. The 53-year-old mother of two worked in the Simi Valley Unified School District in California.
Ms Smith was described as a "big country music fan" who "was always so welcoming", according to Jake Finch, the school district's media relations co-ordinator.
Sunday night was filled with dramatic stories of strangers helping each other make it to safety but Heather Gooze and Jordan McIldoon will share a special bond.
Mr McIldoon, of British Columbia, Canada, did not know Ms Gooze previously but she held him in her arms as he succumbed to his gunshot wound.
A shocked Ms Gooze posted on Facebook in the aftermath: "I am ok. I am right outside of the festival grounds. We are not allowed to go anywhere. I am with a young man who died in my arms!... I can't believe this just happened!!!"
The 25-year-old mechanic was reportedly attending the concert with his girlfriend. His parents Al and Angela McIldoon told CBC News: "We only had one child... We just don't know what to do."
Ms Gooze stayed with him and answered his phone, relaying information to his family. "I didn't want Jordan to not have somebody with him," said Ms Gooze tearfully .
"I didn't want him to just be a no-named body. I knew who he was, and now I had an obligation to make sure that everyone knew who he was."
Also on holiday in Las Vegas, California attorney Jennifer Topaz Irvine was slain during the shooting as well.
She practised family and criminal law for her own boutique firm, and her website points to a passion for helping those in trouble.
It also highlighted her interests in martial arts, snowboarding and skydiving, among other activities.
Rhonda LeRocque of Tewksbury, Massachusetts, was another mother of a young child. She is also survived by husband Jason.
She had attended the Route 91 Harvest festival with her six-year-old daughter, who was taken back to the hotel by her parents just ahead of the shooting so she and her husband could attend the Jason Aldean concert.
Her mother Priscilla Champagne told CNN that her daughter was "a truly great mother, daughter, wife, aunt, sister, worker, and a good, kindhearted friend. She had a great faith in Jehovah God, and had a wonderful family life. She loved Hawaii, Disney and country music."
Jessica Klymchuk of Alberta also died. Ms Klymchuk, 28, was a mother of four who lived the northwestern Alberta town of Valleyview, where she worked as an educational assistant, librarian and bus driver at a Catholic school.
St. Stephen's School held a vigil for her yesterday evening. A family friend has set up a crowdfunding page to support Ms Klymchuk's children.
"Jessica was an amazing mother who worked to provide her children with as best a life as she could," Noella Marie wrote on the GoFundMe page, adding Ms Klymchuk was engaged to the "love of her life", Brent Irla.
Commercial fisherman Adrian Murfitt, 35, of Anchorage, Alaska, was described as a man with a hearty laugh. His family were told of his death from a friend who was with him, though they have not received official confirmation, said his sister, Shannon Gothard. Her brother, she said, was a former competitive hockey player whose "whole life was always around hockey".
John Phippen, of Santa Clarita, California, was a father of five, grandfather of one and owned a remodelling and repair company, KHTS AM 1220 radio station reported. He attended the concert with his son Travis, who was shot in the arm, the station said. "If you didn't know John you surely missed out. He had a heart that was larger than life and a personality to match," a GoFundMe page said.
Carrie Barnette, 34, of Riverside, California, worked at Disney California Adventure Park as part of the culinary team, the Orange County Register reported. "A senseless, horrific act, and a terrible loss for so many. We mourn a wonderful member of the Disney family: Carrie Barnette. Tragic," Robert Iger, chairman and CEO of the Walt Disney Company said on Twitter.
Quinton Robbins was the big brother who coached his little brother's flag football team, the prom king who was nice to everyone regardless of their high school social standing, an outdoorsman who loved to fish and boat around the lake.
"The kid was loved by everyone," said his uncle, Mike Wells. "He was popular in high school but would walk up to the kid who wasn't so popular and befriend him and make him feel good."
Mr Robbins, 20, died moments after a bullet struck his chest and exited through his lower back. Mr Robbins was up on his knees, looking for a spot to take his girlfriend to for shelter, when he was hit, said Mr Wells, recounting Mr Robbins's girlfriend's account of the terrifying moments.
"I think I got shot," Mr Robbins looked at her and said before collapsing. "He died probably within seconds after the bullet hit him," Mr Wells said.
His parents sat beside Mr Robbins, who had already died, until about 5am or 6am in the morning.
Join our new commenting forum
Join thought-provoking conversations, follow other Independent readers and see their replies