A Life in Focus: Clarissa Dickson Wright, TV chef from 'Two Fat Ladies'
The Independent revisits the life of a notable figure. This week: Clarissa Dickson Wright, celebrity chef, from Tuesday 18 March 2014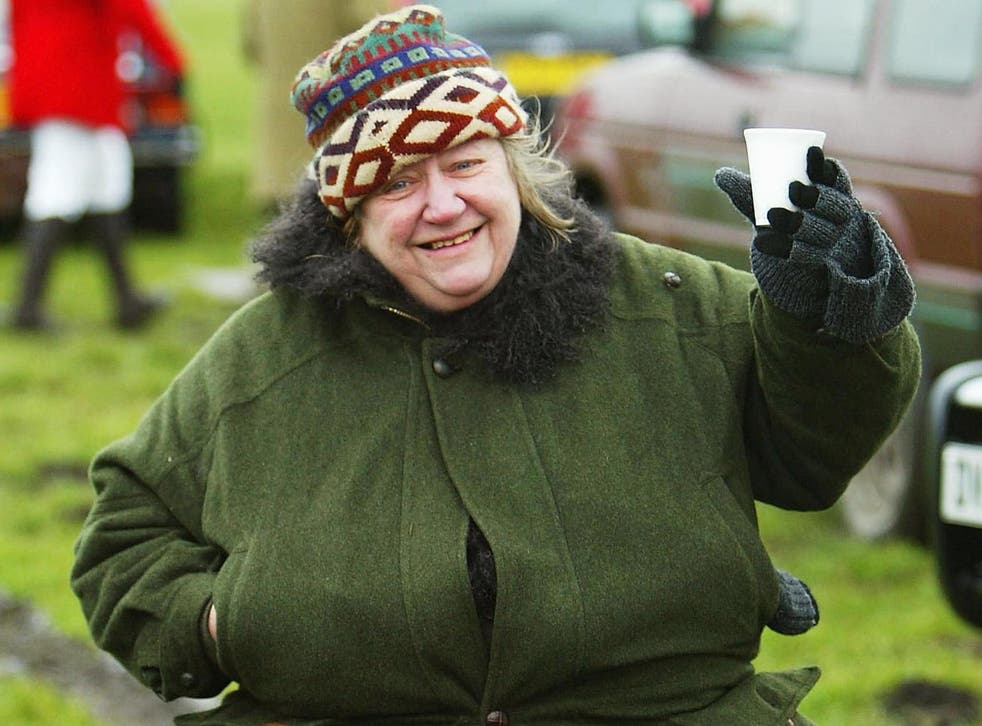 A former barrister who gave up practising as a result of her alcoholism, Clarissa Dickson Wright became, with Jennifer Paterson, half of the Two Fat Ladies, a pair of cooks teamed up for a television series in which they travelled Britain – Paterson on a Triumph Thunderbird motorcycle, with Dickson Wright in the double-width sidecar.
Over four series (1996-99), Two Fat Ladies gained a cult following as the duo visited various locations – from an army garrison to an all-girls' school – and prepared strong-flavoured meals with little regard for modern rules of healthy eating and a disdain for vegetarians. Nevertheless, they advocated the use of fresh ingredients bought from farms and roadside markets in preference to supermarkets.
In another slap in the face to political correctness, Paterson was often seen ending episodes by smoking a cigarette and drinking alcohol. This sometimes brought mention of the fact that, as a recovering alcoholic, Dickson Wright no longer drank.
But the recipes became almost secondary to the eccentric pair's anecdotes, which frequently drew on tales from their well-connected families. Sometimes the banter would take place in locations such as Westminster Cathedral, where Paterson's uncle was a senior aide to the Archbishop of Westminster.
The duo, a precursor to the Hairy Bikers, sang the theme song and their fame spread to the US, where Saturday Night Live parodied the programme, with Brendan Fraser and Darrell Hammond cooking dishes sauteed in pure buttermilk. Dickson Wright's position in popular culture was further enhanced by a guest role as herself in the "Huntin' Shootin' Fishin'" episode of Absolutely Fabulous (2003).
Known to film crews as "Krakatoa", she was the outspoken member of the pair and continued being outrageous long after the death of Paterson in 1999. She once called fellow television chef Jamie Oliver a "whore" as the face of Sainsbury's, following criticism of a salmon farm he visited for one of the supermarket's commercials. Another time, she described Gordon Brown as "that foul man".
Dickson Wright was born in London in 1947, the youngest of four children in a Roman Catholic family with servants. Her father, Arthur, was a surgeon to the royal family and her mother, Molly, an Australian heiress. The comedian Alexander Armstrong was a cousin. During her childhood, her alcoholic father was violent towards her mother and herself.
After attending the Sacred Heart School, in Hove, East Sussex, Dickson Wright studied for the bar at Gray's Inn and took a law degree at University College, London. In 1968 she became the country's youngest barrister, at 21. "I was blonde and skinny with great legs – though I say so myself," she told The Spectator in 2007. "We all had tremendous fun. I had sex with an MP behind the speaker's chair in the House of Commons."
By then, her father had left her mother, who died of a heart attack in 1975. Dickson Wright drank away her £2.8m inheritance over the next 12 years and was asked to leave her chambers as a result of her frequent absences. Later, she was disbarred for practising without chambers.
She continued to spend her fortune travelling the world then in 1979 took a job as a cook at a drinking club in St James's Place, London. Later, she became cook-housekeeper for a Sussex family but was fired because of her alcoholism. After being charged with drink-driving, Dickson Wright attended Alcoholics Anonymous meetings and spent 10 weeks at the Promis rehabilitation clinic, in Kent.
In 1987 she began running the Books for Cooks shop and cafe in Portobello Road, London. When, seven years later, the owner sold it, she managed the Cooks Bookshop in Edinburgh.
While cooking for a Tuscany lunch party in 1992, Dickson Wright had met Jennifer Paterson, The Spectator's boardroom cook and food writer, who wanted to discuss her use of a wood-fired pizza oven. Two years later, a television producer, Patricia Llewellyn – who had made Sophie Grigson's 1993 series Eat Your Greens, which featured Dickson Wright's screen debut – paired them up for the pilot of Two Fat Ladies. "Frankly, I couldn't see the BBC powers going for a show with two virulently anti-politically correct, middle-aged women," said Dickson Wright.
Following Paterson's death, she teamed up with her Berwickshire hill farmer friend Johnny Scott to tour rural Britain in Clarissa and the Countryman (2000-2003) and hosted several One Man and His Dog specials (2000-02).
She filed for bankruptcy in 2003, owing more than £90,000 and blaming two failed business ventures, as well as the BBC, which she claimed "dithered" over committing to a further series of Clarissa and the Countryman, leading her to turn down other work. Her catering business, Clarissa's Company, set up in 1998, had closed after three years when it lost the contract to run the cafe at Lennoxlove House, East Lothian, family seat of the Duke of Hamilton. Its replacement, R17, which ran the Parachute Cafe at the Museum of Flight, near East Fortune, East Lothian, folded a year later.
Dickson Wright returned to television in guest roles, then as a presenter, with Adam Hart-Davis, Victoria Coren and Mark Ravenhill, of Balderdash & Piffle (2006), a series exploring the histories behind peculiar words and phrases. In 2012 she was sole host of Breakfast, Lunch & Dinner, investigating the origins of these daily meals.
In 2009, Dickson Wright – a fervent campaigner for the Countryside Alliance – and the racehorse trainer Mark Prescott received an absolute discharge after pleading guilty in a private prosecution to attending two hare coursing events in Yorkshire two years earlier but believing them to be legal because the dogs were muzzled.
Her autobiography, Spilling the Beans, was published in 2007. As well as writing four Two Fat Ladies cookbooks with Paterson, Dickson Wright was author of The Haggis: A History (1996), Hieland Foodie (1997), A Greener Life (2005), Clarissa's Comfort Food (2008), Rifling Through My Drawers (2009), Potty! Clarissa's One Pot Cookbook (2010) and Clarissa's England: A Gamely Gallop Through the English Counties (2012).
She was the first female rector of Aberdeen University (1999-2005). She never married, although had a relationship for several years with a Lloyds underwriter who died, aged 49, after contracting a virus from swimming in the sea in Madeira.
Clarissa Dickson Wright, television presenter, cook and barrister, born 24 June 1947, died 15 March 2014
Register for free to continue reading
Registration is a free and easy way to support our truly independent journalism
By registering, you will also enjoy limited access to Premium articles, exclusive newsletters, commenting, and virtual events with our leading journalists
Already have an account? sign in
Register for free to continue reading
Registration is a free and easy way to support our truly independent journalism
By registering, you will also enjoy limited access to Premium articles, exclusive newsletters, commenting, and virtual events with our leading journalists
Already have an account? sign in
Join our new commenting forum
Join thought-provoking conversations, follow other Independent readers and see their replies