London Underground launches new map for claustrophobic or anxious passengers
The design highlights routes commuters can take on the Tube to avoid long stretches of tunnels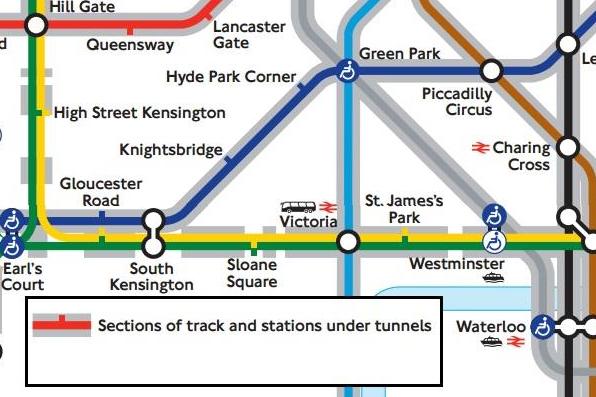 A new London Underground map has been launched to help passengers suffering from claustrophobia or anxiety.
The new design highlights routes commuters can take to avoid long stretches of tunnels, which mental health charities say cause some sufferers to avoid travelling on the Tube.
Fifty-five per cent of the network is above ground, with only the Victoria and Waterloo & City lines wholly covered.
Nicky Lidbetter, chief executive of charity Anxiety UK, said: "For those with anxiety conditions such as panic attacks and claustrophobia, we know that travel by the Underground can be problematic and challenging.
"This new map is an excellent resource for those wishing to avoid journeys where there are tunnels, serving as a great pre-journey planning aid and increasing access to public transport.
"I sincerely hope that the map will encourage those with claustrophobia and/or panic attacks who have previously avoided this form of public transport out of fear to reconsider their use of the Tube."
About 10 per cent of people in the UK sometimes suffer claustrophobia, according to the NHS.
Gallery: 150 years of London underground
Show all 27
Transport for London (TfL) director of customer strategy Mark Evers said: "Making the Tube network accessible for everyone is one of our top priorities.
"This new map is just one of the tools we have created in response to feedback from our customers on how we can make the transport network more accessible, making travelling easier and more comfortable for all our customers."
In April TfL announced badges for people with hidden health conditions who needed a seat on trains and buses were to be permanently available.
They follow the popular "baby on board" badges for expectant mothers.
Richard Lane, head of communications at disability charity Scope, said: "It's great to see London Underground taking steps to make travelling easier for more people."
Join our commenting forum
Join thought-provoking conversations, follow other Independent readers and see their replies