Why the Beast from the East is the latest in a long line of pathetic fallacies
From cruel nature to the cult of personality, there are any number of Beasts and they're not all from the East. Whether it's Zeus or Yahweh or Allah or Shiva, not to mention Satan, we have to give a name and an identity and a character to those obscure forces of creation and destruction that are none of our doing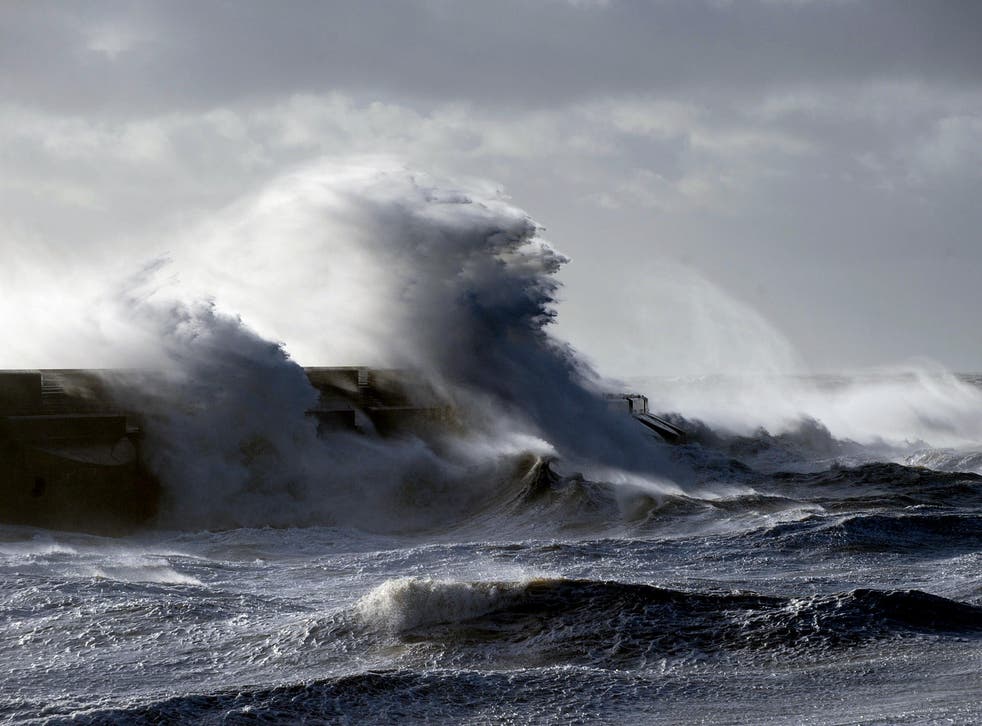 The Beast from the East and the change this week in the Chinese constitution are connected. And not because of the "East". It's not all about weather and politics (important though they both are). God and Shakespeare also get in on the act.
I heard one weather forecaster on the radio claiming credit for inventing the phrase, the "Beast from the East". I imagine others are making similar claims. Everyone has picked it up and it's good for a laugh. I just want to say – setting aside the actual opportunity for building some serious snowmen – that I think it's a fundamentally bad idea. Is it possible to un-invent beasts from the East and other similar species? It all seems innocent enough at first.
Take, for example, the timeless image conjured up by Horatio in Hamlet. Night is giving way to day, and perhaps the ghost that has been stalking the battlements of Elsinore Castle will fade away, and Horatio puts it like this: "But look, the morn, in russet mantle clad, walks o'er the dew of yon high eastward hill."
Gorgeous, isn't it? The sun is coming up (or the planet is spinning around) and you can almost see that bright new ghost-free dawn striding to meet you. But you can see that one ghost (Hamlet's father) is being replaced by another one. The ghost of personification. Our language and therefore our brains are still haunted by the pathetic need for simplification.
I use the word "pathetic" because the broader old-fashioned term for this style of expression is "pathetic fallacy" (with credit to John Ruskin in the 19th century). It's useful to insist on the fallacy side of it because this is one of those illusions about which we have forgotten that it is an illusion.
Simple example: "Cruel Sea". Humans are cruel, the sea isn't. A couple of hundred years ago I could go and stand on Westminster Bridge and look out over the great city and say (as Wordsworth did), "the City now doth, like a garment, wear/ The beauty of the morning…" By implication we see the City (with the allegorical initial capital) no longer as a constellation of an indeterminate number of forces, but rather as a single individual.
Hence, in the last line of the poem, "Composed Upon Westminster Bridge, September 3, 1802", we have "And all that mighty heart is lying still". That was 1802, now we have the Beast from the East. It may not have quite the literary class of the sonnet, but the basic principle or logic remains the same.
You take a complex set of phenomena, in this case, meteorological, and in the other a city populated by millions, and you roll it all up into a simple, integrated image. The Beast, perhaps rather akin to the Abominable Snowman or Yeti, is only semi-human, poised between man and animal, but in any case ill-intentioned. The "pathetic" part of the fallacy is to do with arousing emotion (or pathos), in this case a degree of paranoia, because clearly this thing is coming after us. Like a new Cold War.
The more inclusive term we can use to speak about this seemingly inescapable tendency built into our language is "anthropomorphism", ie our propensity for investing non-human events or entities with human characteristics.
Taking another classic example from Hamlet (this is from the "To be or not to be" soliloquy), "the native hue of resolution is sicklied o'er with the pale cast of thought". Not at all absurd because you might well look a bit sick while thinking about whether or not to carry out revenge against the guy who maybe killed your old dad, and who is now king.
But the trick of it is to take something abstract and imperceptible (resolution) and turn it into a thinking, feeling individual who may well be cracking up and possibly going mad under the stress of it all. Everyone can identify with that. But it is that very process of identification that is the root of a lot of other stuff that is just as sicklied o'er.
Technically, we ought to distinguish anthropomorphism from anthropocentrism, which is the human habit of privileging the human perspective, our psychologically pre-Copernican penchant for putting human needs and desires and dramas right at the centre of the universe, with everything else (if there is anything else) orbiting around them. But I'm more inclined to put both under the heading of the Anthropocene, the era (which is now) in which we are the dominant species on the planet and at the same time are royally screwing it up.
As Nietzsche neatly said, truth is "a mobile army of metaphors, metonyms and anthropomorphisms". We tend to forget about the anthropomorphisms, but we really shouldn't because they are at the core of so much of our thinking (if that is the right word for it).
It's not just a linguistic quirk. It casts a shadow, a toxic cloud, over our entire history as a species. Whether it's Zeus or Yahweh or Allah or Shiva, not to mention Satan, we have to give a name and an identity and a character to those obscure forces of creation and destruction that are none of our doing. We have to humanise them, and act as if someone really did say, "Let there be light", like lighting a fire or switching on a light bulb, rather than consider the coagulation of photons and the gradual emergence of luminosity over an immense period of time.
God, in other words, is just the name we give to stuff we don't understand (or, to put it biblically, behold, He passeth all understanding – He moves in mysterious ways). God is the ultimate pathetic fallacy. A classic case of the anthropomorphic imagination gone mad. On a par with the Man in the Moon.
Which might not be so bad in itself, except for one big thing. Such is the divine loopiness of our neural pathways, we have to go and turn the equation around (God is kind of human, made in our image) and speak of humans as if they were potential saviours and miracle-workers too. Even though they manifestly aren't. Thus politics, which is largely made up of propaganda, which is poetry by another name.
The obvious example of this (technically, "theomorphism") is the divine right of kings (and queens). And of course the infallibility of popes. But even if we move beyond feudalism and try to get secular about it, we find that someone like Jean-Jacques Rousseau, in his Social Contract (1762), is perfectly capable of speaking of the republican state as if it were a singular individual, with strong views and convictions, invested with the mystic identity of "The General Will".
Actual generals, like Napoleon, took the metaphor all too seriously and projected themselves as embodying the nation in their person. General de Gaulle similarly: La France, c'est moi. Or, translating into the relevant ideograms, China, and Xi Jinping, and how he should reign for ever and ever amen, according to the revised Chinese constitution.
Another one of our pathetic fallacies is the Great Leader delusion. If, according to the absurd logic of anthropomorphism, everything can be turned into an individual in russet mantle clad walking over the hill, then there is no earthly reason why an individual cannot be turned into everything. Which explains why someone like Stalin had to be not just General Secretary or even Father of Nations but Genius, Beloved, Guiding Star etc.
The cult of personality is modern mythology at work, roughly on a par with the Sky-god mentality, except possibly worse. There are any number of Beasts and they're not all from the East.
All of language is a massive over-simplification. A collection of fables and fairy stories. Maybe the very idea of the great, transcendent, self-affirming individual is the biggest myth of the lot. We are a temporary collection of cells held together by hope and habit, moving through a limitless network of other transient particles.
And all we can talk about is heroes and villains, gods and devils. Maybe it's a consolation. As EO Wilson puts it in The Origin of Creativity, "we sense fewer than one thousandth of one per cent of the diversity of molecules and energy waves that constantly sweep around and through us". And then we take all that and boil it down some more and we come up with the Beast from the East.
Andy Martin is the author of 'Reacher Said Nothing: Lee Child and the Making of Make Me' and teaches at the University of Cambridge.
Join our new commenting forum
Join thought-provoking conversations, follow other Independent readers and see their replies