The company helping victims of modern slavery with belly-dancing classes
The Middle Eastern dance form is shaking off its image as entertainment in seedy nightclubs and is instead being used to empower sufferers of physical abuse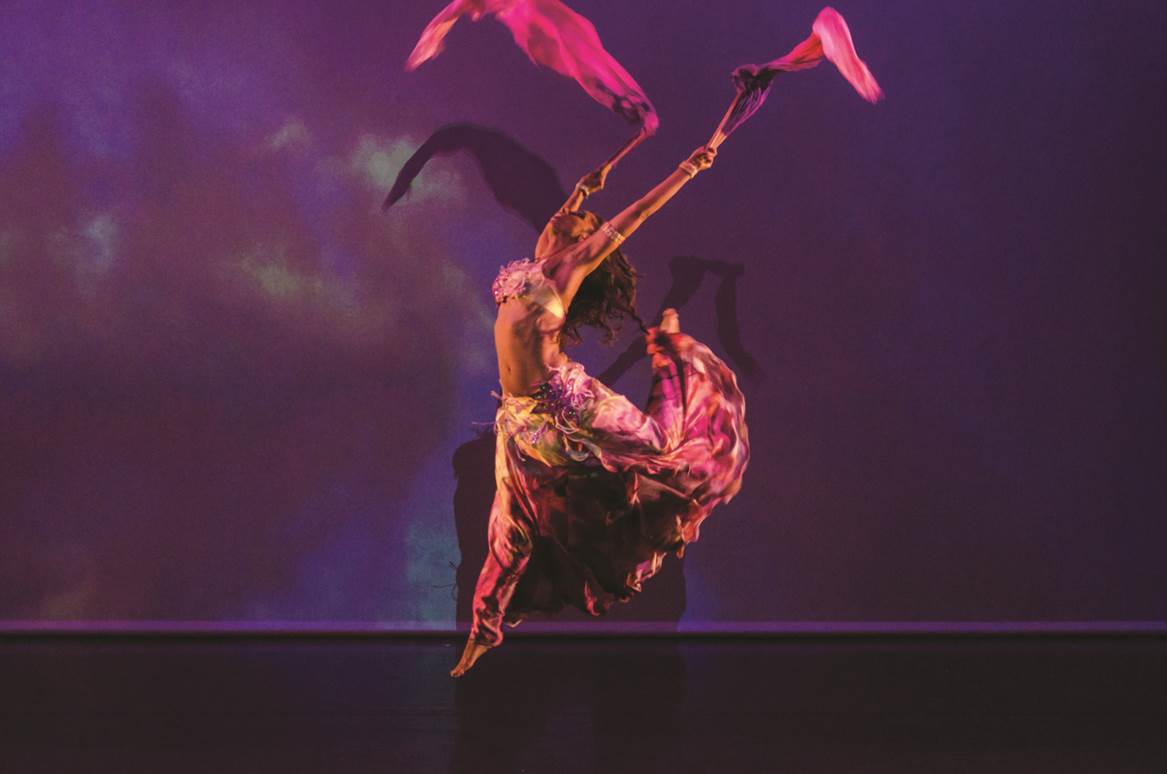 When it was revealed last month that there are 300 police operations targeting slavery in the UK, Migrant Help, a charity which supports those who have escaped slavery, jumped at the chance to form a partnership with Company of Dreams, a Kent-based dance not-for-profit, to provide free belly dance classes to victims of slavery and trafficking.
One may wonder: why belly dance?
Victims of trauma can feel disassociated from their bodies, have flashbacks and, research suggests, can even fail to feel parts of their anatomy. The inherent power in belly dance is that it is ultimately a dance rooted in groundedness and awareness of the body. Then there is the sensual element. Kent-based Company of Dreams has already had success in helping cancer sufferers come to terms with their bodies again. "Typically with chemotherapy, a woman will lose her hair, and if she has breast cancer, she may have lost her breasts as well," says Charlotte Desorgher, the founder of Company of Dreams. "These are such an important part of a woman's sense of feminine identity, she says. "Rather than being a body that's prodded and poked for medical reasons, the sensuality of belly dance reconnects a woman to that identity."
Desorgher adds that the dance is accessible to all ages and body types. "You don't have to be young, skinny or fit to belly dance, and that has tremendous power," she says.
We can start to see the connection with modern slavery here. "The psychological impact of slavery and trafficking can be devastating, and rebuilding a life, and a sense of self, can seem like an insurmountable challenge," says Sam Lake, Migrant Help's victims of slavery support-team leader. These are women who have not experienced happiness for a long time. Company of Dreams' work with the victims is due to begin imminently, though isn't straightforward. Many of the victims taking part in this initiative are still in grave danger, in hiding, and in the early stages of recovery. Such is the precarious nature of their situation that their identities and locations cannot be revealed, nor can they be interviewed. "The teachers been very carefully handpicked," says Desorgher. "They are very experienced, many have training as therapists and we've all been briefed by specialists in sexual and domestic violence and childhood abuse on how to approach the women, protect them, and ourselves."
"There are two sides to our art," says Desorgher. "One is the experiential side: the hobbyists, those who go to a class every week and get joy out of learning to belly dance, but who have no desire to become a belly dancer. Then there is the performance world." Frustrated by how the dance form is shrouded in myth and misconception in this country, she has set about addressing both sides.
Visualise a belly dancer, and many conjure the image of a bejewelled woman in a two-piece shimmying at diners in a Middle Eastern restaurant. But at the heart of belly dance – or rakhs-e-sharghi (Dance of the East) to use its proper name – lies a global, connected community. When you open the curtain to take a closer peak at that community, a fascinating, complex world opens up to you – one that tells a story of politics, East-West relations and healing. It's a story that Desorgher is keen to tell.
Born in the UK, brought up with ballet, and trained in contemporary dance, Desorgher's life and experience was a far cry from the Middle East. But in the 1970s, at an all-night Arabic basement nightclub in London's Grosvenor Square, she witnessed belly dancing for the first time.: "It was all terribly exciting," she says. "We'd go down some steps, knock on the door and a doorman would let you into to this subterranean world, full of orchestras, belly dancers and singers. The whole exotic atmosphere was remarkable." The club was called the Empress and was one of a number that flourished in the 1970s and 1980s serving Arab communities.
The experience inspired her to make regular trips to Middle East to learn belly dancing, the form she has dedicated her life to.
Desorgher's says her adventures in the pursuit of this dance have recently been optioned for a film by the company behind The Best Exotic Marigold Hotel and The Full Monty. Called "Shimmy", it tells a Calendar Girls-style story of Charlotte setting up belly dance classes to everyday women in a village in Surrey.
Company of Dreams was founded in 2013, with a vision of bringing belly dance to the stage. "I'm inspired by Michael Flatley," she says. "Flatley took Irish dance and made a worldwide phenomenon of it. Then there are hip hop groups like Diversity, who took what was street dance and elevated the style to create something dramatic. I wanted to do the same with belly dance." With funding from the Arts Council, she worked meticulously to create a theatrical style of belly dance that would combine its colour and sensuality with ballet, jazz and Latin styles.
Desorgher was mindful of keeping the rich history of Arabian culture alive. "The Middle Eastern and North African community has been underrepresented in the arts. The images people see now of the Middle East are of war, bombing, terrorism, refugees dying… it's relentlessly negative. We want to remind people of that rich culture that comes form the Middle East. At the same time, I recognise that white western culture has viewed the Middle East in the past in an Orientalist way. We want to make sure we're not being Orientalist in our telling of the stories but that we're telling them in an exciting way." Combining these two aims for drama and storytelling, the company chose its first showcase to be Scheherazade and 1001 Nights, at Sadler's Wells last August.
Such was the success, that Desorgher turned her attentions to using her platform philanthropically. Company of Dreams set up as a charity, with a board of trustees to deliver outreach work to women in refuges, prisons and hospices. "In my years of teaching the dance, I can't tell you the number of women who told me it has changed their lives," she says. "I realised I could use this new platform to go directly to people who were newly out of terrible situations – those not in a situation where they could come to a public class yet, but to whom we could visit in their private place of safety."
As well as cancer victims and victims of slavery, the team has been working in prisons and hospices. In time, Company of Dreams hopes to begin work with the transgender community. On the performance side, it will continue to elevate dance standards through her rigorous dance-training programme.
With a company like this, hopefully it won't be long before we reconsider entrenched attitudes to belly dance.
Company of Dreams is taking part in global fundraising challenge run by Global Giving until 25 September. Members of the UK belly dance community will participate in fundraisers including a mass sponsored shimmy in Trafalgar Square, and a sponsored ascent of Mount Snowdon – in full belly dance costume. For more information visit Company of Dreams' website
Join our commenting forum
Join thought-provoking conversations, follow other Independent readers and see their replies