How a graphic novel written across two decades is comparing todays' Britain and America to 1930s Germany
A graphic novel two decades in the making charts the rise of fascism in pre-war Germany – and could not be more relevant and timely, says David Barnett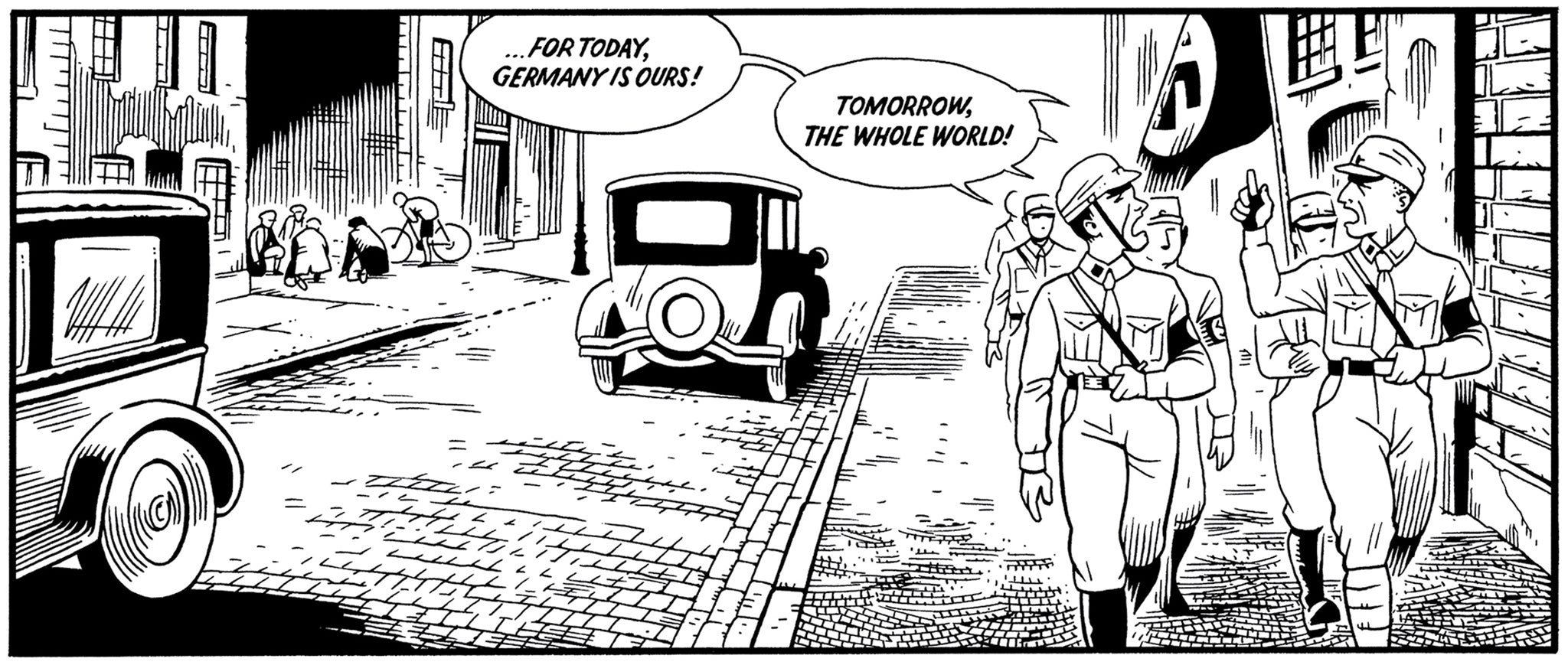 In 1996, Jason Lutes was 28 years old and looking for a new project to turn his writing and illustration skills to. He was living in Seattle, then something of a capital of cool thanks to the rise of the grunge scene and the burgeoning dot com boom, and had just completed a comics project called Jar of Fools, which ran a page a week in the city's independent newspaper The Stranger.
Jar of Fools was sort of a response to Lutes' experience at art college; his course didn't hold with teaching the mechanics of comics and graphic novel creation, so he decided to teach himself how to do it, pretty much making up the story as he went along.
But when Jar of Fools ended, Lutes wanted to do something different. He felt he had grasped the fundamentals of the graphic novel form and wanted to see what else he could do with it. "I wanted to do something long," he says. "I wanted to know what an epic story would look like in comic form." He pauses, then laughs. "I wanted a book on my shelf with my name on it on a nice, thick spine."
Well, he's got that. Berlin, which has just been released by Canadian publishing company Drawn and Quarterly, has a spine a smidgen over two inches thick. And it holds in place almost 600 pages of graphic storytelling that is quite astonishing in its scope, breadth and execution.
Berlin follows a handful of characters as they navigate life in the German capital between the years 1928 and 1933. Lutes' black and white art is richly detailed and his grasp of plot, pacing and characterisation really brings the protagonists to vivid life.
The story follows art student Marthe Muller, who arrives in Berlin in 1928 to study and meets journalist Kurt Severing. Their story entwines with that of a family that is being driven apart by differing political viewpoints, with mother Gudrun leaning towards the communists and her husband and son becoming enchanted by the rise of the right-wing.
Through their eyes we see the momentous events of these tumultuous years, including the International Workers Day march on 1 May 1929, or "Bloody May Day", which descended into violent running battles and death.
Though Lutes' characters are well-rounded and have lives of their own, they live under the inevitable shadow of what we as readers know is to come: the rise of Nazism. Lutes describes himself as having to become "a time-traveller, but a time-traveller with amnesia" in order to put himself in the heads of his characters and allow them to see, by degrees, what was happening around them but not have the benefit of the historical perspective we as readers have.
Lutes hadn't been to Berlin before starting work on the book, and had no special interest in the place or that period of history, until he saw a book of photographs of the end of the Weimar Republic that immediately pre-dated the rise of the Nazi chokehold on Germany.
"I'd seen the movie Cabaret, and by that point I'd probably seen at college the silent film Berlin: Symphony of a Metropolis [from 1927]," he says. "So when I decided in 1996 that I was going to do a series set in Berlin in the 1920s, it was mainly from seeing these photos of the Weimar Republic."
The Weimar period ran from the end of the First World War up to 1933 and the emergence of Nazism. During the mid to late 1920s, it saw Germany experience both economic and cultural growth, and is referred to as the "Golden Twenties". Lutes spent the next two years researching Berlin in the declining years of the Weimar Republic – especially the intricacies of the architecture, which he reproduced to amazing detail in the book – and in doing so found perhaps surprising parallels with the city in which he was living.
"Seattle at that time was a city filling up with young people," he recalls. "There was a lot of music, the grunge era was taking place, it was getting a lot of media attention as the place to be. I felt on some unacknowledged level that there was a connection between Seattle and Berlin. They were places that held a magnetic attraction for a whole variety of people, and you gravitated there if you were a musician or an artist or gay or, I don't know, a crackpot genius scientist."
By the end of 1998, Lutes felt ready to begin work on his magnum opus. But that was 20 years ago; why is Berlin only being published to great acclaim in 2018? He says, "My plan was to tell the story in three chapters, released in monthly instalments. I figured the whole story would take maybe just a few years to tell."
He stuck to his schedule initially, producing 96 pages of story and art in the first year. Berlin was initially released as a monthly comic by Canadian company Black Eye, but after the first four issues the company folded. Fortunately, another Montreal-based publisher, Drawn and Quarterly, stepped in to continue the story.
Then, life got in the way ("I fell in love, had kids, I needed to take in outside work") and his grand schedule slipped. But he kept working on Berlin, and it kept being released in episodic form, if perhaps more sporadically than he would have liked.
Although Lutes wanted Berlin to be less of an organic piece than Jar of Fools, he still didn't want to plot it too tightly. He calls his method "structural improvisation": he plotted out the major happenings in Berlin between 1928 and 1933 and then "set the characters in motion, and they would move towards these events and become involved in them to varying degrees, but they'd be living their lives as well because that's what people do."
Each of the first two chapters of Berlin was collected together as they were finished, and now the third one is finished they've all been brought together in a huge, handsome and thickly-spined volume. It hangs together almost seamlessly but Lutes can trace his own evolution as a cartoonist from the early chapters in the 1990s to the most recently completed episodes. "I learned the value of white space," he laughs. "At the end I tried not to do as many detailed backgrounds of Berlin architecture as I was doing in the beginning."
But the prolonged completion of Lutes' magnum opus has had an effect he could not have predicted when he began work on it. When he started writing and drawing Berlin in the late Nineties, many parts of the West were experiencing a period of optimism, a sense of living through change. Bill Clinton was in the White House, Tony Blair was in No 10. The internet was growing. Everything felt different.
Two decades on, things have changed again, and not for the better. In fact, there are many people drawing direct comparisons between the rise of the right in Britain and the US and the growth of Nazism in 1930s Germany, making Jason Lutes' Berlin terrifyingly relevant.
"In my worst nightmares back in 1996, I never expected to see the resurgence of Nazism," he says thoughtfully. "But now, it's a crazy kind of experience having worked on this book for so many years and to see what's happening in our societies."
Just like in real life, no one in Lutes' book wakes up one morning and suddenly decides they are going to be a Nazi. Things happen by degrees, people are changed, they are influenced by events and what they are told by political factions. Berlin is a salutary warning for our times.
Lutes lives with his family ("and some chickens and pigs") in Vermont. He also teaches a comics course at college, which is a far cry from when he studied art himself and was told comics weren't on the syllabus. How does he feel after finally bringing the 20-year journey with his Berlin cast to a close?
"A sense of relief, in many ways," he says. "But I'm also super-excited to get to work on the next thing."
The next thing is going to be what Lutes calls a "revisionist Western", set in Arizona in 1865, at the end of the American Civil War. It's a period that Lutes finds fascinating because there were a whole host of cultures converging on the same place at the same time, creating at the same time "clashes but also a sense of possibility".
It sounds like a book with as much resonance to today as Berlin, with an added bonus for the cartoonist. "Lots of wide open spaces," he laughs, "and hardly any buildings."
'Berlin' by Jason Lutes is out now. Published by Drawn and Quarterly, £35
Join our commenting forum
Join thought-provoking conversations, follow other Independent readers and see their replies