Yes, this is Britain's happiest place (it looks beautiful in the rain)
Much to the surprise of its own residents, an area in Yorkshire has been dubbed the happiest place to live in the UK. It even looks good in the rain, says Stephen Castle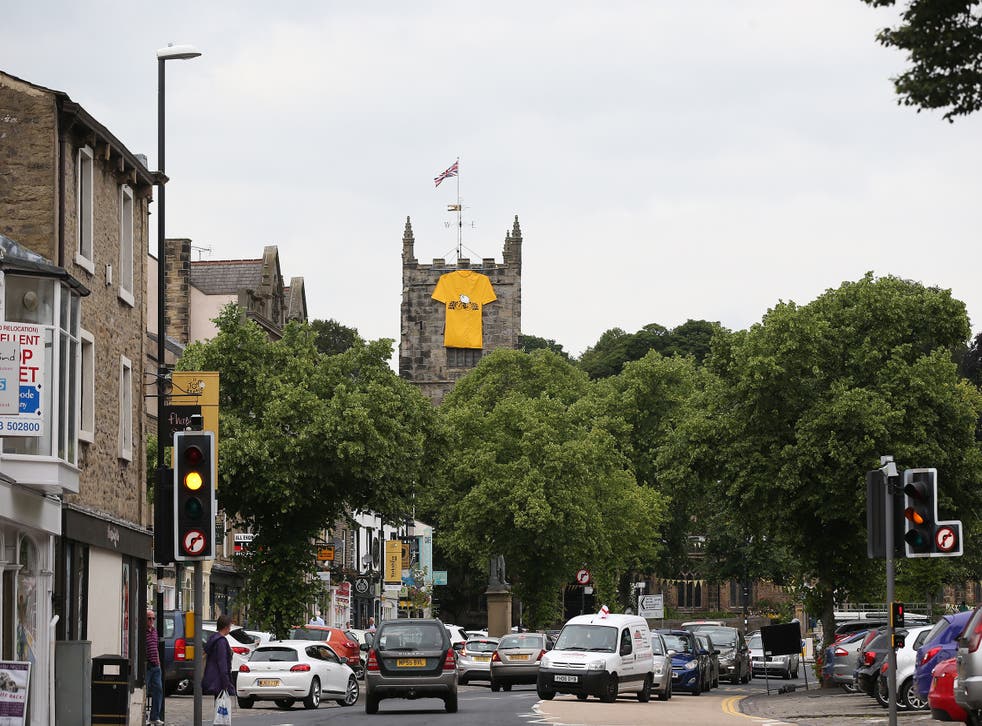 Britain's economy is slowing. Talks on quitting the European Union have stalled. And the Government is in disarray, troubled by cabinet resignations and embroiled in a series of sex and sleaze accusations.
Yet the national gloom seems to have bypassed Craven, an area of Yorkshire, in the north of England, that has startled Britons by emerging from national statistics as the happiest place in the country.
In Craven's biggest town, Skipton, population about 15,000, even the mayor, Andrew Rankine, admits he is surprised. "We just go with the flow," he says. "We are who we are."
He is not the only one taken aback by the finding from the Office for National Statistics. The Daily Mail headline reads: "Not that grim up North! Our happiest town is in Yorkshire."
That is because the north of England is considered by many southerners to be colder, poorer and less sophisticated than the south.
Such stereotypes are being dismantled. A country pub in North Yorkshire, The Black Swan at Oldstead, was recently named the world's best restaurant, based on customer reviews compiled by TripAdvisor.
Yet Yorkshire folk, it must be said, often revel in their reputation for being blunt and taciturn. One joke goes, "You can always tell a Yorkshireman but you can't tell him much." Paul Routledge, a journalist and author who lives in Craven, sums up the Yorkshire ethos as: "Why call a spade a spade, when you can call it an effing shovel?"
The survey, which covers April 2016 to March 2017, asked questions designed to estimate "life satisfaction, whether you feel the things you do in life are worthwhile, happiness and anxiety". British media outlets placed Craven top after crunching the numbers.
Among the happy Skipton residents is Sebastian Fattorini, though his reasons for contentment include the fact that he lives in a medieval fortress. Fattorini's grandfather bought and restored Skipton Castle at a time when it might have been turned into a theme park.
On a tour of the fortifications, which are among the best preserved in Britain, Fattorini points to what he calls the "new" or "modern" parts of the structure. They were added in the 16th century.
Fattorini, whose has an official title of Lord of the Honour of Skipton, has to think hard before he can say how many rooms there are in the castle's private area. He eventually counts 11. But he does know that only a couple are heated, and that to warm the rest, "you'd need a nuclear power station".
That's not to say that living in Skipton was easy to start with for Fattorini, who moved from London in 1998.
"People are a lot straighter, more blunt," he says. "You're not quite sure whether they are being friendly, then you realise they are being extremely friendly." Now he loves the place, noting that people have time for one another, and that "if you died in your flat someone would notice".
Another contented local is Geoff Crocker, the police inspector responsible for Craven in the North Yorkshire policing region, which has the lowest crime rate in England.
The area has some gang activity, serious felonies and occasional cases of sheep rustling and poaching. But with about 20 crimes per 1,000 people per year, it is among the safest in England. Crocker says his force spends about 20 per cent of its time on criminal behaviour – less than it spends on traffic accidents.
The local magistrates court, which handles less-serious offences, is under threat because it hears too few cases. The police station has room to hold the few people who are arrested locally, but it's more cost-effective to drive them elsewhere.
To add to the quality of life, Craven has some of England's most scenic countryside and beautiful historic places to visit, like Bolton Abbey.
But most of those who live here (those who came from elsewhere are known as "offcumdens") agree that the sense of community is what stands out.
Danielle Daglan, venue and programme manager at the town hall, moved to Skipton in 2002. She says it was the best decision she ever made.
"I feel that Yorkshire has allowed me – without being too cheesy – to become the person I wanted to be," she says, adding that the people "are genuinely friendlier than they are down south".
No one lives here for the weather, however. Rankine, the mayor, says a sunny day "has been known to happen occasionally".
Fortunately, he adds, "Skipton is one of those places which is absolutely beautiful in the rain – as long as you are dressed appropriately".
Simon Myers, a retired lawyer who serves on the Craven District Council, recalls standing outside his home on a day when it was raining so hard the hill opposite was invisible, then turning to his neighbour and saying: "Do remind me it's the views that we live here for."
Craven is an affluent pocket of the north, though not the richest place in the country. To Myers, it illustrates that wealth and happiness are not synonymous.
"I think it's about being self-sufficient, valuing your communities, and doing your bit and mucking in together," he says. "It isn't because we can afford fancy cars."
This being Yorkshire, not everyone is buying the notion of Craven as Shangri-La.
"It's not as wonderful as those who make these claims for it say," says Routledge, sipping a pint of local beer, which, incidentally, is roughly half the price of a pint in London.
"The traffic is appalling, there are not enough places to park and it's too expensive," he says. "The bus services have been cut back, and it's a honey pot for commuters into Leeds and Bradford, so a lot of local people can't afford to live here."
Routledge, who lives a few miles away, has ruffled feathers by describing Skipton as "snooty" – a word its residents tend to reserve for nearby upmarket town Harrogate.
But the inhabitants of Craven seem to be happy with the way they are even if, to some outsiders, that can appear glum.
Dave Parker, chief officer for the Skipton Town Council, says the mistake was to equate happiness with people "dancing around the streets clapping their hands".
"You will find the old bloke who has been a farmer for years, who is very, very, happy sitting at the side of his log fire, in his pub, having his pint – but he won't look as though he is the happiest person in the world," Parker says.
Exuberance might not be a local trait but, on a recent Friday night, Lothersdale Village Hall was packed for a concert by the visiting Clitheroe Ukulele Orchestra. An entrance ticket included a meat pie with mushy peas; the thick green mash is a northern specialty.
After performing several numbers, including the "Rawhide" theme, one band member asked the fatal question: "What do you think of it so far?"
"Rubbish!" came the shouted reply from the audience, to cheers and gales of laughter.
No one left early.
© New York Times
Join our new commenting forum
Join thought-provoking conversations, follow other Independent readers and see their replies