Life in the frozen north: Canada's first native-owned train is the pride of its community
The 'Wind of the North' provides much-needed jobs and a lifeline to remote indigenous people in northeast Quebec. Just don't mention speed or sticking to schedule, says Rachel Savage
Wednesday 24 October 2018 13:17
comments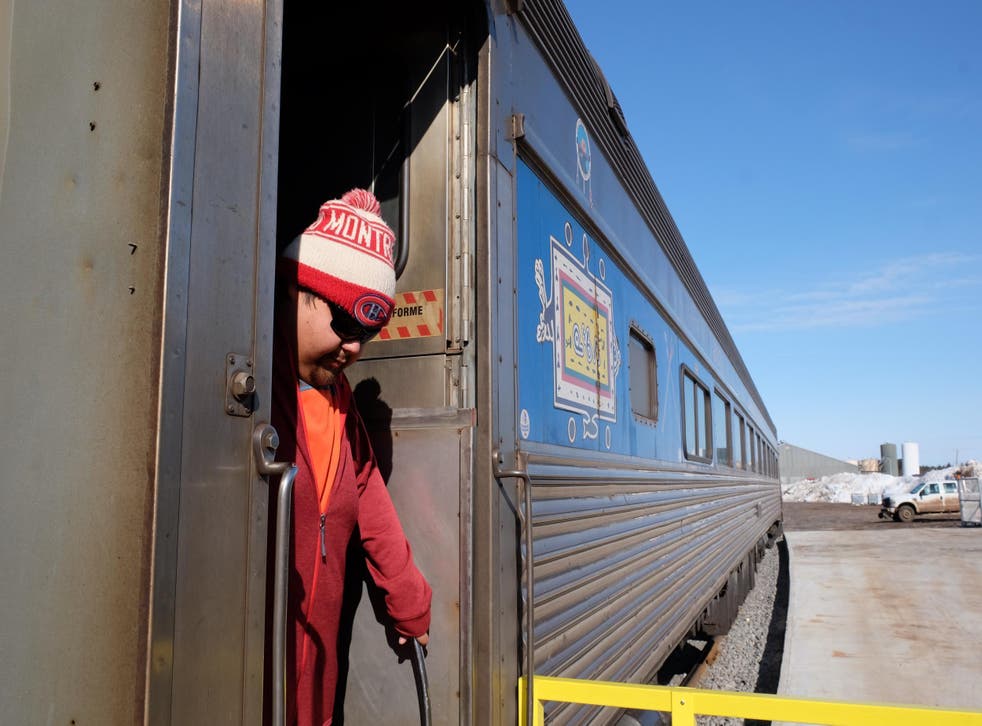 The train ride from Sept-Îles, a port on the north shore of the mighty St Lawrence river in Canada, to Schefferville, a tiny, former mining town 355 miles north, is beautiful. Early in the journey, the train follows the winding Moisie river. Pine-covered mountains plunge steeply into the valley. Much of the dark blue water is still covered in ice and snow, even in May. Then the land flattens out and the train follows slim lakes that streak northwest across the Labrador plateau like oil on water. Under a grey sky, the landscape is quiet. Under a blue one, dazzlingly white.
Fast, the journey is not. It usually takes between 13 and 15 hours, and has taken as long as 24. Hunting and fishing parties are let off. Mine workers disembark at camps beside the tracks. At Emeril Junction, mile 224.5, the Quebec North Shore and Labrador Railway (QNS&L) driver swaps with one from Tshiuetin Rail Transportation. Tshiuetin, North America's first indigenous-owned rail company, means "wind of the north" in Innu, a native language spoken in northeastern Quebec and Labrador. Its driver increases the train's speed from a leisurely 40mph to a breezy 45mph.
Slow it may be, but Tshiuetin is of great importance to the three First Nations that own it: the Innu from Uashat Mak Mani-Utenam (close to Sept-Îles), the Innu of Matimekush-Lac John, and the Naskapi of Kawawachikamach (both near to Schefferville). There are the jobs it provides. There is the vital link between the isolated northern communities and the outside world. And there is the deep, symbolic significance of ownership and control.
Join our new commenting forum
Join thought-provoking conversations, follow other Independent readers and see their replies