The Independent's journalism is supported by our readers. When you purchase through links on our site, we may earn commission.
Sunday in Hell: The dark side of professional cycling revealed
Serious bike riding is healthy, environmental and increasingly trendy. But an expert's new book documents the gruelling, often dangerous reality of the sport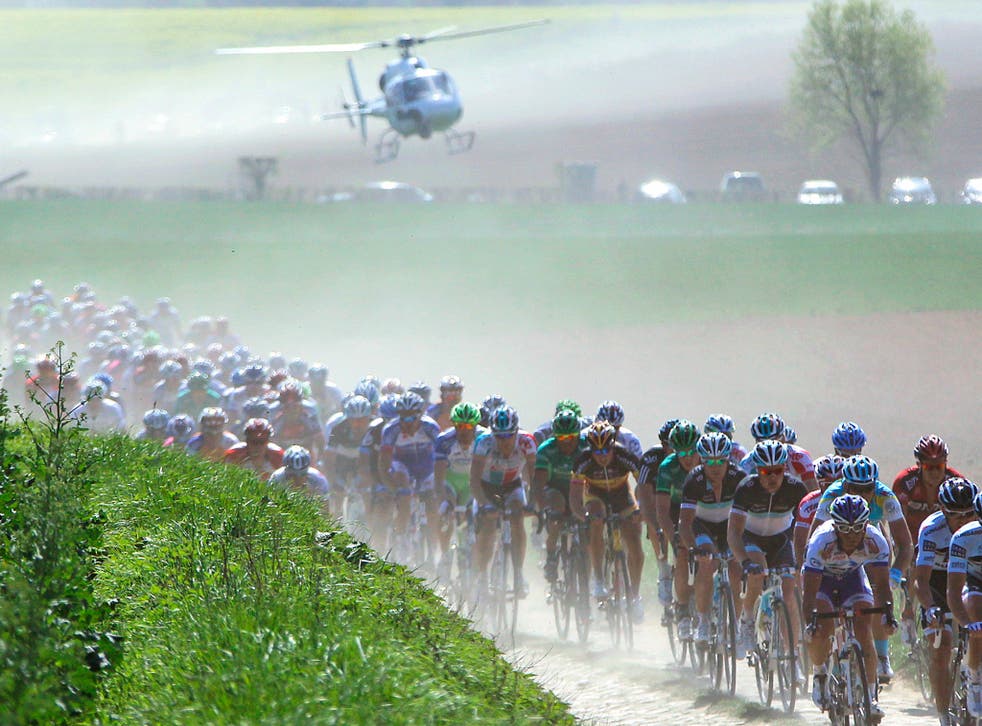 He kept on climbing up the feared Mont Ventoux, standing up on his pedals all the way, straining every sinew. He took one last gulp from his water bottle. The sun kept on beating down. The level of oxygen in his blood kept on sinking. The summit was in sight when he started wobbling, keeled over, lay on the side of the road, and died.
The rider was Tom Simpson, one of Britain's most successful pro cyclists, then aged 29. The year was 1967, the mountain was the 13th stage of the Tour de France, the water bottle contained brandy, and he was mixing it with the contents of the tubes of amphetamines he kept in the rear pocket of his jersey. The cause of death was given as "exhaustion". A memorial marking where he died has become a place of pilgrimage for cyclists from all around the world.
Add that to the following: Eddy "the Cannibal" Merckx, the most successful rider in history; the last 28 Tours de France; the film, A Sunday in Hell, a brilliant documentary of the gruelling 1976 Paris-Roubaix race by Danish director Jorgen Leth. What do they all have in common?
Answer: they have all been reported on, celebrated, and minutely analysed by William Fotheringham, who can legitimately stake a claim to being the Bard of the Bike, the most prolific and mythic of cycling writers, the Ernest Hemingway of two wheels.
He is also, need I say, a cycling nut and always has been. A couple of his titles, Put Me Back on My Bike and Merckx: Half Man Half Bike, could be autobiographical.
I spent an evening this week at Look Mum, No Hands, a so-called "cycle café" in Shoreditch, where you can get your bike fixed or buy a new one while ordering your coffee.
I was there to watch a showing of A Sunday in Hell, to mark the publication of Sunday in Hell (note the subtle difference), on the eve of the 2018 Paris-Roubaix race, which is held this Sunday. And to talk to William Fotheringham himself. Born in Somerset 1965, he first got on a bike aged 11 and has only rarely hopped off again since.
He got into King's College, Cambridge to study modern languages on the back of learning French from a cycling magazine, Miroir du cyclisme, given to him as a present on his 15th birthday. He is still a cycling magazine fetishist.
He had one in his hand, Cyclisme, in mint condition, an issue dating from 1976, and worth €25, that he was planning to send to fellow fanatic, the fashion designer Paul Smith.
Despite a long list of injuries, Fotheringham is still competing aged 53, and recently won the "Winter Track League" in Newport. He owns up to taking performance-enhancing drugs: "Coffee, a lot of coffee, and increasingly, Ibuprofen."
Fotheringham's career provides a snapshot of the rise and rise of cycling in this country. When he was at college, "it was just me and a dozen other weirdos" in the University Cycling Club. It was strictly for an eccentric minority, "arcane, almost unknown".
Now it's huge, with training, time-trials, and skintight kit. There were always a lot of bicycles in Cambridge. Now they've taken over the country – without the baskets on the handlebars.
I was trying to cross Old Street last night and I had to hang about while all the cyclists went by, many in lycra, all pedalling furiously, even if some were on Boris bikes.
Fotheringham went into journalism, writing for cycling magazines and The Guardian and Observer, and only filling in the gaps with rugby. "It was niche, now it's become mainstream," he says, with a tinge of regret.
What applies to cycling also applies to writing about it. "I've done all the legends [Simpson, Merckx, Hinault]. You can't write general books about cycling any more. I've had to go more oblique."
Hence the book about a film about Paris-Roubaix, a meta-book. But nothing is esoteric in cycling any more, given that the constituency is so massive.
The "Golden Age" for students of cycling history was the late Forties through to the 'Eighties. Roland Barthes' foundational essay on the Tour de France (collected in Mythologies) dates from the late Fifties.
Barthes hymned the lunar bleakness of Mont Ventoux and depicted the current crop of cyclists as modern-day counterparts to the heroes of medieval epics. Almost superhuman. We tend to mythologise cyclists, he argued, just as we do writers, wine, the Citroën DS, flying saucers and even soap powder. Symbolically, we ask them to save us, to purify us: to redeem our sins. Or, equally, just to look good.
There is a big difference between the short-distance sprinters – more muscular, especially around the thighs – and the long-distance endurance specialists, who are leaner and lithe. "Wiry" or "sinewy" are the terms that spring to mind. Both of which apply to Fotheringham.
He reckons that cycling seriously took off in the UK in the 2000s, thanks to the Olympic successes of Chris Hoy, Bradley Wiggins and Victoria Pendleton (and others). But beyond that is a collective sense of the superior moral virtue of the bicycle: two wheels good, four wheels bad.
Tour de France 2017

Show all 11
Cycling is better for the planet (which explains why some cyclists can be unbearably pious and holier-than-thou). And we are driven (or rather not driven) by an increasing concern for own health. A cycle a day keeps the doctor away. Always assuming you keep out of the way of buses.
It's ironic, therefore, that in its extreme form, cycling – as in the case of Tom Simpson – can kill you.
Sunday in Hell draws attention to the sheer suffering, the pain and anguish of cycling. The Paris-Roubaix course itself is designed to make life extremely difficult for the contestants.
Half of it is on normal tarmac. But for the other half the riders are siphoned off across country on tracks that are, technically, "pavés", consisting of ancient cobbles, good only for farmers and cattle, and completely unsuitable for the wafer-thin wheels of racing bikes. Punctures and crashes are normal.
In the film, many riders are seen covered in blood, or inert in a ditch. The ambulance is never far behind the riders. The documentary speaks of the "inferno" and a "merciless elimination process" in which only the fittest and luckiest survive.
However cutting edge the technology, there is always an archaic, nostalgic, primitivist element to cycling. And an "essential madness" too (in Fotheringham's words). It's a race that is so insane, that it practically forces you to cheat.
"You shake your head at how popular it's become," says Fotheringham. He lives in rural Herefordshire. Recently he was helping a farmer move hay bales, when the farmer turned to him and started asking for news of Wiggins and Chris Froome. "I used to be the weirdo in my family. Now I have so many relatives who are cycling buffs."
He dates the rising enthusiasm for bikes in London back to 7/7 and the congestion charge. "I used to ride into work in central London in the Nineties. Just me. Now you can't move for cyclists."
Cycling is cursed with trendiness. Fotheringham recalls seeing a bunch of four riders sitting around a table in a cycle cafe not long ago, and realising that they were wearing approximately £3,000 of kit in just shorts and tops, most of it with the fashionable label "Rapha" attached, named after a classic team of the Fifties (and some of it designed by Paul Smith).
"The semiotics are hysterical," he says. He adds that he and his mates are happy with "floppy tracksuit bottoms".
I was struck, watching the film, by the high degree of earnest machismo. This is a race strictly for guys. Tight shorts and funky caps. And De Vlaeminck who looks like a slightly anorexic Mel Gibson.
There is a hilarious scene at the end of the film where the race survivors are all crowding into the vast collective shower room of the Roubaix velodrome, moreover surrounded by their fans and entourage and media. I find it hard to describe this as "homoerotic". Zerotic maybe.
But there is another scene in a café where a woman spectator is being asked what it is she likes about cycling. She is stumped. So the interviewer asks, "Is it the men?" "Yes, men," she says with a laugh. There is a controlling, pushily patriarchal side to the rural French café. Women are only allowed in to admire the men.
The Tour de France is still the high point of the year for Fotheringham. He thinks that Sir Bradley Wiggins was "thrown under the bus" by the recent parliamentary committee report on the question of medication. He also thinks the Sky team need to press the re-boot button.
But this summer he won't be writing about all those epic exploits in the mountains, day after day for a month, and the final parade along the Champs Elysées. Maybe it's something to do with the anglicisation of the Tour. You don't even need a degree in foreign languages any more.
"In 1990, when I started, French, exclusively, was the language of the race. There were just two British cyclists. Compare and contrast with today's anglophone race, dominated by the Brits."
As the sheer scale and level of security on the Tour have increased, so the sense of intimacy and romance have shrunk.
I once cycled the course of the Tour de France, a week or two behind the serious pros. I confess I cheated too – someone gave me a lift down south. When I wrote about the Tour de France for The Independent, accompanied by ace photographer Norman Lomax, I remember that the "stage" we were following was won by a giant cheese, advertising the local speciality, with the peloton trailing somewhere behind.
And the American rider Greg LeMond – we were staying in the same hotel – needed only his own personal cook with him to serve up a constant supply of sandwiches, rather than a medic and pharmaceutical Svengali as well.
That, I realised, is the marvellous almost magical aspect of long-distance cycling: eat all you want, and still come back home as thin as a rake.
'Sunday in Hell: Behind the Lens of the Greatest Cycling Film of All Time' by William Fotheringham is published by Yellow Jersey Press. Andy Martin is the author of 'Reacher Said Nothing: Lee Child and the Making of Make Me', and teaches at the University of Cambridge
Register for free to continue reading
Registration is a free and easy way to support our truly independent journalism
By registering, you will also enjoy limited access to Premium articles, exclusive newsletters, commenting, and virtual events with our leading journalists
Already have an account? sign in
Register for free to continue reading
Registration is a free and easy way to support our truly independent journalism
By registering, you will also enjoy limited access to Premium articles, exclusive newsletters, commenting, and virtual events with our leading journalists
Already have an account? sign in
Join our new commenting forum
Join thought-provoking conversations, follow other Independent readers and see their replies